Texas RB D'Onta Foreman will declare for the 2017 NFL Draft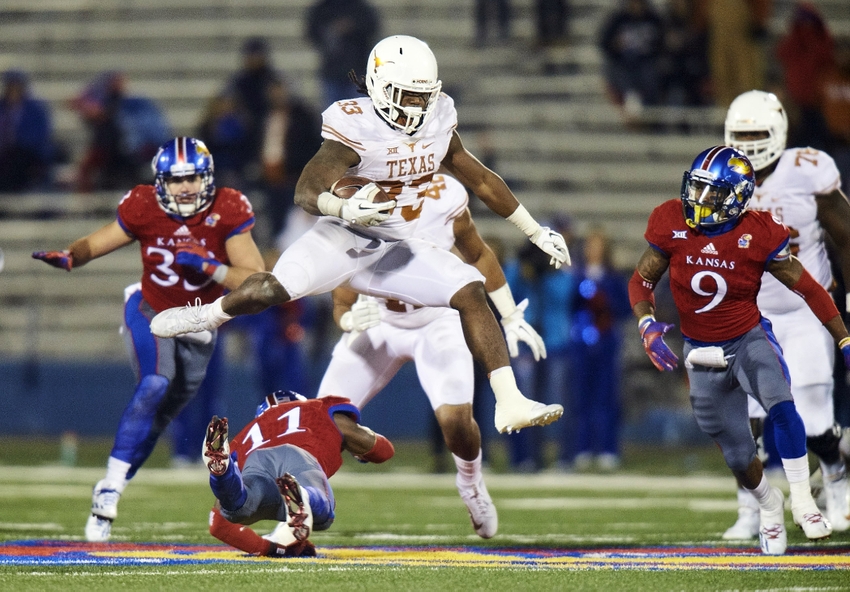 Texas Longhorns running back D'Onta Foreman will forego his senior season and declare for the 2017 NFL Draft, adding to a big time RB class…
Texas Longhorns star running back D'Onta Foreman is reportedly heading to the NFL, relinquishing his right to a senior season with the Texas football program.
Source: Texas RB D'Onta Foreman will declare for the NFL Draft today. https://t.co/JitbLGfYu3

— Pete Thamel (@SIPeteThamel) November 30, 2016
This is big news for an already stellar class of running backs likely incoming to the NFL. Foreman hasn't generated the same type of headlines as other backs like Leonard Fournette and Dalvin Cook, but he has over 2,000 yards rushing this season with 15 touchdowns.
He's also listed at 6-1, 249 pounds, and can do these things…
D'onta Foreman. This man is a beast. #FlyEaglesFly pic.twitter.com/5c3N5wnBGT

— No Phly Zone (@FootballTalk_51) November 25, 2016
Foreman's decision will be made official at a press conference this afternoon, but the reasoning for leaving Texas a year early, even with only one full year of starting experience, makes a ton of sense.
First, Texas is a team in transition at head coach. It's not going to be a bad transition, but a transition nonetheless. Foreman has a chance to start with a new staff either in the NFL or in college.
Second, 2,000 yard backs — whether in college or pro — don't come around very often. Especially at the size of a guy like Foreman. This decision seems like a no-brainer in terms of where his stock is currently and how much higher it could realistically get.
Foreman is contending for a Heisman trophy this year despite not getting type of national attention as a player like Lamar Jackson. Texas hasn't had very much success as a team, which is why Charlie Strong was fired and why Foreman might get the shaft when it comes to Heisman voting.
Still, his numbers and ability are impressive. He will be an asset in the NFL for some team and is currently riding a streak of 13 games with over 100 yards rushing.
This article originally appeared on