Texans at Jaguars: 3 things we learned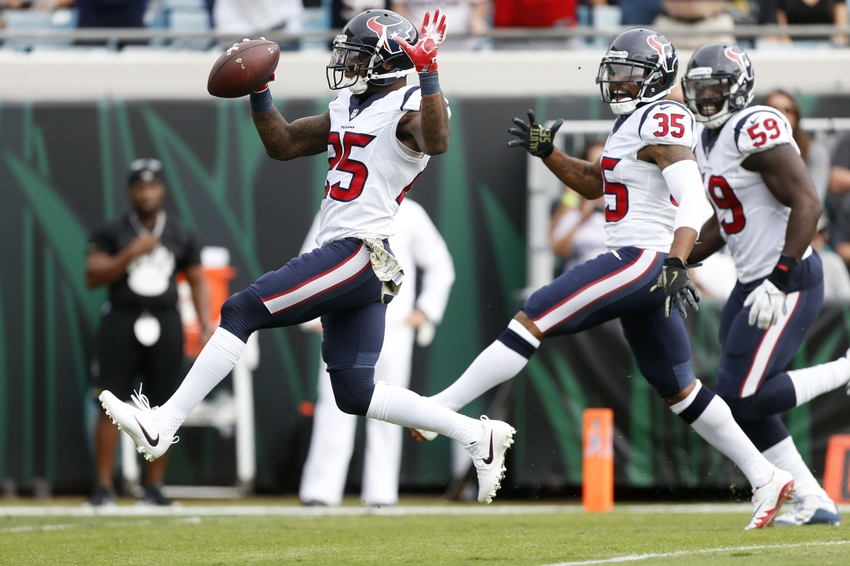 The Houston Texans got their first road win of the season at the expense of the struggling Jacksonville Jaguars. Here are three takeaways from that contest.
The defending AFC South champion Houston Texans continue to maintain their current status atop the division as they look to get back to the playoffs for the second straight year.
They also remain perfect when it comes to beating the teams they see most often. They raised their divisional mark to 3-0 this season with a 24-21 win at Jacksonville. The Jaguars fell to 2-7 and are in the midst of another disappointing year.
So what did we learn about these two franchises on Sunday?
1. Houston's offense remains an enigma
The Texans got the win but didn't do a lot to impress when it came to when they had the football. Quarterback Brock Osweiler and the team finally played turnover-free football for the first time in nine games this season. The much-maligned signal-caller connected for a pair of scores but threw for only 99 yards and hit on only 14 of his 27 attempts. Yes, the ground attack rolled up 181 yards on 33 carries (83 by Lamar Miller) but this is still a stodgy unit that makes moving the football look like a chore.
2. Turnovers continue to plague the Jaguars
Another week and another game in which the Jaguars have ball-security issues. In particular quarterback Blake Bortles, who was picked off once (returned for a touchdown) and lost one of his two fumbles. Bradley's team has now given up the football 19 times in nine contests. Combine that with the fact that Jacksonville has now gone five consecutive games without forcing a turnover and a minus-14 takeaway/giveaway differential pretty much spells disaster.
3. Benardrick McKinney an unsung asset
The Texans have a lot of terrific defensive players and are pretty set on the front seven. Most people are familiar with veteran Brian Cushing but the team's other inside linebacker continues to impress. McKinney tied for the team lead on Sunday with seven tackles. He also entered the game leading Houston with 73 stops and has also chipped in with three sacks.
More from FanSided
This article originally appeared on