Terrelle Pryor is pulling off the biggest turnaround in sports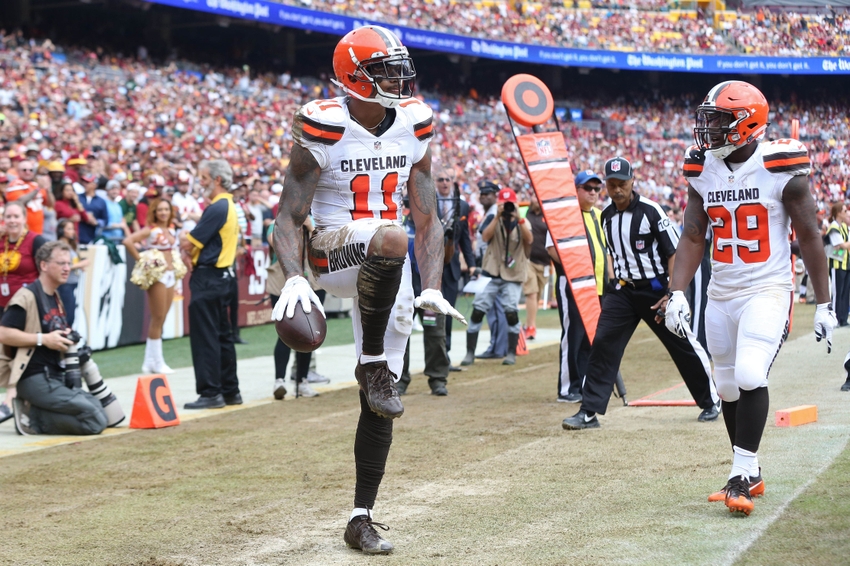 Terrelle Pryor was once just another castaway in the league, now he is the Cleveland Browns' most prized possession.
The story of Terrelle Pryor is one of the most active and breath-taking roller coasters in recent memory. The Pryor Coaster has the qualities of your everyday roller coaster. It speeds up, slows down at times, but also fills you with excitement. It also has those qualities of the one roller coaster in every amusement park that you get off in physical pain due to all the sharp turns, bruising bumps, and unexplainable features that could not please a single rider, wondering why they even keep that clearly failed experiment open.
But it also has everything you look for in a thrill ride. The flips, spins, and adrenaline inducing stunts keep you coming back again and again and again.
With the help of circumstance and phenomenal play, Pryor has now become the Brown's best option. Corey Coleman is hurt and Josh Gordon is shipped off to rehab, leaving Pryor alone to shine. Pryor went from being a player who couldn't sniff the field to the only untouchable player on the Browns' roster.
The Browns are reportedly willing to trade any player except Terrelle Pryor. https://t.co/QOcWai4rQO pic.twitter.com/OFxQWBbsGt

— theScore (@theScore) October 9, 2016
Through all the ups and downs and the moments that'll make you want to lose your lunch more than you would while watching a Browns game, Terrelle Pryor has slowly but surely pulled off the biggest 180 in sports.
It's crazy to think about the path Pryor has taken. Initially he was a must-watch college prospect, the type of quarterback we've seen a million times in the past, yet he was incredibly captivating. He posted a 31-4 record as a starter over three seasons, racking up 6,177 passing yards, 2,164 rushing yards, and a staggering 76 touchdowns. The kid could do it all, except stay out of trouble. After getting caught receiving benefits from a tattoo parlor and selling autographed jerseys and merchandise, Pryor left Ohio State rather than serving his 5-game suspension. Instead of a dual-threat quarterback who had a nose for the endzone, he turned into a cautionary tale.
Get the FanSided App
Pryor then fell to the mercy of the NFL Supplemental Draft, getting snagged by the Oakland Raiders in the 3rd round as a quarterback. If you know anything about the Raiders' quarterback history before Derek Carr arrived, you know it didn't turn out well. He appeared in 14 games over two seasons, finishing with nine touchdowns, 12 interceptions, and a lowly 3-7 record. Pryor did not appear for an NFL team in 2014, before that twisted and sickening roller coaster finally turned around.
Unlike another famous college quarterback who refused to change positions, Pryor made the leap to wideout. The road to redemption for Pryor was not as easy as it seemed, as he struggled to make one of the worst rosters in football last season. He was cut by the Browns in September, and remained out of football until December when the Browns re-signed him, finishing the entire season with one catch.
More FanSided NFL Stories
10 Best NFL QB/Head Coach combos
Each NFL team's best draft pick
Heisman Busts: Top 15 Heisman Trophy Winners Who Flopped In The NFL
Best NFL Draft steals of all-time
10 craziest NFL fan bases
Then the biggest and brightest loop happened during the Pryor coaster. He dedicated the entire offseason to working on his craft, training with a little wide receiver known as Randy Moss. All he needed was a shot, and he got one in Cleveland.
Once he got himself together, it's no wonder Pryor became a top wide out threat. He runs like a gazelle with 4.3 speed, has the 6'4″ height advantage to make a cornerback look like a little kid trying to play with the big boys, and clearly has the athleticism to play the position.
Now, Pryor is Cleveland's crown jewel. Being the only untouchable player on the Browns' roster is essentially being the tallest midget, but it's still incredible that he's gotten this far. Pryor went from being just another failed college player, to one of the most exciting prospects in the game.
This article originally appeared on