Terrance Williams Toe-Taps for Touchdown on Dak Prescott Rocket (Video)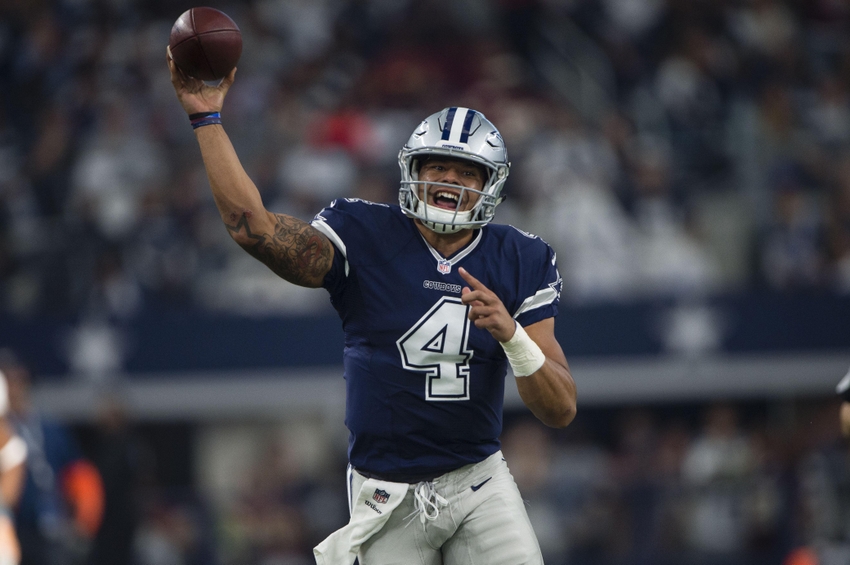 When the Dallas Cowboys need a big play, quarterback Dak Prescott delivers something special—this one with the help of a beautiful Terrance Williams catch
The Dallas Cowboys entered Thanksgiving at 9-1 and quarterback Dak Prescott continues to deliver big-time performances. Facing the 6-3-1 Washington Redskins on Thanksgiving Day, Prescott was on fire.
After a gorgeous drive and with several fantastic throws already under his belt, he threw a gorgeous bullet to Terrance Williams in the front-corner of the end zone. Williams somehow got both feet down for an absolutely nasty Cowboys touchdown.
Watch how Prescott evades the pressure from the Redskins front seven, rolls out to the right, and then hits up Williams without making a mistake. This is how you get it done in the red zone, and give credit to Williams for working his way to the quarterback and making a difficult catch.
Toe-tap receptions are always fun to watch, and the Cowboys No. 3 receiver did well to show his underrated talent on this play. Williams hasn't been the most consistent receiver in the league since coming out of Baylor as a 2013 third-round pick, but you can't forget that he once had eight touchdown receptions in a season.
This score is just Williams' second of the year, as he hadn't scored since Week 4 against the San Francisco 49ers. Prescott gave the Cowboys a 17-3 lead with that touchdown and a 105.4 QB Rating. However, this game could have been a lot closer at half, because Redskins kicker Dustin Hopkins missed a pair of field goals.
The Cowboys leading receiver in the first half was actually Cole Beasley with three receptions for 36 yards. The 10-yard touchdown was Williams's first catch of the game. Prescott did his best in the first half to out-duel Kirk Cousins, who also had a big first half with 216 passing yards.
This article originally appeared on