Tennessee Titans vs. Oakland Raiders: Q&A With Just Blog Baby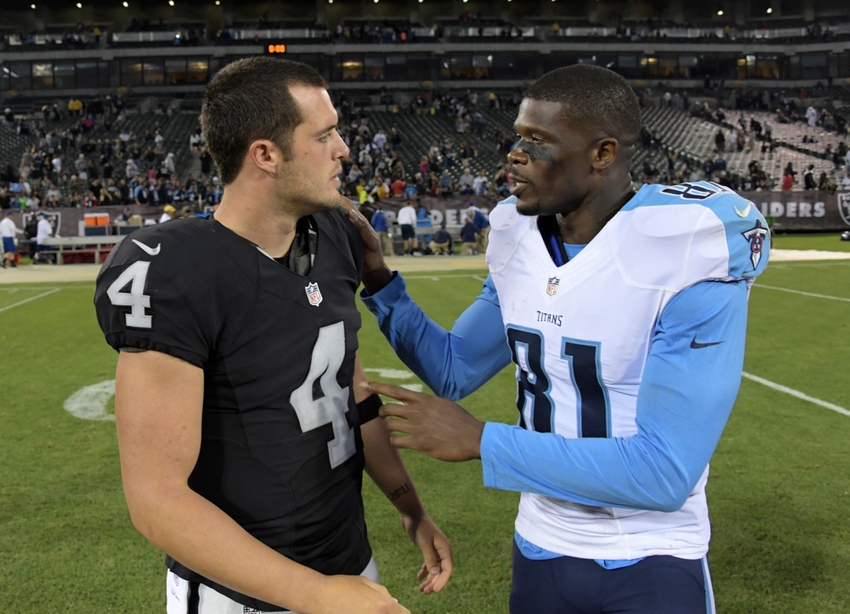 The Oakland Raiders FanSided site, Just Blog Baby, reached out to me earlier in the week to ask me some questions about the upcoming matchup between our teams. I was more than happy to talk about the matchup, and you can find that Q&A on their site.
I asked some questions about the matchup and about the Raiders in general to one of their writers, Tyler Randolph. While the Q&A on their site is more detailed, this Q&A is a better look at the Raiders side of the coin. Check it out below. Titan Sized is in bold and asking the questions.
Which matchup do you think gives the Raiders the best advantage over the Titans?
I think the best matchup has to be one that we already talked about, and that is the passing game against the pass defense. Derek Carr and that offense has hit the ground running and now sits among the best in the league. It helps when you actually have a running game to compliment the pass, which is something that has been lacking since Carr's rookie year. Although Atlanta's pass defense is suspect, they did a good job of keeping explosive plays from happening, at least from Oakland's receivers (Walford slipped through for a big TD), so I could see Tennessee taking a page out of Atlanta's playbook on how to limit those type of plays.
Are the Raiders defensive struggles due to scheme or talent deficiencies? And how can the Titans best attack the Raiders defense?
I definitely think it would weigh more on the schematic side. The talent is there, they just seem to be missing a gasket or two. Del Rio pointed out the obvious and basically said Atlanta did simple play calling and attacked what the linebackers and safeties I'm guessing could not see. Quick passes, shifty receivers and play-action have bothered the second level defenders. Oakland has to play the run, which could open up the middle of the field for Mariota's liking.
Who will be the x-factor in this game for the Raiders?
The x-factor in this tilt for me is going to be Jihad Ward. With Warmack opting for surgery, that leaves a back up lineman will be taking the reins. Mack, Irvin and Autry need some interior help to get this pass rush going, and if Jihad Ward can sustain closing that pocket to flush Mariota to either defensive end, we could see this defensive line finally begin to mesh and find their footing.
Will the Raiders rotation at running back continue in this one? And do you think Latavius Murray should be getting more usage?
The Oakland running back committee shows no signs of slowing down. Both rookie backs are hungry to prove they belong, and quit frankly, have shown nothing but an ability to produce if given touches. However, Murray is their guy and their workhorse, and although he is getting less touches than he had last year, he now has been afforded the time to stay fresh throughout the game. He has been in the 14-18 touch range, and it should stay that way, if not pick up to about 16-20. So yes, he could be used more, but the coaching staff wants him available all season long, especially in the fourth quarter.
Do you believe in Derek Carr as the Raiders franchise quarterback for years to come?
I do believe in Derek Carr as the future of this franchise. If it hasn't been shown yet by his athleticism and ability on the field, it definitely has been shown by his work ethic, character and his commitment to the game. He will be among the elite for the next decade, I believe.
This article originally appeared on