Tennessee Titans vs. Chicago Bears: Who Has the Advantage?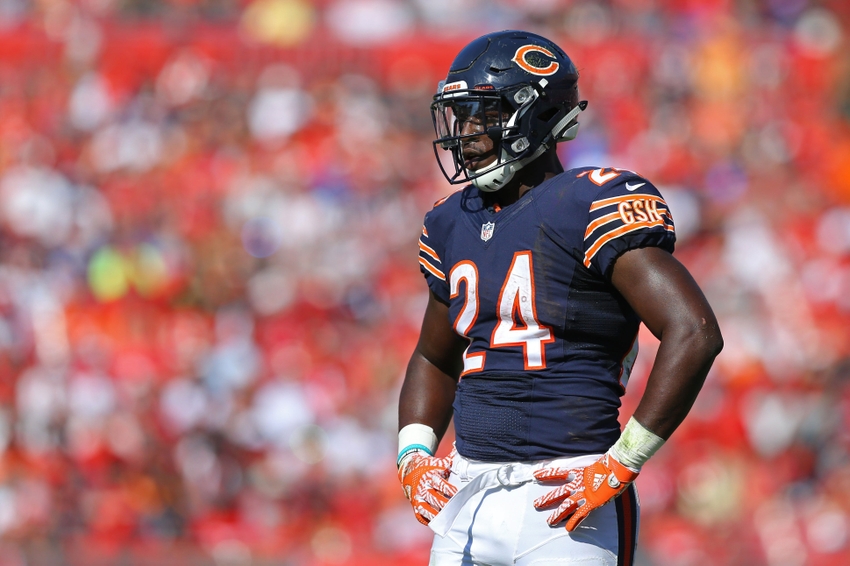 With key players out at virtually every position this week, the Chicago Bears will be facing their toughest matchup of the season when they square off against the Tennessee Titans in Week 12. After losing eight of their first 10 games this year, the hobbled Bears are in position to not only get one of the top three picks in next year's draft, but are also in position to see what they have with a lot of their young talent that is currently on the roster.
There really isn't much to look into in this contest. Although the Titans (5-6) are struggling in their own right, it pales in comparison to Chicago's current situation, and what they have gone through all season long. Even though a blind person can see who has the upper hand in this matchup, I'll go ahead and break everything down anyway.
Bears' Pass Offense vs. Titans' Pass Defense
It really doesn't matter that the Titans' pass defense is ranked 24th in the league. With quarterback Jay Cutler (shoulder) listed as doubtful, wide receiver Alshon Jeffery suspended, and tight end Zach Miller out with a broken foot, the Bears' offense is primed to have a tough outing. Furthermore, they will be doing this with third-string quarterback Matt Barkley under center. The four-year veteran will be making his first-career start in the NFL, and may find things a bit overwhelming without the offense's potent weapons.
To top things all off, the interior of Chicago's offensive line will be without two Pro Bowlers. Right guard Kyle Long is out for the season with an ankle injury, while left guard Josh Sitton is listed as doubtful with an ankle injury of his own. This won't help at all, considering that Tennessee is tied for third in the NFL with 30 sacks.
Advantage: Titans
Bears' Run Offense vs. Titans' Run Defense
The Bears' running game may be the only thing that they can rely on to give them a fighting chance in this game. Running back Jordan Howard is one of the top rookie rushers in the league, but trying to gash a Titans' defense that's ranked seventh against the run may pose too huge an obstacle to overcome. And as I mentioned before, the Bears will be without two Pro Bowlers on the offensive line.
Advantage: Titans
Titans' Pass Offense vs. Bears' Pass Defense
Tennessee is ranked 21st in passing, but Titans quarterback Marcus Mariota is tied for fourth in the league with 24 touchdown passes, and has thrown only eight interceptions. In their last two games (which were loses), the Bears have surrendered 539 passing yards and four touchdowns. The Titans duo of wide receiver Rishard Matthews and tight end Delanie Walker have a combined total of 11 receiving touchdowns, almost matching the total of touchdown passes Chicago has allowed this year. Covering Walker will be tough with one of the Bears' top linebackers, Jerrell Freeman, out due to a suspension. In addition, rookie outside linebacker Leonard Floyd, the Bears' most consistent pass rusher in recent weeks, is out with a concussion.
Advantage: Titans
Titans' Run Offense vs. Bears' Run Defense
Chicago is allowing an average of under 100 rushing yards per game, but will be facing the NFL's third-best ground game. Titans' running back DeMarco Murray is the league's second-leading rusher with an even 1,000 yards. Murray has rushed for over 100 yards in four of the last six games, and has scored a touchdown in five of those contests. Once again, the absence of Freeman will be detrimental to the Bears.
Advantage: Titans
Special Teams
Bears kicker Connor Barth continued to show inconsistency last week versus the New York Giants. Barth missed an extra point and a field goal, further continuing to put doubt into fans in the Windy City. This seems to be the only glaring difference in this phase of the game when comparing these two teams.
Advantage: Titans
Coaching
Both of these ball clubs are struggling, but Bears head coach John Fox has struggled since Day 1 of the regular season. With so many current setbacks, things aren't going to be any easier for Fox and the rest of his coaching staff. On the other hand, Titans head coach Mike Mularkey and his team is healthy enough and in good position to take full advantage of a completely demoralized Bears team.
Advantage: Titans
Who Has the Overall Advantage?
As mentioned before, this matchup appears to be completely one-sided. The numerous injuries and suspensions to the Bears' roster will definitely be too much to overcome. Look for Chicago to have their third three-game losing streak once all is said and done at Soldier Field on Sunday.
Overall Advantage: Titans
More from Bear Goggles On
This article originally appeared on