Tennessee Titans: 5 Players set for breakout seasons in 2017
Scott Gallimore/FanSided via NFL Spin Zone

Fansided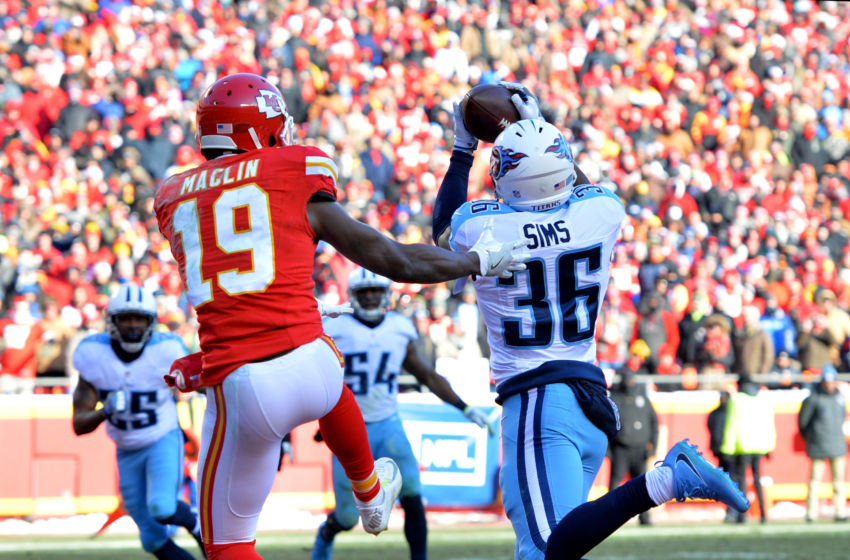 The Tennessee Titans moved in the draft and free agency this offseason, but these five breakout candidates could be huge in 2017.
The Tennessee Titans got busy this offseason. General manager Jon Robinson and company secured some higher profile players that have Titan fans setting the bar high for 2017.
While the signings of free agents like Eric Decker and Logan Ryan add some star power to the team, it also improves the essential commodity of depth. And while we ponder whether Corey Davis can be a Pro Bowler or how many touchdowns Derrick Henry can collect, added depth is the key to an AFC South title and beyond.
All of the moving pieces from the offseason create opportunities and roles up and down the depth chart.
Here, we focus on five guys that do not yet have the big names, but do have the potential to make an impact as big as any Titan in 2017.
5. Taywan Taylor, WR
The addition of Eric Decker will significantly hurt the snap count of rookie Taywan Taylor, but the third-rounder's talent is nothing to sleep on. Before Decker, I thought Taylor had the potential to be the biggest breakout rookie in the NFL.
With 4.33 speed and polished route running abilities, Taylor fits the bill of a true slot receiver perfectly. The Titans have been missing that role for awhile. Combining this with a solid 6-1 frame makes Taylor a perfect fit for any offense. He got open with ease in college as his WR rating (QB rating throwing to a WR) of 158.1, 150.8, and 134.8 suggest (per Pro Football Focus).
While I thought Taylor was primed to be the team's leading slot receiver, he can also get on the field outside thanks to his blazing speed. Here he can compete for snaps with Tajae Sharpe if Decker is manning the slot role. Taylor actually played more from the outside than the slot in college, but that was at Western Kentucky. At the pro level, Taylor is better suited to attack secondaries from the slot.
Either way, I believe Taylor's abilities will guide him onto the field for plenty of snaps down the stretch this season. It is hard to keep 4.33 speed that can be used both for deep routes or shiftiness underneath, off of the field.
Taylor's comparative advantage to his fellow receivers is obviously his speed. When Mularkey wants to use more speed in certain matchups, Taylor would be the guy to rotate into the slot. Taylor can also line up outside as a deep threat with Corey Davis kicking inside to the slot. I believe Taylor will enter the season as the fifth wide receiver on the depth chart. With Sharpe currently injured and Decker coming off recent rotator cuff surgery, Taylor is the next man up if misfortune strikes.
4. Jonnu Smith, TE
The Titans drafted Jonnu Smith (Round 3, 100th overall) to eventually fill the shoes of Delanie Walker. While Walker has another two seasons on his contract, he turns 33 years old in August. The Titans want to begin grooming a versatile pass-catching tight end, and versatility is exactly what Smith brings.
Smith ran the majority of his routes from the slot in college. The FIU product led college football in receptions from the slot among tight ends in just his sophomore season. Mularkey is aware of the versatility Smith brings and his potential to play multiple roles on offense. The head coach said this of the rookie, via TitansOnline.com:
"He is going to play both the Y and F tight end for us, and he is going to be an every down player."
The TE2 spot is Smith's to lose. With Walker and Smith being the pass-catching tight ends, the Titans will likely keep blocker Phillip Supernaw as the third tight end. Smith's snap count therefore could be quite high early on if Mularkey evolves to featuring two pass catchers in his beloved two tight end sets.
I am interested to see how Mularkey uses the third rounder in training camp. I personally prefer a two tight end set where both guys are threats in the passing game. Smith will need to develop some blocking skills, but I believe the TE2 spot is his to lose. Don't sleep on this rookie.
3. Austin Johnson, NT
The Titans made another big time free agency deal by bringing in Sylvester Williams for $17.5 million over three years. Williams was a first-round draft pick in 2013. He has a Super Bowl to his name as part of one of the best defenses in recent NFL history. There is a lot to be excited about with Williams, who looks like a bit of an upgrade over the departed Al Woods.
The problem is that Williams suffered the worst year of his career last season. He earned a disappointing 43.5 grade from Pro Football Focus by being flat-out bad in run defense. PFF ranked him 68th out of 73 qualifying defensive tackles in run defense. Not good.
Who is good against the run is Austin Johnson, or so his college days would suggest. The 2016 second-rounder was ranked third-best among all interior lineman against the run and second in run-stop percentage in his final season at Penn State in 2015.
Johnson didn't see much of the field until the final six games of the season. In these six games, he was in on 30 percent or more of defensive snaps. The 6-4, 315-pounder finished with 14 total tackles and 0.5 sacks in 2016 on limited time. Most importantly, the then-rookie gained the invaluable experience of true NFL game reps.
Johnson and Williams are pretty inverse in their tendencies. Johnson is a run-stopping, bull-rushing, true nose tackle with great awareness to sniff out blocks and protect linebackers behind him. Williams has elite quickness and explosiveness for an interior lineman, who launches himself into the backfield to disrupt any play. This gives him a bit more versatility to play further away from the center and have the option to attack both the A and B gaps.
In training camp, keep an eye on Johnson's performance as the man in the middle. If Johnson can out-perform Williams against the run from the nose, he can quietly claim a large share of snaps at nose tackle in 2017.
2. LeShaun Sims, CB
The new toys Adoree Jackson and Logan Ryan are getting most of the hype amongst the cornerbacks heading into the season. But it is LeShaun Sims that may very well end up being the starting outside corner opposite Logan Ryan in Week 1.
The size between Sims and Jackson is going to be a factor in how Dick Lebeau utilizes his corners. It is just a matter of how big that factor is, and how they perform in camp. Sims has the much sturdier frame at 6-0, 203 pounds. Jackson on the other hand is all of 5-11, 185 pounds.
This difference is critical in a league where receivers are growing upwards and outwards. Take week two in Jacksonville, for example. Allen Robinson and Allen Hurns are both listed at 6-3. If Sims performs adequately in training camp, I cannot see how Lebeau pairs Ryan, also 5-11, with Jackson. More bulk on the perimeter is needed in matchups like these.
A fifth-round pick out of Southern Utah last year, not much was expected of Sims. But similar to Byard, he came on strong towards the end of the season with an expanded role. Sims started two games and registered 16 tackles and a quietly good six passes defended in the last six games of 2016.
Building on this confidence and growth from the rookie season, Sims is a guy who I am eager follow in training camp. He may just be your CB2, for now.
1. Kevin Byard, FS
Byard isn't just ready to fill the role of starting free safety, he is ready to thrive in it.
Being a third-round pick from Middle Tennessee State, not a whole lot was expected of Byard in his rookie season. But he vastly exceeded those expectations, finishing 10th on the team in total tackles and starting the last seven games of the season. Out of all NFL rookie safeties since 2007, Byard allowed the fewest yards per snap in coverage, according to Pro Football Focus.
The arrival of Johnathan Cyprien allows Byard to be the true centerfielder-type safety. In theory, the two are fantastic complements. Cyprien is truly underwhelming in coverage. However he had his best year by far last season thanks to playing the role of a run-stopping strong safety, often setting up in the box. Pro Football Focus gave him an 87.8 rating thanks to this specialized role he played. Dick Lebeau certainly knows how to tailor his guys to their strengths and be aggressive against the run.
Byard's duties will be that of a true free safety. His need will most definitely be helping the corners on long routes over the top, especially against bigger receivers that will tower over Adoree' Jackson, LeShaun Sims and Logan Ryan.
As Dale Lolley wrote last month, some of the biggest improvements in NFL players come between the first and second seasons. After going above and beyond in his rookie season, Byard's Pro Bowl aspirations just may come sooner rather than later.
This article originally appeared on