Teddy Bridgewater: 5 quarterbacks Vikings need to trade for to win Super Bowl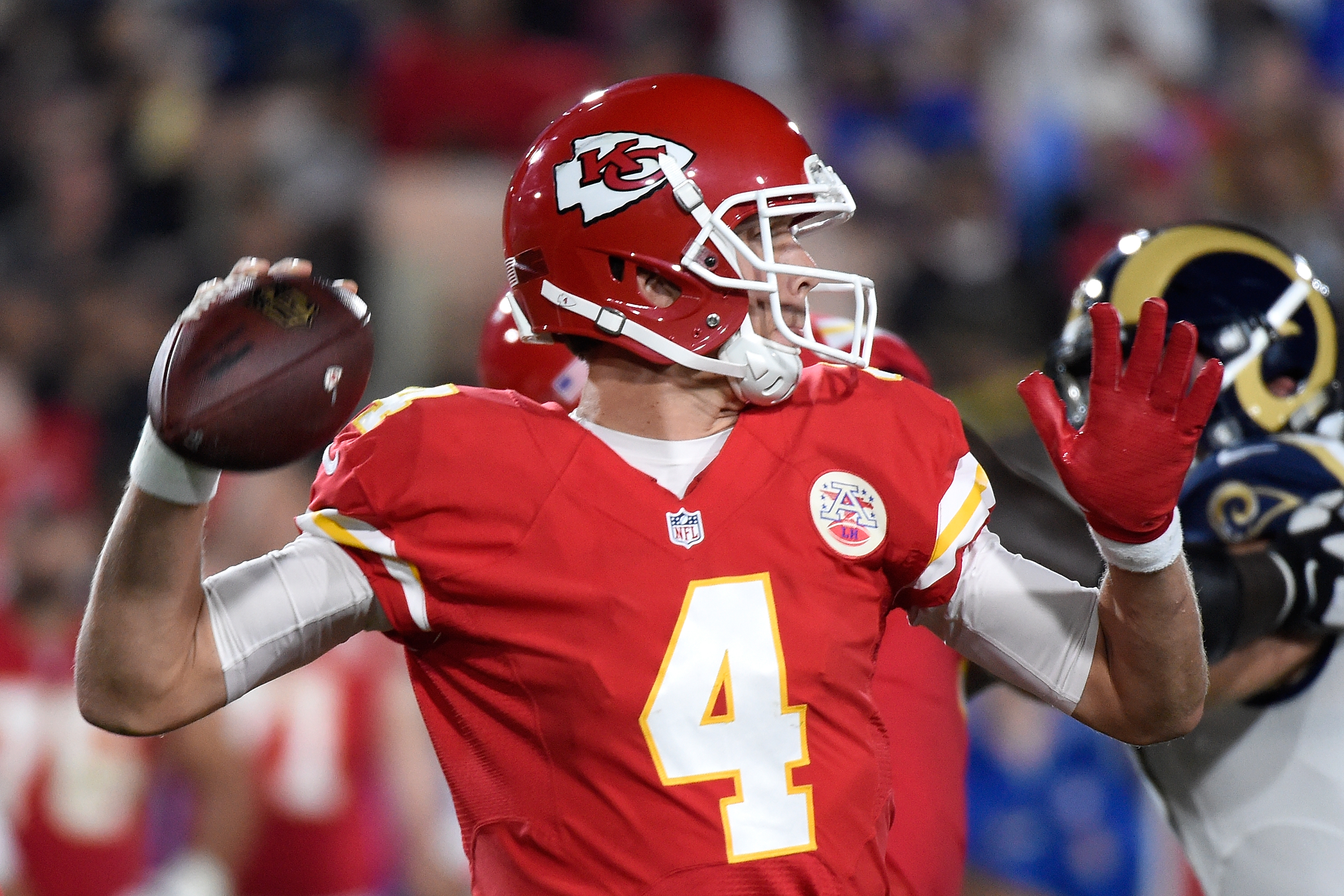 With Teddy Bridgewater out, the Minnesota Vikings need to find someone to be their quarterback in 2016, and a trade is probably their best route.
Teddy Bridgewater is but for the season, but the Vikings aren't dead in the water just yet. After hearing word that the third-year quarterback has a knee that medically shouldn't still be attached after what happened, the Vikings are in dire need for a capable starter.
Let's forget the Tim Tebow's of the world who can be signed in free agency. All of the free agent quarterbacks are absolute garbage. What quarterbacks should the Vikings trade for — ones that actually give them a fighting chance and aren't stupid ideas.
Looking at you, Mark Sanchez.
6
Ryan
Mallett
QB,

Baltimore Ravens
Why It Makes Sense: The Vikings were connected to Mallett going as far back as when he came out of college at Arkansas. Of course, in True Vikings fashion, they picked Christian Ponder. To be fair to Minnesota, Mallett has yet to catch on anywhere. But he is a seasoned backup who has studied under Tom Brady and now Joe Flacco, so you can do a lot worse when it comes to game managers.
Why It Won't Happen: Mallett is a bit of a head case. He was cut by the Texans for 'oversleeping'. That's code for he was too lazy to get up so he could come to work and be Brian Hoyer's backup. He's not proven and if he was going to prove himself as a starter, that time has probably already passed.
Proposed Trade: The Ravens aren't that attached to Mallett but the Vikings would have to offer up at least a fifth-rounder to get him. That's too steep of a price.
5
AJ
McCarron
QB,

Cincinnati Bengals
Why It Makes Sense: If the Bengals were ever going to sell as high on McCarron, that time is now. He'll probably never get a chance to start as long as Andy Dalton is in town. Mike Zimmer has friends back in Cincy and they might be able to get together on a amicable deal that benefits both sides. McCarron isn't a world beater, but he could develop as a starter in Minnesota and then either stick around as a solid backup or get flipped for some trade return.
Why It Won't Happen: While he's never going to start, the Bengals do have some questions about the future at quarterback. Dalton is one more playoff loss away from being a guy fans want to see replaced. McCarron might not be that guy but the Bengals are way too early on his development to cut bait now. The time to sell may be now but that doesn't mean it's the best move.
Proposed Trade: Minnesota shouldn't feel comfortable giving up more than a fourth-rounder for McCarron and even that is steep. Cincy will probably ask for too much in return to allow this to happen.
4
Colin
Kaepernick
QB,

San Francisco 49ers
Why It Makes Sense: Calm down about the flag stuff. Even passive-agressive Minnesota glory-boys will love Kap if he leads the Vikings to the Super Bowl. While he's struggled over the years, Kaepernick might greatly benefit from having a decent offensive coordinator for once and a running game behind him. He has talent, it just needs to be mined the right way again. This is too mutually beneficial to not happen. Minnesota gets a one-year rental and Kaepernick gets a chance to prove his talent on a Super Bowl contender.
Why It Won't Happen: The flag has nothing to do with this. Minnesotans and their passive-egressive attitude will soften to him if he wins. This might not work because Norv Turner's offense isn't built that well for a mobile quarterback. Teddy moves but the schemes aren't designed for that. Still, this might be the best option out there, except good luck asking Alex Boone to block for Kap on Sundays. Love it or not though, Kaepernick instantly makes the Vikings favorites in the NFC North. Sorry, Bartzy.
Proposed Trade: The Niners should be giving Kaepernick to Minnesota, and the Vikings should request San Francisco eat a majority of the money still owed to him. Nothing more than a 6th rounder would be needed to get this done.
3
Nick
Foles
QB,

Kansas City Chiefs
Why It Makes Sense: The Vikings were one of the teams interested in signing Foles when the Rams cut him, so there's a connection. Foles is also an ace game manager if he's in the right situation — something he's been in once. Don't expect MVP-caliber Foles but don't count it out either. With Adrian Peterson in the backfield, anything is possible. Remember that Foles made a star out of Riley Cooper. I'm not saying he's Aaron Rodgers but he's sure as hell better than Shaun Hill. The Chiefs also love Tyler Bray as their backup, so parting with Foles and getting some return makes sense.
Why It Won't Happen: It's going to be hard to see the Chiefs trading Foles to the Vikings when they might get better return from the Cowboys. While the Dak Prescott hype is high, the Cowboys need someone with NFL experience to lead the team. Dam might be the future, but Foles can help the team win now, just like in Minnesota. The difference is, Foles might have a say in where he goes and he'll more than likely pick Dallas. It's an almost identical situation with an offensive minded coach rather than Zimmer's defensive focus.
Proposed Trade: Kansas City wouldn't demand a 2nd rounder or anything, but it'd be at least a fourth or fifth. That steep.  Aaron Murray is more in their price range but vastly less talented.
2
Mike
Glennon
QB,

Tampa Bay Buccaneers
Why It Makes Sense: Mike Glennon has perpetually been waiting to be traded since he was drafted. He pushed out Josh Freeman only to be supplanted by Jameis Winston — through little fault of his own. Glennon is actually an excellent quarterback, one young enough that he can still make a go at being a starter in the NFL and not a backup. He won't get any showcasing time in Tampa Bay, but could wind up with Matt Flynn money if he flourishes in Minnesota. It's an almost perfect fit, as the not-so-mobile Glennon might slide perfectly into Norv Turner's offense while also mentoring Bridgewater a bit while he rehabs. It's another one-year rental with metal benefits, like the Kaepernick situation. The only difference is, Glennon will stand for the Anthem and isn't a headache.
Why It Won't Happen: With just one more year left on his contract, the Buccaneers would have traded Glennon by now if they were going to do it. Rumors were that they turned down a 2nd rounder from an anyoymous team (probably Denver or the Jets) before the draft. Minnesota isn't offering more than a fourth rounder to replace Teddy. The Bucs would be hard pressed to split up Jameis and Glennon for that price. Additionally, if Glennon is gone, then you have no one behind Winston if he gets hurt.
Proposed Trade: Tampa Bay will ask for the nothing short of a third rounder for Glennon and that's just a bit pricey for a one-year rental in Minnesota.
1
Josh
McCown
QB,

Cleveland Browns
Why It Makes Sense: Holy god is this perfect. Look, if you're a Vikings fan — or an NFL fan with a pulse — then you know Josh McCown is not a sexy pick. He never was and never will be. But what McCown brings to Minnesota is everything — literally everything — they need. He's a game manager with experience playing against NFC North defenses. He's just above average enough to make games interesting and then use the tools around him to bail out of trouble. He's everything a Vikings quarterback has ever been. The fact that he hasn't played for the Vikings yet is unfathomable. He's everything Shaun Hill wants to be. McCown doesn't make the Vikings Super Bowl contenders, but he makes them still capable of getting there. Not sexy, but nothing in Minnesota sports is.
Why It Won't Happen: The only way this doesn't happen is if the Vikings don't want it to. McCown syncs up with the Vikings so well that they'd be stupid to not go out and get him. Sure, he failed in Tampa Bay and Cleveland but those teams stink. Minnesota has talent across the board, and McCown would tap into that. Cleveland wouldn't give him away, as RGIII is no sure-bet. But it's Cleveland, and it's not like that team is going to the Super Bowl anytime soon. The price seems to be reasonable and the demand is there. It needs to happen.
Proposed Trade: Minnesota can sweeten the pot and offer up a pair of sixth-rounders (this year and next) or a fifth this year and 2018 sixth to make this happen. Throw in conditional picks, just make this happen, Minnesota, if you want any fighting chance in 2016.
This article originally appeared on