TEAM GRADES: Giants Lose Composure on Field, Game to Redskins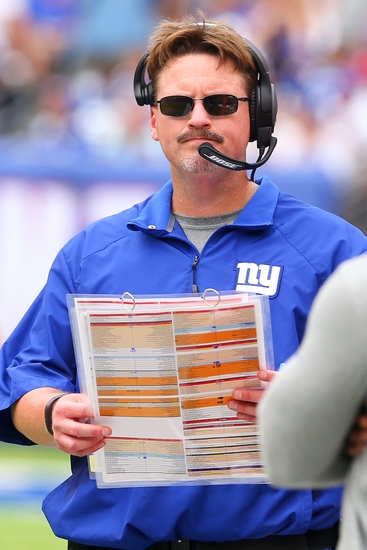 If New York Giants' fans have flashbacks this evening, it's with good reason. Several problem areas reared their respective ugly heads on Sunday, after a two-game hiatus. Notably, Weston Richburg (ejected), Odell Beckham (sideline flameout) and rookie Andrew Adams (stupid penalty) showed an alarming lack of composure. The result was that Big Blue lost a game they should not have. The Washington Redskins came from behind to best the G-Men by a 29-27 score at MetLife Stadium.
Lack of discipline was at the core of the Giants problems last season under Tom Coughlin, but this game was eerily reminiscent of 2015. Head coach Ben McAdoo needs to get the troops in order and quickly.
TEAM GRADE: Offense
Quarterback Eli Manning has had better days, as his composure seemed slightly off all afternoon. But overall, how do you lose a game when you average 5.7 yards per carry? As predicted here, Rashad Jennings did not play, but Shane Vereen and Orleans Darkwa effectively handled duties. Vereen had 61 yards on the ground (6.1 yards per carry), and Darkwa added 53 yards (5.3 yards per carry).
Manning threw two interceptions and could have had a couple more. Tight end Will Tye seemed to give up on a route that caused one miscue on a possible touchdown.
"[Tye] was hot and [Manning] had to get the ball out," McAdoo said after game. "I thought the tight end may have been able to break the ball up across the DB's face there, but again, that's a split-second decision he has to make. Eli's got to body him up a little more in the throw with the type of coverage that was there."
Odell Beckham caught seven passes for 121 yards, but still no touchdowns. Sterling Shepard had five catches, including a touchdown. Weston Richburg was ejected for accumulating two unsportsmanlike foul penalties. Beckham had an offensive pass interference call. The Redskins did not stop the Giants, the Giants stopped themselves.
Shane Vereen lost another fumble this week, which is a cause for concern. This game could have been a stellar offensive effort but penalties and lost composure lowers this grade.
GRADE: C
TEAM GRADE: Defense
Another area of lost opportunity for the G-Men. On the bright side, New York finally got a sack this week.
The secondary let the Redskins back in the game by allowing DeSean Jackson free on a 44-yard touchdown. The G-Men had just taken a 21-9 lead, which went up in smoke in a flash in the second quarter.
A simple hitch pattern to Jamison Crowder turned into a 55-yard touchdown, which was inexcusable.
Olivier Vernon had an undisciplined roughing the quarterback penalty, which helped out Washington on the final drive. After all the angst and turmoil, the Giants still could have pulled the game out. The defense allowed the Redskins to march down the field for the game-winning field goal though.
Redskins' signal caller Kirk Cousins was roundly criticized coming into this game, as teammates called for his head this week. But Cousins had a 106.2 quarterback rating against Big Blue. Enough said.
GRADE: C
TEAM GRADES: Special Teams
Where do we start?
Incredibly, despite the struggles of the offense and defense, the game was still in hand if not for special teams. Poor tackling allowed Jamison Crowder turn an inside the 20-yard line punt into a 52-yard punt return.
Special teams allowed punter Tress Way hit Quinton Dunbar with a 31-yard fourth down pass, that set up a field goal.
If a rookie drops a pass or fumbles that's one thing. But Andrew Adams lack of composure on an idiotic personal foul was another epic special teams fail. It wasn't a hustle play, it occurred 50-yards away from the play and it was an unnecessary cheap shot.
Additionally, Josh Brown shanked a kick-off out-of-bounds, giving Washington great field position. In its entirety, it was a day to forget for Tom Quinn's' unit.
GRADE: F
This article originally appeared on