TEAM GRADES: Beckham's heroics lead Giants over Ravens 27-23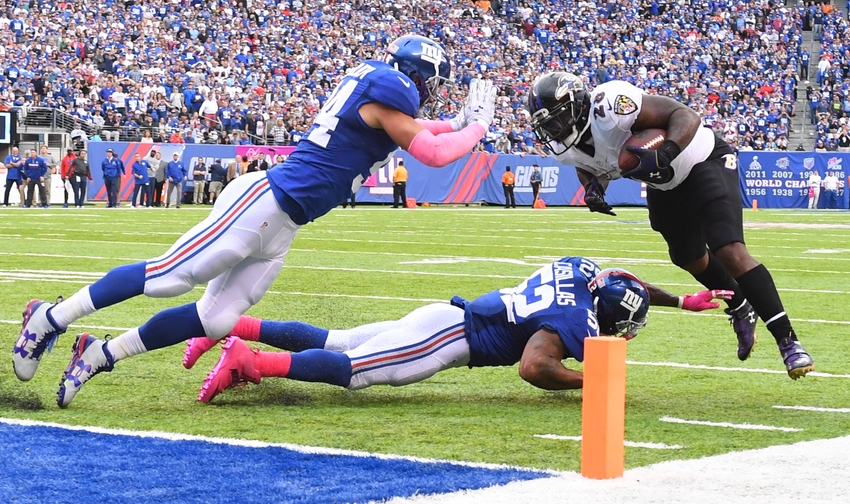 In the standings, the New York Giants (3-3) victory over the Baltimore Ravens (3-3) accounts for just one win. Psychologically, however, the game could be the springboard to bigger and better things for Big Blue. Not only did the G-Men get a breakout game from Odell Beckham, Jr., the defense finally looks cohesive. The team heads to London for a clash with the Los Angeles Rams on Sunday. So let's enjoy this much needed win by looking over the team grades for Week 6.
TEAM GRADES: OFFENSE
The was no much of a rushing attack this week, with only 38 total yards on the ground. Rashad Jennings was the leading rusher with 15 yards on the ground and a 1.5 yards per carry average. Eli Manning got his 300th career touchdown, a 24-yard throw to Roger Lewis in the second quarter. Manning also threw for 403 yards and had nearly a 70 percent completion percentage.
On the outside it was all Odell, all the time, as the dynamic receiver had a career-best 222 receiving yards. OBJ had two touchdowns, and they both were spectacular. Best of all Beckham's timing is impeccable. His scores usually mean something, and they did against the Ravens.
"Sometimes you need bad to happen, and for me, I've always learned the hard way," he said. "I've always had the really bad things happen, and then you're able to bounce back from them. Going to Lambeau [Field in Green Bay], I said I'm just going to have fun. I'm going to go back to cherishing the moment," Beckham said according to Bob Glauber of Newsday on Oct. 16, 2016.
Victor Cruz chipped in with three catches for 31 yards, and tight end Larry Donnell had six catches for 34 yards. Sterling Shepard actually deserved a better fate than his four catches on eight targets.
UNIT GRADE: B
TEAM GRADES: DEFENSE
Baltimore's offensive unit was under the direction of Marty Morhenwig for the first time this season, and the Ravens committed to the rushing attack. Newly installed halfback Terrance West had 87 yards in 23 carries for the Ravens. West was effective, but not a game changer.
In fact, being stopped on the one-yard line was a game changer for the G-Men in the third quarter. "It was an outside toss play, and they have a good fullback," linebacker Jonathan Casillas said according to the New York Post on Oct. 16, 2016. "The fullback cut me, and I did a good job of using my hands and protecting my legs. It was one on one with me and the back, and I made a pretty good play."
Another thing that jumps out about the Ravens offense is its dependence on big plays. (Look in the mirror, right?) The Giants allowed a 33-yard rush, a 41-yard completion, a 22-yard completion and a 70-yard completion. The thing is that the Ravens never scored on any of the big plays.
Cornerback Janoris Jenkins had a face mask penalty that actually saved a touchdown. The defensive front four just got enough pressure on Flacco to make his life uncomfortable. Flacco completed just 54.2 percent of his passes and had a passer rating of 73.9 on the afternoon. Those stats will not buy you wins.
UNIT GRADE: B
TEAM GRADES: SPECIAL TEAMS
The special teams were not entirely special yesterday. Jerrell Adams lined up in the neutral zone, and that cost the Giants five yards and the ball. Long snapper Zak DeOssie had a hands-to-the-face call on another punt. Return man Dwayne Harris tried too hard to make something happen and should have allowed punts within the five yard line to go untouched. He should allow the opposing team's gunners make the play in those situations.
Brad Wing is making a name for himself with a 51.3 yard average. Wing's punts either gets the Giants out of trouble, or create a field position advantage for the team. The Giants mostly never have to worry about the field position battle being lost.
Josh Brown made all three "no longer automatic" points after touchdown, as well as being two-for-two on field goals in the game.
UNIT GRADE: B
This article originally appeared on