Taylor Gabriel scorches Cardinals on 35-yard TD (Video)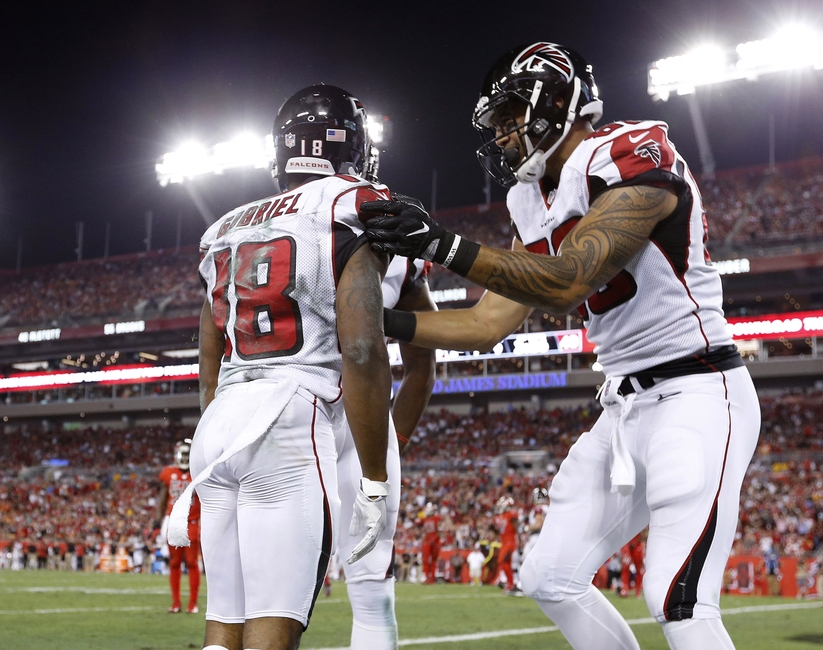 Atlanta Falcons wide receiver Taylor Gabriel keeps finding daylight on this unbelievable 35-yard touchdown reception against the Arizona Cardinals.
The Atlanta Falcons have one of the most explosive offenses in the NFL in 2016. They had a tough matchup in the Arizona Cardinals defense on Sunday, but were finally able to put together a ridiculous score on the Cardinals late in the second quarter.
Tied at 10 points apiece in the Georgia Dome, Falcons quarterback Matt Ryan would throw a checkdown to wide receiver Taylor Gabriel in the flats. From there, Gabriel would be the sledgehammer in the eyes of the Cardinals defense, juking all the way to the end zone on a 35-yard scamper.
ARE YOU KIDDING, @TGdadon1?!

This TD was straight out of @EAMaddenNFL. Unreal. #RiseUp https://t.co/z7Z3XJrA5E

— NFL (@NFL) November 27, 2016
This is why Atlanta's offense is dangerous. Defensive coordinators know all about Pro Bowlers like Ryan, wide receiver Julio Jones, and running back Devonta Freeman. However, Atlanta is still able to put up points with secondary and tertiary offensive options like Gabriel.
Gabriel has found a great place in Atlanta. He has become one of the most explosive players in the Falcons offense in recent weeks. Atlanta offensive coordinator Kyle Shanahan feels comfortable in drawing up plays to get Gabriel into the opponent's end zone.
Atlanta really wanted only a first down on the play, but Gabriel used his blocking magnificently to keep charging up the field on the Cardinals defense. Scoring on the Arizona defense is not easy, but that is what Atlanta will need to do to win a big game at home to stay atop the NFC South for another week.
Gabriel has been a great find in Atlanta. He has been a major reason for the Falcons success on offense in 2016. Atlanta is lucky to have him.
This article originally appeared on