Tampa Bay Buccaneers WR Mike Evans having big year three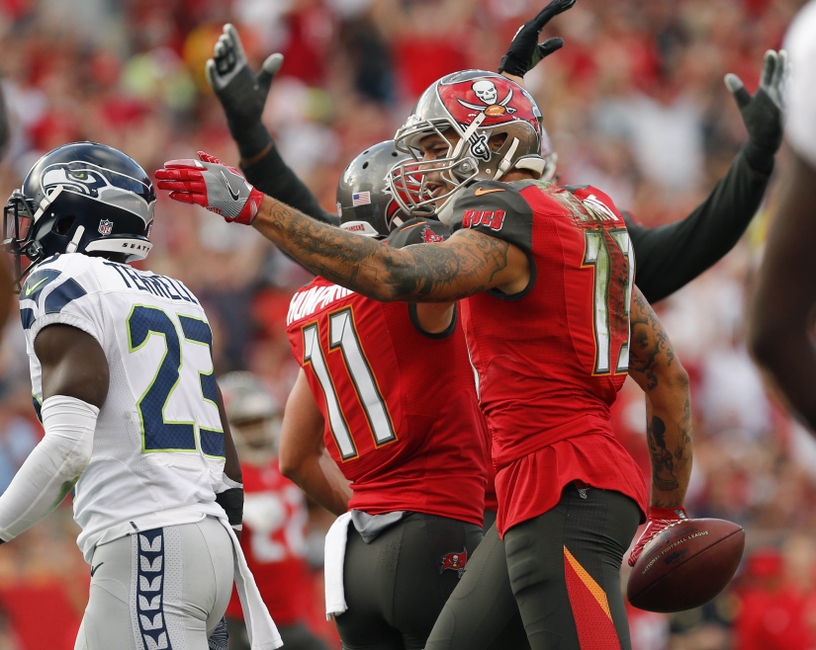 Tampa Bay Buccaneers wide receiver Mike Evans is having a big third season, clicking with second year QB Jameis Winston and putting up big numbers…
Ask yourself, who is the best wide receiver in the NFL today?
In a room full of 10 people, you might hear answers like Antonio Brown, Odell Beckham Jr., Julio Jones, and maybe a handful of others. One name you might not hear mentioned that should be is that of Mike Evans, the stud third-year receiver for the Tampa Bay Buccaneers.
Evans has been a critical part of the Buccaneers' 6-5 start to the season, and is currently second in the NFL in receiving yards behind only Julio Jones. He has 10 touchdowns, two away from his career high set when he was a rookie in 2014, and seven more than his disappointing total of three a year ago.
As Jameis Winston has developed over his nearly two seasons in the NFL, so has his chemistry with Evans, who has returned to form this year and looks better than ever. He's doing everything so well, in fact, that he's Pro Football Focus' highest graded wide receiver league-wide in 2016.
Top-graded NFL WRs this season:

1. Mike Evans, 93.2
2. Julio Jones, 89.9
3. A.J. Green, 88.1
4. Antonio Brown, 87.3
5. Doug Baldwin, 87.1 pic.twitter.com/H1YiL0ZqgA

— Pro Football Focus (@PFF) November 30, 2016
Perhaps his most impressive performance of the season was this past weekend against the Seattle Seahawks, in which he caught eight passes for 104 yards and two touchdowns. Both of those touchdowns made star cornerback Richard Sherman look helpless.
With his performance Sunday, Evans became just the fourth wide receiver in NFL history to post over 1,000 receiving yards in each of his first three seasons in the league.
Regardless of Pro Football Focus grades, it's clear to see that Evans has vaulted himself into the upper echelon of NFL receivers this season, and the scary thing is — he's only going to get better.
This article originally appeared on