Tampa Bay Buccaneers Week Five Winners and Losers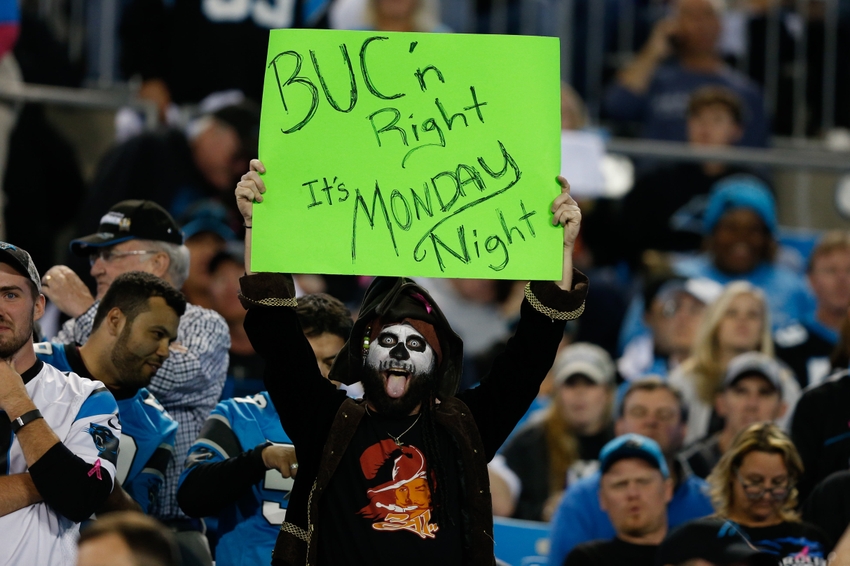 The Buccaneers came up with a big win over the defending champs. Here are the winners and losers.
Well Bucs fans we finally got a Prime Time game. The Buccaneers faced off against Cam Newton less Carolina Panthers and walked away with a W. Let's take a look at who stepped up and who failed to make a splash.
Winner: Running Back Jacquizz Rodgers
The Bucs had a game plan early and often; use the little guy. At only 5'6″ he ran 30 times for 101 yards and five catches for 28 yards. The Bucs really had no other option with Doug Martin still out with the hamstring and Charles Sims going to IR. Peyton Barber was active but the Bucs used the hot hand more often than not. He had ten carries on the first drive alone. Time of possession played a huge role in this one and the running game got the boost it needed from the guy picked up off the street four weeks ago.
Loser: Offensive Tackles Demar Dotson and Gosder Cherilus
If the Bucs have been known for one thing this year it's shooting themselves in the foot with all the stupid penalties. Demar Dotson was called for holding, his SIXTH penalty in FIVE games, nullifying a 20-yard pass. Quality starting tackles have less than five all season. That's not a good way to try to stay on the team with no cap hit next season. Cherilus had a stupid false start on 3rd and 1 inside the 20 eventually leading to a Roberto Aguayo missed field goal. Penalties kill the Bucs every year it seems and the offense just loves to hurt themselves.
Winner: Wide Receiver Mike Evans
Mike Evans had an opportunity for a big game with the Panthers very young and inexperienced corners. He must've watched some Julio highlights because while he didn't have 300+ receiving yards he did have a touchdown on a beautiful stutter step. While he could've made a few more big plays if he had the speed of Julio Jones he still had a good game. Evans finished with five catches, 89 yards, and one touchdown.
Loser: Defensive End Howard Jones
With little action in this game until late the small plays make a big difference. Well Howard Jones had a big play for the wrong reason. Jones was trying to block a punt by punter Andy Lee and he just ran into him. causing a15 yard penalty on a play where they were gaining possession. This penalty gave the Panthers new life and scored a few plays later. Again penalties continue to hurt the Bucs. They are actually in the middle of the league in total penalties but it just seems that everyone is just so big and so deflating.
Winner: Cornerback Brent Grimes
With the Panthers on the one yard line Derek Anderson made a backup quarterback throw. Grimes showed off his extremely high vertical and pulled off a clutch interception. Grimes is the veteran in the secondary, they needed a big play and at a crucial point in this game Grimes came through. While not having a huge statistical game with four tackles, the pick was needed and the first one by a cornerback this season.
Loser: Whoever Was Supposed To Cover Greg Olsen
Greg Olsen is a top three tight end in the NFL and it seemed like the Bucs had no idea who he was. He was just wide open all night and I honestly couldn't tell you who his primary match-up was. He finished with nine catches for 181 yards. Greg Olsen should be the top priority with Cam Newton out and the game plan just wasn't working. I've said before the safeties on this team need drastic improvement but the linebackers can cover the tight end too and it seemed like no one knew what they were doing.
Winner/Loser: Kicker Roberto Aguayo
He won the game but he shouldn't have needed to. Three for five. This game should not have gone down like this. Time of possession and turnovers were all in Tampa's favor tonight and he blew it, twice, again. He was trending on Twitter for all the wrong reasons then the right one. #thingsmoreaccuratethanaguayo was an actual hashtag. I'm so angry and happy at the same time. He has the bye to calm down and focus on what he got right and hopefully, HOPEFULLY he can get back to his Florida State ways.
This game was not like anyone anticipated with so many key injuries. The Buccaneers were missing big names like Gerald McCoy, Doug Martin, and Robert Ayers. The Buccaneers defeated the Carolina Panthers in Carolina 17-14 and are 2-3 on the season. With two division wins heading into the bye hopefully they can carry some momentum into the game against the San Francisco  49ers.
More from The Pewter Plank
This article originally appeared on