Talking Out of Their Landry Hat, Giants Will Smoke Cowboys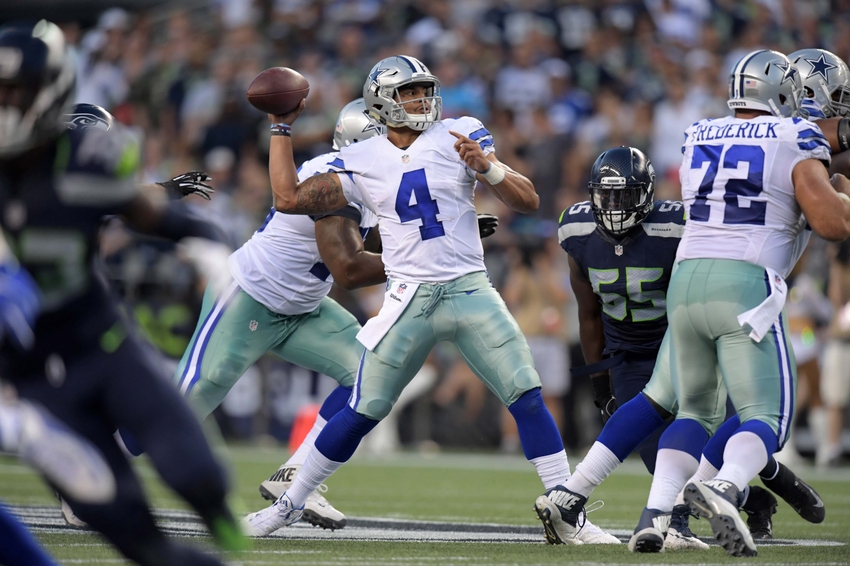 When talking about negative campaigning, one of President Ronald Reagan's commandments was not to speak ill of another Republican. At FanSided, a similar rule thankfully does not exist, so the postings on our sister sites are open game (hopefully). In my pregame research regarding the New York Giants – Dallas Cowboys clash, I came across a post that caught my eye.
Suffice to say, if the roles were reversed, I would not be doing any trash talking…
The Dallas Cowboys' equivalent to GMen HQ is "The Landry Hat", and this week Tyler Harris predicts a victory by the Cowboys. He says in his Sept. 7, 2016 post, "With all the negativity surrounding the injury to Romo, the Cowboys – and their fans – have been waiting for something positive to talk about for a while. They will have plenty to be positive about Sunday evening after they go to 1-0 after defeating the Giants."
Talking Statistics
Now, need I remind Tyler that the Cowboys went all of 4-12 last season. But ever the Cowboys' rooter, Tyler does what all fans of losing teams do, they point to the woulda, shoulda, coulda as the catch-all that "guarantees" improvement. "What many people don't realize, is even without Romo the Cowboys lost 6 games last season by 6 points or less."
My response is that this is not horse shoes, so closeness does not count for anything. And one of your four victories was gifted to your beloved Cowboys by the Giants on opening day last season. The Cowboys'record should have been 3-13 in reality.
Opinion: New York Giants Have Bigger Issues Than Offensive Line
Also, the final score is no automatic barometer of how close the game actually was. All of us who play fantasy football know have gotten nicked by the damn prevent defense allowing a nothing score at the end of a contest. In fact, I hated the fact that general manager Jerry Reese used that logic when explaining Big Blues' 6-10 record last year.
I subscribe to the Bill Parcells' theory that says, "You are what your record says you are."
Talking Prescott
But here is the statement that got me fired up. "[Dak] Prescott enters the game as the preseason champion of all quarterbacks after a sensational performance in each game he played." For those who are unfamiliar, starting quarterback Tony Romo got hurt (again!). After first back-up Kellen Moore got hurt too, the Cowboys turned to the final bullet in their chamber, Prescott.
Voila, the Cowboys stumbled onto something. Prescott looks like he can play.
But as Bill Barnwell of ESPN pointed out on Aug. 29, 2016, rookie quarterback play in preseason amounts to very little in the regular season. "There's no real history of preseason performance by rookies (or players in new places) having any meaningful value in projecting their immediate NFL futures. I wrote about this very topic in regards to Blake Bortles in 2014 after the then-rookie got off to a sterling start in August. Bortles was a mess during the same regular season."
With regard to situations like we see with Prescott, Parcells used to say, "Let's not put him in Canton on roller skates." That about sums it up right now.
Talking Defense
A rookie quarterback means the Cowboys defense will have to their fair share of the heavy lifting on Sunday, but without Demarcus Lawrence (suspended), Rolando McClain (suspended) and Randy Gregory (suspended). But hey, the Cowboys have the best defense on the suspended list!
I'm sorry, but the Cowboys' starting front four had a combined 10 sacks last season. As unimpressive as the Giants' offensive line has been, it's an even match-up. Sean Lee is an awesome linebacker, but losing McClain hurts. The 'Boys secondary is solid, but it won't overwhelm teams this season.
Oh and by the way, do you guys remember "the catch"? Brandon Carr had a fist full of Odell Beckham's jersey and still could not stop him.  The Giants know they cannot sleep on Dez Bryant, and Jason Witten always saves his best for the G-Men. But Odell Beckham will be the best player on the field in Dallas on Sunday. The Dallas secondary should be concerned.
Talking Luck
Being a Cowboys' rooter always means you feel that lady luck is yours exclusively, but remember that luck doesn't last forever. And just having Prescott on your squad was no stroke of genius by owner Jerry Jones. It was pure luck.
"As much as the Dallas Cowboys tell you how much they love rookie quarterback Dak Prescott, who is set to start in place of the injured Tony Romo in the Sept. 11 season opener against the New York Giants, Prescott wouldn't even be here if they had gotten their way on the first day of the NFL Draft," wrote Clarence Hill Jr. of Star-Telegram on Aug. 31, 2016.
All things considered, I would have to say that the Giants should be comfortable competing in Dallas on Sunday. Is this a guaranteed victory? No way. There are too many variable to factor in with a new coach, new players, new play-calling and some roster holes.
But I like the Giants chances, and I think many of the individual match-ups favor the GMen for a change.
This article originally appeared on