Super Bowl Results From Every Election Year Reveals Major Trends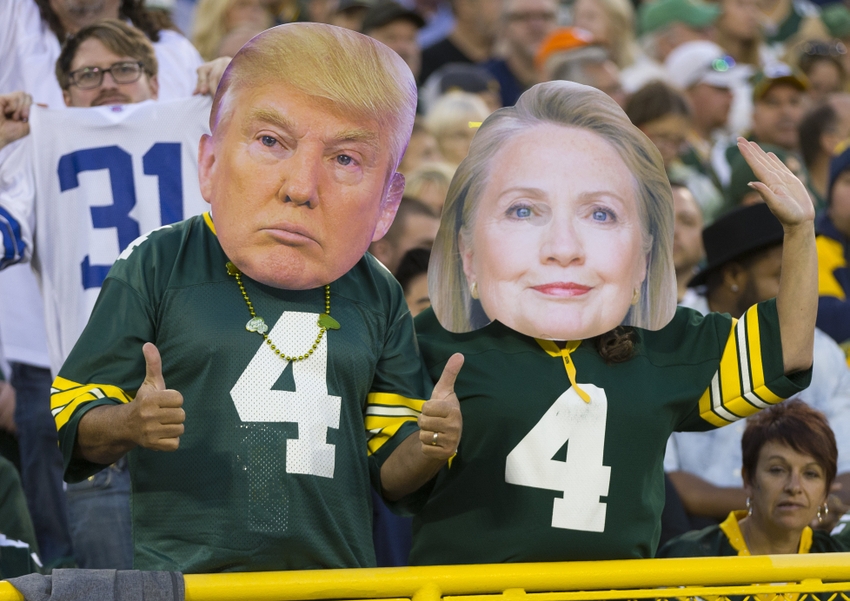 The Super Bowl has long been a grandstand event for America over the years, but 2016 was taken over by one of the most emotionally-charged presidential elections in history.
Fans at this point are just glad the carnage is over, regardless of whether they voted for Donald Trump or Hillary Clinton. Now they can just get back to focusing on football. Well before the election gets put in the rear view mirror entirely, they might be interested to find out a few interesting facts. Specifically in regards to what happens in the league's biggest game when a president is selected that same year.
Quite a lot as it turns out. Here is a list of every election year, which candidates emerged victorious and the results of the Super Bowl that same year.
1968:
Richard Nixon def. Hubert Humphrey
New York Jets def. Baltimore Colts in Super Bowl III
1972:
Richard Nixon def. George McGovern
Miami Dolphins def. Washington Redskins in Super Bowl VII
1976:
Jimmy Carter def. Gerald Ford
Oakland Raiders def. Minnesota Vikings in Super Bowl XI
1980:
Ronald Reagan def. Jimmy Carter
Oakland Raiders def. Philadelphia Eagles in Super Bowl XV
1984:
Ronald Reagan def. Walter Mondale
San Francisco 49ers def. Miami Dolphins in Super Bowl XIX
1988:
George H.W. Bush def. Michael Dukakis
San Francisco 49ers def. Cincinnati Bengals in Super Bowl XXIII
1992:
Bill Clinton def. George H.W. Bush
Dallas Cowboys def. Buffalo Bills in Super Bowl XXVII
1996:
Bill Clinton def. Bob Dole
Green Bay Packers def. New England Patriots in Super Bowl XXXI
2000:
George W. Bush def. Al Gore
Baltimore Ravens def. New York Giants in Super Bowl XXXV
2004:
George W. Bush def. John Kerry
New England Patriots def. Philadelphia Eagles in Super Bowl XXXIX
2008:
Barack Obama def. John McCain
Pittsburgh Steelers def. Arizona Cardinals in Super Bowl XLIII
2012:
Barack Obama def. Mitt Romney
Baltimore Ravens def. San Francisco 49ers
A few interesting facts to take away from this? For starters it seems like San Francisco and Chesapeake bays really enjoy election years. Collectively the two areas reached the big game seven times since 1968. The east coast holds a slight edge over the west coast in titles at 5-4. To top it off election years seem to really highlight organizations that have never won a Lombardi trophy. The Vikings, Bengals, Eagles and Cardinals all lost Super Bowls in election years.
However, perhaps the most fascinating stat comes from the teams that end up winning. Specifically regarding their overall records. In the modern era, the NFL team that finished the regular season with the best record in football won the championship 24 times. That's an average of 48%. Fans may be surprised to see what happens during election years. It turns out the team with the best record in the league has won the Super Bowl five times. So it actually has dropped to 41.6%.
What is there to take away from this? Be excited about the Oakland Raiders, who sit pretty in the AFC. They've won two titles in election years. Also don't read much into who finishes with the best record this season. The odds say it just isn't going to be their year.
More from NFL Mocks
This article originally appeared on