Super Bowl 51: A Remake of the 2017 College Football Championship Game?
Matthew Bartlett/FanSided via Gig Em Gazette

Fansided
The Super Bowl is arguably the biggest football game of the year. How does this year's Super Bowl compare to college football's National Championship Game between the Alabama Crimson Tide and Clemson Tigers?
The New England Patriots, a perennial powerhouse, will soon take on the Atlanta Falcons in Houston, Texas. New England, led by Tom Brady and Bill Belichick, have won four Super Bowls. For the Falcons it will be just their second Super Bowl appearance, ever.
In the days leading up to Super Bowl 51, I couldn't help but draw some comparisons to the finale of the college football season. Nick Saban and the Crimson Tide were playing for yet another championship. Their opponent, the Deshaun Watson led Clemson Tigers, were looking for their second championship.
Perhaps the narrative of David and Goliath is an easy crutch for sports writers. Maybe that's why this analogy jumped out at me. The Patriots (like Alabama) are favored by single digits, but that's not the only way in which this game (and these teams) are shockingly similar.
Football fans will be in for a treat if the Super Bowl is anything like this year's College Football National Championship game. Here's to hoping it is, but first what exactly makes the Super Bowl and eerie reminder of football's last Championship Game?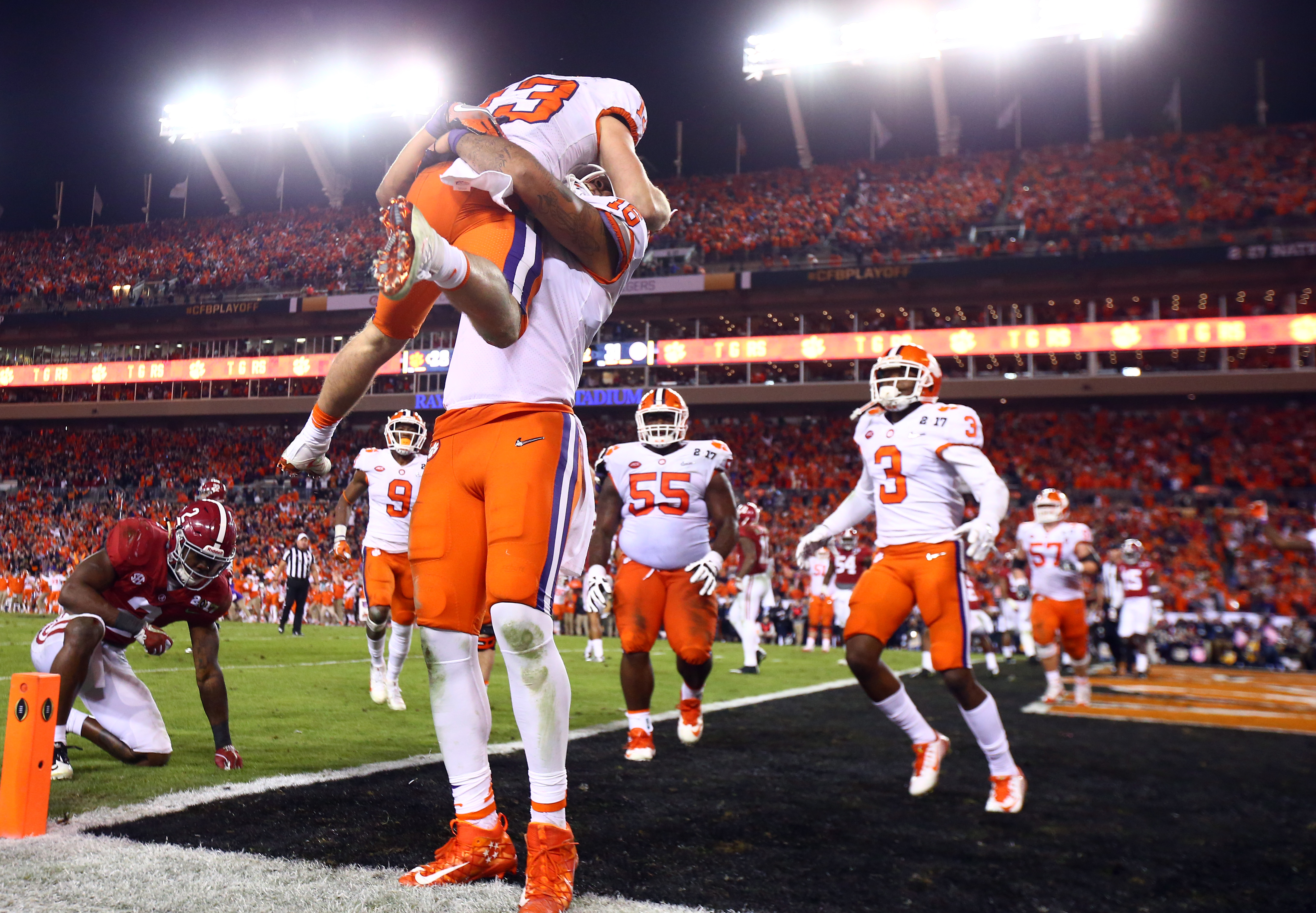 Clemson, the Up and Coming Contenders
Elite Quarterback Play
Matt Ryan is a popular favorite to win the NFL MVP for a reason. The Falcons have made it this far on the arm of their gunslinging quarterback. After being around the league for a while, the story line of Ryan seemed to be written. He's an above average quarterback that just can't seem to play well enough consistently for his team to succeed. He turned that narrative upside down this year. As did Deshaun Watson.
Watson, after losing in the championship game a year ago, fought his way back again in 2017. A senior, his strengths and weaknesses were well known by the college football community. He can make every throw, but his tendency to turn the ball over was a liability. One thing was for certain, he came to play in big games. In the past two seasons, Watson holds a 15:6 touchdown to interception ratio in ACC championship games and the College Football Playoff.
Just Enough to Win
The Falcons offense was good enough to outscore their opponent in close games in 2016. Their defense allowed the eighth most yards in the league this season. In fact, no playoff team allowed more points per game than Atlanta. How did the make it to the Super Bowl then?
This team just has grit. The Falcons finished the regular season with just five losses by a combined 22 points. No matter their deficiencies, the Falcons always seem to be around in the fourth quarter. And when you have Julio Jones and Matt Ryan that's a recipe for good things.
Clemson almost didn't make it to the Championship Game. The Tigers dropped a shootout against Pittsburgh and were a missed field goal away from being upset by NC State in October. Even the ACC Championship Game was close throughout. In spite of all of those things, Dabo Swinney's team found a way to grind it out.
With the championship on the line and literally seconds remaining the Tigers looked to have surrendered the game winning score to Alabama on a Jalen Hurts touchdown run. Unphased, Watson took the ball the length of the field. His two yard pass to Hunter Renfrow with one second on the clock proved the Tigers have the will to win. And win they did. Can Atlanta do the same?
Alabama, the Patriots of College Football
Coaching
Is there a better coach in college football than Nick Saban? Year in and year out his team racks up double digit wins and rolls through the SEC West. Bill Belichick does the same in the AFC East. Both have more wins than any active coach in their sport. Neither man is cherished by opposing fan bases, but I'd still willingly accept either of them to coach my team in a heartbeat.
Since taking over the Crimson Tide in 2007, Saban's worst record is 10-3. He's failed to win the SEC West just three times in 10 years and holds a combined conference record of 66-12. Saban has only finished undefeated once, but the sheer dominance of his program is spectacular.
Belichick took over as the head man in New England in 2000. In an arguably more competitive league, he's taken his team to seven Super Bowls. In most of his "down' years the Pats have settled for an AFC Championship game appearance. Even when he loses, he's still doing better than 90 percent of the rest of the league.
A Defense that Makes You One Dimensional
The Patriots haven't historically had a "lights out" defense. Instead their calling card has come to be their ability to take away their opponent's biggest strength. Whether that's a particular player, an offensive scheme, or a run/pass tendency teams just struggle against the Pats defense.
Alabama is on a whole other level, but the concept is the same. The physicality of their defensive front seven all but shuts down any running game. Opponents are forced to air it out, leaving ample time for the big boys on the Tide line to get to the quarterback.
Who Comes out on Top?
If history is to repeat itself, the Atlanta Falcons looks to have as good a shot as Clemson did earlier this year. The Patriots are missing Rob Gronkoswki. Their defense, which leads the league in scoring, hasn't impressed the critics.
As I write that, I just can't bring myself to pick against Tom Brady. There's a reason that no active quarterback has won as many Super Bowl's as Brady. He's the best. Can the best lose on any given Sunday (or Saturday)? Sure they can. But that doesn't mean I'm going to pick against them. Pats edge out the Falcons in a close one. Of course that's what people were saying about Alabama… Enjoy the game.
***Stats from Pro Football Reference, Sports Reference, and ESPN***
For more coverage check out our sister sites:
This article originally appeared on