Sunday's Running Back Outlook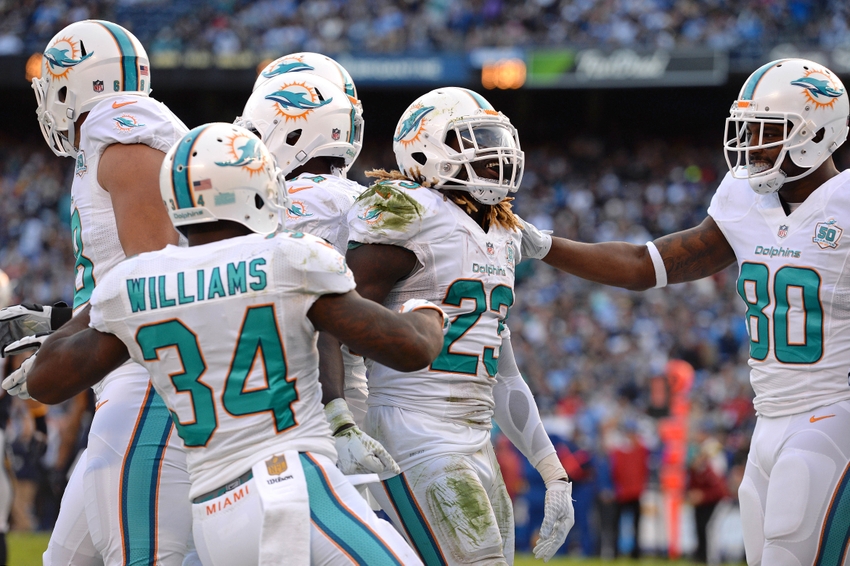 Ryan Tannehill is the team's leading rusher through the first two games of the season. With Arian Foster officially out for tomorrow, one of the other four running backs will have the chance to start.
Gase plans to have a committee style backfield for tomorrow, similar to the rotation of the second half of the New England game. He worked in both Jay Ajayi and Kenyan Drake, and Drake scored his first NFL touchdown.
Isaiah Pead was previously recovering from his hamstring he injured during the final preseason game, but was inactive last game due to the crowded backfield. He was the top running back for the team throughout the preseason and has an opportunity to prove himself this Sunday.
Each makes a case for why he should get more playing time tomorrow.
Jay Ajayi
Cleveland Browns: 5 keys vs. the Miami Dolphins
As last year's fifth-round pick and incoming starter this season ahead of Arian Foster's signing, there has been a lot of excitement and speculation surrounding Ajayi. However, he has faced the most challenges this season mentally.
After losing the starting job to Foster, Ajayi's frustration lead to him being left behind at home during Week 1. During last week's season debut he had 5 carries for 14 yards. He lead all running backs in carries and was only behind Tannehill for lead rusher.
Seemingly, Ajayi is the favorite to get the start this Sunday.
Kenyan Drake
Drake spent most of the preseason recovering from injury and has not had many opportunities to prove himself so far this season. Last week he had a solid first outing, with 2 carries for 12 yards and a couple short catches.
As the team's third round draft pick, there are some expectations for him to become a primary asset for the team in the near future.
Hot off scoring his first touchdown in New England, Drake is eager to get more opportunities tomorrow. It won't be a surprise to see him get a fair share of the workload Sunday.
Isaiah Pead
Pead's performance throughout preseason was solid, solid enough where he looked like a potential starter. The injury was a major setback for him in the depth chart, and now he has an opportunity to earn more time on the field.
During the preseason he had 15 carries and rushed for 99 yards. He was by far the most efficient running back and he could very well see a decent amount of time tomorrow.
Damien Williams
Williams has been primarily used on special teams and has seen less time in the backfield. Against Seattle, he had 2 carries for 9 yards and caught one 29-yard pass. I would not expect him to see as much playing time in the backfield, but by making more big plays, he has the potential to see more playing time.
Ultimately, playing time will most likely be dictated by each back's performance throughout the course of the game. With much uncertainty, it will be exciting to see who Gase puts out on the field tomorrow.
This article originally appeared on