Straight from the source: The Philadelphia Eagles' leaders on defense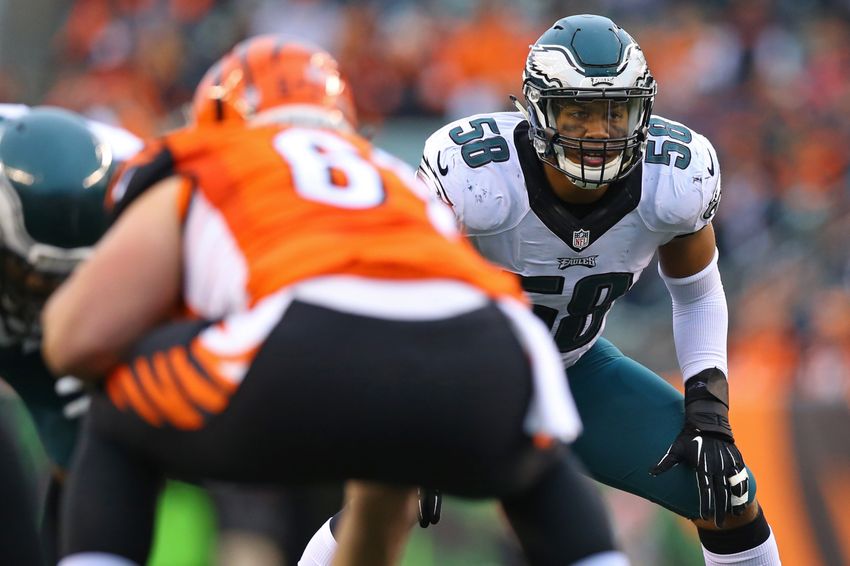 The theory was the Eagles would go as far as the defense would take them, and that statement has proven to be true.
Entering the 2016 season, we knew certain things were obvious about the Philadelphia Eagles. They had a rookie quarterback that was going to need time to get better. Their coach had never been a coach before. There were questions about everything from the skill players to the offensive line. It didn't help that they were going to go with Sam Bradford at quarterback.
One week prior to the season, Bradford was traded, and the Eagles brass burned Carson Wentz's figurative redshirt. The team would go with the new kid on the block. Still, nothing had been done to make anyone believe this team had an elite offense. We weren't even sure they were above average. All the pressure would fall on the defense.
Here we are. Time has flown, and there's one week remaining in the season. The same questions remain on offense, and just like week one of the preseason, we enter week 17 with questions about the defense. With that being said, we rely on safety Malcolm Jenkins, middle linebacker Jordan Hicks and defensive tackle Fletcher Cox for insight on the defense's future and what to expect in week 17's game against the Dallas Cowboys.
Let's begin:
Jordan Hicks:
How good Jordan Hicks is capable of being is completely up to Jordan Hicks. We've heard it all. He's constantly in danger of ending up on the team's list of inured players. He isn't the prototype middle linebacker. Still, Hicks keeps finding a way to end up around the ball. There aren't too many things you can give Chip Kelly a lot of credit for, but drafting Hicks was the right move.
In some ways he grew up this season. In other ways, we haven't seen the development in year two that we've hoped for, but Hicks, his 80 tackles and three interceptions secure his title as one of the defense's leaders. He'll be needed in the Eagles' final game against the Cowboys. History has shown us, especially in his first two games against Dallas, that you can expect him to make an impact.
Check out his press conference as the team prepares for week 17:
Next up is a fan favorite who had a pretty good game in week 16.
Malcolm Jenkins:
As you've just seen, Jenkins just gets it. When you watch him play, you see he has it. Throughout history, we've debated about what "it" means, but to make long stories short, we've all watched enough football to have a pretty good idea.
The Eagles are challenged at cornerback, linebacker and at the defensive end position. The only thing we know for certain is who the safeties are. For a team that hasn't been able to solve that riddle since future NFL Hall of Fame inductee Brian Dawkins left, knowing that allows everyone to breathe a sigh of relief. Jenkins has earned the title of fan favorite in his time with the Eagles, and he's done it the right way. No one questions his effort. He can play several positions in the secondary, and he makes big plays at important times.
Fellow safety Rodney McLeod has been criticized at certain points of the season for being the opposite, but make no mistake about it. If McLeod is at his best, and Jenkins is on the field, the Eagles have on of the best one-two punches at the position in the league. Fortunately, for this team, they'll be together for a while.
Fletcher Cox:
Fletcher Cox signed a contract in the off-season, and it was for quite a bit of change. For the rest of that contract's tenure, questions will be asked about whether or not the former 12th overall pick is earning every penny of that money.
That's to be expected. What's also certain is every time the defensive tackle commits a personal foul penalty that extends a drive or is a step behind, questions will come up about his effort, his decision making, his ability and if Cox is as good as advertised. We'll settle that argument for you. Cox is as good as advertised. Being voted to the NFL Pro Bowl in both 2015 and 2016 are, partially, evidence of that.
He also addressed the media as the Eagles prepare for the Cowboys:
We're a football society obsessed with statistical information. That's why fantasy football and sites like ProFootballFocus.com are so popular. Stats won't tell you the entire story with Cox. Fans will tell you 100 million dollars warrants more than 6.5 sacks on the season. The reality is when you're the one player every team playing the Eagles creates a game plan to stop, 40 tackles, 6.5 sacks and a forced fumble are amazing when you're the constant target of double teams.
The question isn't Cox. The question is how much more his teammates should excel with him demanding so much attention.
Conclusion:
The unfortunate thing about the 2016 season is it hasn't solved much. As stated, there were questions about this team on both sides of the ball. When the 2017 offseason begins, this team will, again, need an overhaul at the wide receiver position. They'll still need a running back. They still need pass rushers, cornerbacks and depth at the linebacker position. We were, however, right about something. Everything hinged on the defense. When they excelled, the team played amazing football. When they struggled, everything fell apart for them.
Defensive coordinator Jim Schwartz just isn't going to blitz. Regardless of what we want as fans, that's just the way it is. The Eagles, in week 16 against the New York Giants, blitzed one time. This team doesn't create enough pressure with the front four. This team doesn't cover well enough in the secondary to make up for that.
Some of the cornerstones of this team are in place, but Cox, Hicks and Jenkins aren't enough. The guys that are around them need to step up, and one or two elite talents may need to emerge if the Eagles want to resemble the great defenses this franchise has been known for. The immediate success of this team depends on it. It makes you think of two former Eagles, former defensive coordinator Jim Johnson and former head coach Buddy Ryan. They wouldn't have wanted it any other way.
This article originally appeared on