Steve Smith Ethers Rookies 'Losing Respect' for Him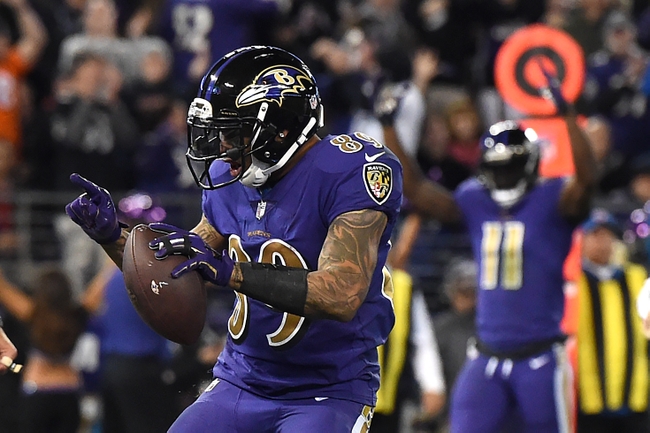 Baltimore Ravens wide receiver Steve Smith Sr. is one of the greatest players of our generation—and maybe the greatest trash-talkers of our generation.
Even at the age of 37 and coming off of a season-ending 2015 injury that nobody thought he would recover from, Steve Smith Sr. remains one of the best wide receivers in the NFL. Clearly the best skill position player on the Baltimore Ravens underwhelming offense this season, Smith is averaging 64.5 yards per game and his incredible sideline catch on Sunday is yet another example of the fact that he still has "it."
Smith's fire hasn't left either and two young cornerbacks decided to test one of the NFL's most famous trash-talkers. The man who gave us "Ice up, son" and who did a nail-in-the-coffin skit in his two-touchdown revenge game against the Carolina Panthers had a great response to Jalen Ramsey (Jacksonville Jaguars) and Anthony Brown (Dallas Cowboys).
These two have been excellent as rookies and should end up being two of the elite corners in this league. However, they haven't been showing respect to Smith, who is seventh in NFL history in all-purpose yardage. In fact, they've flat-out dissed Smith to the tune of saying they've lost respect for him. So on Thursday, Smith decided to fire back.
Here's the quote from ESPN.com's Katherine Terrell:
"I've had two rookies that unfortunately, they have lost all respect for me, so it's been really keeping me up at night. It's tragic. I've been losing sleep. With all the lack of sleep, I know we lost, but I was almost unable to send my cleats and gloves all the way to Canton because of the lack of the sleep thing."
That's a golden response from a player who excels at getting in the opposition's head. Remember, Smith once got Aqib Talib (then of the New England Patriots) ejected from a game by destroying the cornerback mentally.
Ramsey and Brown have shown up well on the field, and Ramsey has made some great comments off of it, too. However, you just don't mess with the Zohan. Because yes, Smith will be moonwalking into Canton after he hangs them up.
This article originally appeared on