Steelers Week 13 Recap: Steelers Top Giants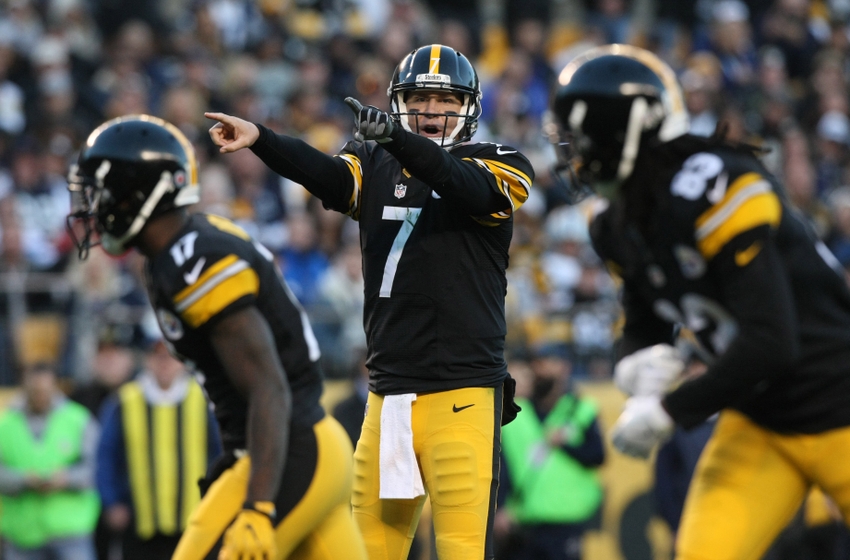 The Steelers did well Sunday night and got themselves a little bit closer to being playoff worthy. Their midseason slump appears to have passed with the Giants behind them.
The Steelers had some winning to do to make sure they made the playoffs. They've been it. After 3 straight wins they're 7-5. Usually 10 is a magic number when it comes to getting into the playoffs and the Steelers just have to go 3-1 to get there. One of those games includes the Browns.
So the Steelers went to visit New York and came away with a decisive win against a good opponent. So let's dive into it all.
1st Quarter
The Steelers started off with 4 straight runs from Bell and a first down. Their second first down came off a short pass to Brown. Bell gave them another 9 yards but two incomplete passes afterward forced them to punt.
The Giants got stuffed on a couple plays but then Eli Manning threw a 20 yard pass to Jennings for a first down. The Steelers got back to stuffing though and the Giants were forced to punt. The Steelers started off hot again. There was a 16 yard pass to Jesse James. Then Le'Veon Bell took a short pass for 21. A holding penalty stalled the drive though and they punted.
The Giants started at their own 9 and a pass interference penalty pushed them to the 4. After a couple incompletions, what looked like a first down turned out to be a safety due to a holding call in the endzone. Pittsburgh up 2-0.
Antonio Brown had a nice return and the Steelers started on the 36. Roethlisberger completed a deep pass to Ladarius Green for 37 yards. They didn't get any further but that was enough for a field goal. Pittsburgh up 5-0.
2nd Quarter
The Giants started the second quarter hot with a 10 yard pass to Shepard. Then a 5 yard pass and a defensive pass interference got them even closer. They got a few short yard plays that added up to another 1st down. A holding penalty was a setback but they overcame it with a 16 yard pass to Tye and a 10 yard pass to Odell Beckham Jr. But Lawrence Timmons swooped in and intercepted a pass, taking it 58 yards.
The Steelers did not waste the opportunity. Ben threw it 11 yards to James. Soon after he threw a 22 yard pass to Brown in the back of the endzone. They failed to convert for 2. Pittsburgh up 11-0.
The Giants went three and out. Pittsburgh started at their own 20 but with a series of runs and short and mid range passes they chipped away and moved down the field. The most notable play was a 3rd and 17 where Eli Rogers to a screen pass 18 yards for the first down. The Steelers almost made up for a sack with a 14 yard short pass to Bell but had to kick. Pittsburgh up 14-0.
3rd Quarter
The Giants started three and out when James Harrison got a sack to finish it off on third down. The Steelers returned the favor, punting shortly after.
The Giants started the next one off better. Eli threw a 23 yard pass to Beckham Jr., then another 7 from him. Perkins ran for 18 yards. Two incomplete passes and then a 9 yard pass. They went for it on fourth down. Incomplete pass.
The Steelers got a first down on a Ladarius Green reception but then Le'Veon Bell fumbled and when players finally noticed the Giants recovered. The Giants turned around a threw a touchdown pass to Jennings. Pittsburgh up 14-7.
The Steelers came back swinging. Ladarius Green caught a pass for 33 yards. Le'Veon Bell ran for 12 yards. Brown caught a 13 yard pass between two Bell runs. Ladarius Green started the drive, and he finished it with a 20 yard touchdown reception. Pittsburgh up 21-7
The Giants went three and out. But the Steelers gave up a sack and then an interception after recieving the punt. Giants ball.
4th Quarter
With field position in their favor, the Giants took a few yards at a time until they got as close as the 30. They had to go for it on 4th and 13 though. It was intercepted by young Sean Davis, he returned it 41 but they had to start at their 3 after a penalty.
They pulled off a first down but had to punt. Beckham went and caught a 25 yard pass. They couldn't move it after that and on 4th down Manning was sacked.
Bell carried the ball, and the Steelers, down the field, including 12 and 19 yard runs. A fourth down was converted with a 5 yard pass to Jesse James. They still ended up with a field goal but took extra time off the clock from the conversion. Pittsburgh up 24-7.
The Giants didn't have much time. They got aided by an unnecessary roughness call. Then Beckham caught a 14 yarder. There were a couple more mid-range passes followed by a defense pass interference. A 1 yard pass to Shepard resulted in a touchdown.
But Pittsburgh won 24-14.
The Steelers aced a test against the Giants. The offense did well, as you might expect. The defense really stuffed the run and stopped a few 4th downs. Next week they're at Buffalo.
This article originally appeared on