Steelers Week 11 Recap: Steelers Top Browns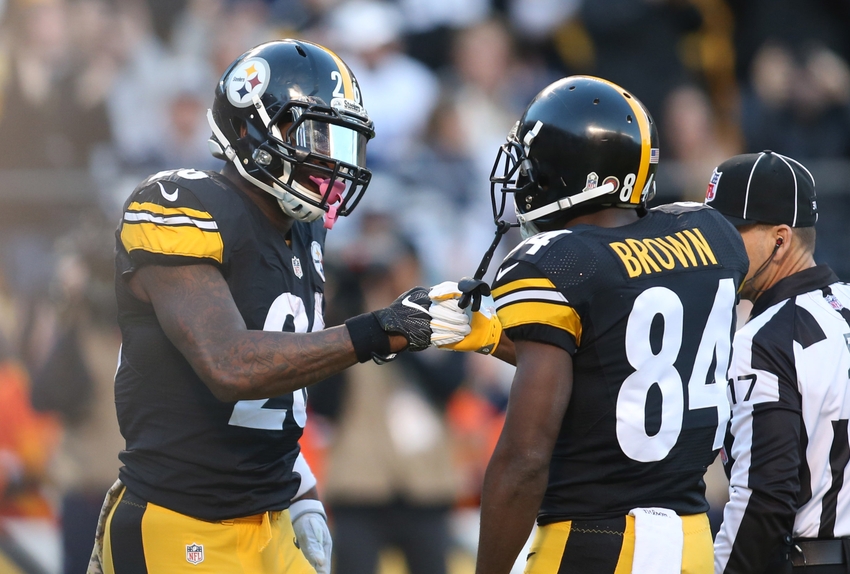 The Steelers beat the Browns today. Sure, it should have been an automatic win, but those are exactly the games they've been doing poorly in. They came away with a road win and beat a slump.
The Steelers came away with a win of course and stopped a losing streak. They won comfortably. Le'Veon Bell had a great game and the defense played well. They did not do great though. They probably underperformed. They probably needed to win 6 of the last 7 to be sure they make the playoffs and not it's 5 of the last 6. Progress. Positive. Happy thoughts.
1st Quarter
It was a cold day in Cleveland and the Browns were on offense first. It started out well enough. Kessler got onto the Pittsburgh side of the field with a 36 yard pass to Pryor. Then Shazier darted through the line to make a tackle for loss. Then a false start on the Browns. Finally, a deep pass was thrown a little short and Artie Burns was there to intercept it.
Pittsburgh leaned heavily on Le'Veon Bell as they did throughout the game. Even the longest pass play of the drive was a 19 yarder to Bell. Pittsburgh got to the 9 yard line but then had a false start. Shortly after, as we've seen so many times from the Steelers in the red zone, they settled for a field goal. Steelers up 3-0.
Stephon Tuitt sacked Kessler on his first drop back of the drive. Artie Burns got a penalty, and Hawkins took a short pass 20 yards. But the rookie Hargrave, having his biggest game yet, sacked Kessler and the Browns had to punt.
2nd Quarter
The drive started moving when Roethlisberger threw an 18 yard pass to Brown. Shortly after, Bell ran 11 yards for a first down. Then a series of short pass got Pittsburgh into Cleveland territory and a 10 yard run from Bell got them in the red zone. Again, the offense instantly stalled out and they kicked a field goal. Steelers up 6-0.
The Browns started off well enough getting a first down off a 10 yard Johnson run. Then Arthur Moats sacked the quarterback. The Browns had to punt twice due to a penalty.
The Steelers got their first first down on a pair of Bell runs. Then Antonio Brown caught a pass for 21 yards. Some more short passes got them all the way to the 3 yard line. Then the Browns got a penalty for how they played Brown. Then the Browns got another pass interference penalty for how they played Brown. With time out the Steelers decided not to go for a field goal and go aggressive.
Le'Veon Bell ran it in for the touchdown and a 2 point conversion was successful off a pass to David Johnson. Steelers up 14-0.
3rd Quarter
The Steelers were pushed back with a holding penalty to start the half and couldn't recover. The Browns had nice little drive though. Kessler to Johnson for 22 yards on 3rd down. Then another long 3rd down pass to Pryor for 26 yards. But then a sack and another close call from Tuitt forced a field goal. Steelers up 14-3.
Le'Veon Bell got a pair of first downs on the ground and then Antonio Brown got a pair with catches of 11 and 13 yards. Then there was defensive holding, then offensive holding, then Le'Veon Bell ran 11 yards and we were in the red zone. Guess what happened? Three and out. Field goal. Steelers up 17-3.
4th Quarter
The Browns started the drive aided by an unnecessary roughness penalty of Lawrence Timmons. A 3rd down sack forced Gary Barnidge to save the day with a 4th down catch to keep the drive alive. After a pair of penalties made it 2nd and 25 a 15 yard pass to Pryor and a 20 yarder to Johnson kept it alive again.
Finally, McCown (ya, he's the QB at this point) threw to Barnidge in the endzone. The kick was wide right. Steelers up 17-9.
Then the Steelers went three and out. Though aided by a penalty and a 16 yard Coleman grab, the Browns couldn't overcome a pair of sacks and punted as well. Three and out again for Pittsburgh.
After an incomplete pass to Pryor, the next play saw McCown scramble, Shazier catch him and knock the ball loose, and Hargrave fall on it in the endzone. That's 24-9 Steelers.
The Browns spent 3 and a half minutes moving down the field. They got all the way to the Pittsburgh 14. But at that point the clock hit zeroes and the game was over. Steelers win.
It wasn't pretty, but was a win, and that's something Steelers fans have not gotten since October 9th against the Jets. Tomlin described it, in his post-game press conference as a "good team victory." That it was. It was necessary to. Now a short week and they play in Indianapolis on Thanksgiving.
More from Still Curtain
This article originally appeared on