Steelers vs Washington: Tomlin Tuesday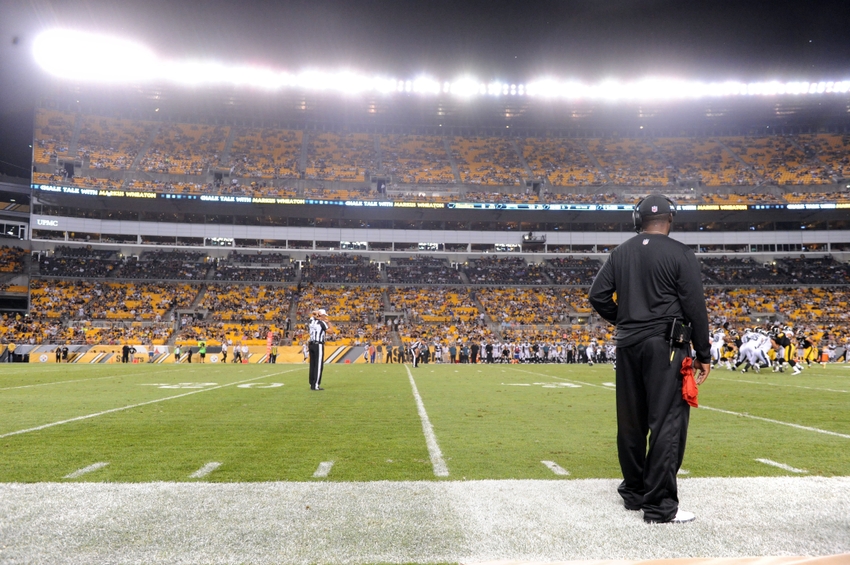 Steelers head coach Mike Tomlin is back at the podium bringing you the info you need for the game week ahead of us, obviously.
The Steelers take on Washington on Monday Night Football to kick off the 2016 regular season. The game itself isn't without its points of interest even if it's an out of conference game for the Steelers. Seeing the matchup between receiver Antonio Brown and cornerback Josh Normal will surely be worth the price of admission.
As usual for his Tuesdays during the regular season Mike Tomlin addressed the media to preview the upcoming game, update injury statuses and answer questions.
The injury report was unfortunately lengthy for this time of year. Tomlin explained the status for second-year linebacker Bud Dupree as he was put on IR over the weekend.
"Bud Dupree has been placed on IR, and he's capable of being designated-to-return. He's got a muscular core injury that he's been battling over the course of the last several weeks. These things sometimes get better with time, and sometimes you can manage them. Sometimes they require a surgical repair of some kind. He's being evaluated in the next couple of days to determine what route we're going to take, but by putting him on IR, and potentially designated-to-return, we took the timetable off it and we just want to get him healthy. Hopefully, he'll be back in uniform for us in 2016 and be the core contributor to our efforts he's capable of being." – Mike Tomlin
2017 NFL Mock Draft: Prior Trades Come Up Big
Tomlin listed some day-to-day guys which included Roosevelt Nix, Daniel McCullers, Shamarko Thomas, Cody Wallace, Marcus Gilbert, Cameron Heyward, Markus Wheaton and Javon Hargrave.
Cornerback Senquez Golson is still on the team and not on IR as of yet and Tomlin explained that he can be classified as week-to-week. I didn't know that Lisfranc injuries could be week-to-week but I'm not a doctor so there's that.
Feels like Golson might be in the Maurkice Pouncey of last year category. Although I doubt he'll be asked about as frequently.
On the topic of cornerbacks of course Tomlin addressed the Brown elephant in the room which was the acquisition of Justin Gilbert from Cleveland. Over the last couple of days we've heard just how unpopular of a guy he was there and it certainly prompts questions as to what Tomlin's expectations are.
Tomlin was blunt (as if we could expect otherwise) about his opinions on others opinions about Justin Gilbert and his time with the Cleveland Browns.
"We don't care what happened in Cleveland, to be quite honest with you. We're not asking a bunch of questions in that regard. We simply acquired a young cornerback that another team didn't want or need, and we're putting him in our environment and starting the process of going to work on a day-to-day basis and see where that leads us. I know he's excited about being here. He had a good day of work (Monday), but we'll live it day-by-day and we'll see if his story can become a similar one to Ross Cockrell's, for example." – Mike Tomlin
Tomlin noted that he's excited about the start of the season and particularly excited to get it started on the national stage on Monday Night Football against Washington.
He noted that with Dupree being out he'll look toward the group of outside linebackers to pick up the slack including Arthur Moats, Jarvis Jones, James Harrison and Anthony Chickillo.
"We're going to play all four guys fluidly at the two spots. We haven't met yet and got into a division of labor as to who is going to play when or how much. We have a great deal of confidence in all four guys that are candidates at that position." – Mike Tomlin
Tomlin broke down Washington in his usual manner in describing the opposing team; their offense is akin to The Greatest Show on Turf and their defense is reminiscent of the '85 Bears. It's just how he roles.
Tomlin does have history with Washington's head coach, Jay Gruden, as both were on Gruden's brother's coaching staff in Tampa Bay early in their careers.
The matchup everyone is going to be looking for is the one of Antonio Brown against Josh Norman, obviously.
He's not worried about the tight end situation, or won't let on that he's worried about it and expressed confidence in Jesse James, David Johnson and Xavier Grimble.
He's in mid-season form already with the Tomlinisms. When describing Washington receiver DeSean Jackson as an offensive threat Tomlin explained that they have to "minimize his chunkability" as far as his ability to gain yards after the catch.
Obviously's = 7
You can listen to Tomlin's entire presser right here.
Bring on Washington! Here we go Steelers! Here we go!
This article originally appeared on