Steelers vs. Patriots: Tomlin Tuesday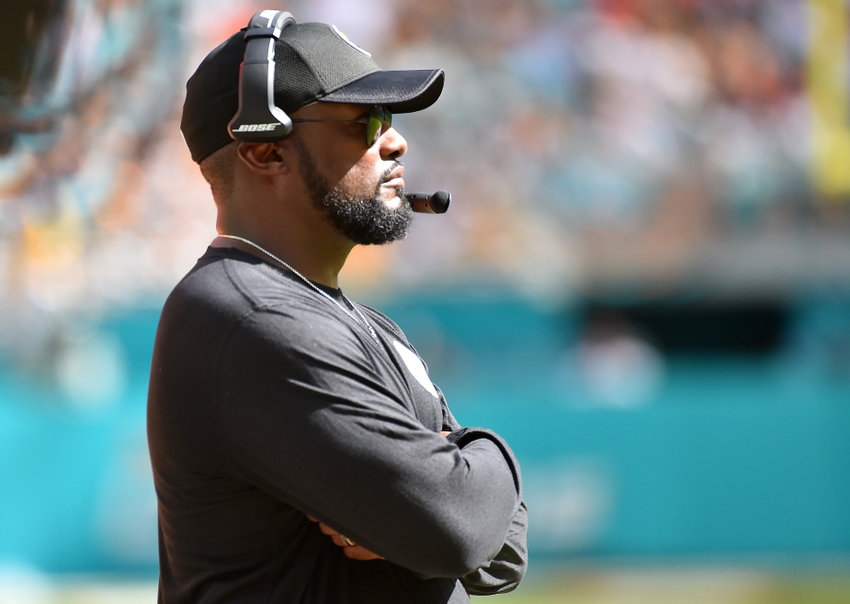 The Steelers returned home from Miami with a little bit more than just sunburn and a hangover.
Head coach Mike Tomlin was in his usual spot on Tuesdays to address the media. He reviewed the previous game, updated injury statuses, previewed the upcoming game and answered questions.
Tomlin called the performance against the Dolphins in the 30-15 loss a collective failure but coaches and players. He felt the offense didn't convert enough third downs and committed some uncharacteristic turnovers.
Steelers vs. Dolphins Fantasy outlook
They got outplayed in terms of time of possession and number of snaps, which was evident by the fact that Dolphins running back Jay Ajayi essentially ran circles around the team. The inability to tackle effectively allowed the defense to give up an astonishing 222 yards on the ground.
Third downs were the difference in this game. They converted them, we didn't. That and the turnovers created a loss for Pittsburgh. If they had played a better opponent it would have been a blood bath.
Injuries
Speaking of blood bath, let's take a look at those injuries. Tomlin reminded everyone of the statement he put out on Monday in terms of Ben Roethlisberger's health status. He had a scope done on his knee and can be categorized as "Out" for Sunday's game against the Patriots.
Landry Jones vs. Tom Brady: The matchup everyone was expecting.
Unfortunately also already categorized as out for Sundays' game is defensive end Cameron Heyward, whose absence in the pass rush was painfully noticeable in Miami. Cody Wallace continues to be out with his knee injury.
Tomlin explained there are a number of men who will be available based on their level of practice participation this week. Those guys include receiver Markus Wheaton, linebacker Ryan Shazier, safety Shamarko Thomas and tackle Marcus Gilbert.
To add to those guys, because why not, injuries stemming from last week's loss include safety Robert Golden (foot), safety Michael Mitchell (knee) and running back DeAngelo Williams (knee). Those guys are going to be practicing but their injuries will be monitored.
Tomlin added his feelings on Landry Jones that doesn't exactly sound like a ringing endorsement.
"I will say this about Landry; He has been here a number of years now; he has a very good understanding of our offense. That knowledge and understanding is one thing, the ability to execute is another. We are going to give him all the reps this week and let him go through the preparation process. It's less about what he knows and more about what he is capable of executing at a high level. His opinion will be a component of that. He is a good communicator. It's part of the functions of being a backup quarterback, the talking of schematics and the seeing of what is on the field and the communicating of such. He has grown in a lot of ways in that area in the last several years. Hopefully that's an asset to him as we prepare and ultimately play this week." – Mike Tomlin
Ouch.
Preview
When it comes to the Patriots, well they get complimented enough on a regular basis. We don't really need to go over Tomlin talking them up, do we?
We get this week's Tomlinism when discussing former Steeler running back LeGarrette Blount and James White he called the duo Thunder and Lightning.
Questions
When answering questions I always find it funny how the reporters always try week in and week out, to get Tomlin to reveal some part of the game plan. As if that's something coaches actually do. Tomlin might not be the easiest guy to interview or get juicy quotes from, but he's just like every other head coach.
They'd rather give up their children's social security numbers than reveal anything they feel is part of their actual game plans. Unless you're in the mood for Tomlin to deliver a dart, I'd probably stay away from questions like, "Tell me what your plans are for…" It's a no from him.
Tomlin did explain that it is always the intention to establish the run game and Le'Veon Bell having a state line of 53 yards on ten carries means that something went wrong. He admitted that the team "lost their personality a little as the game unfolded."
This is rather troubling as it's a familiar reasoning as to why the game against Philly got so out of hand. It shouldn't be this easy to shut down such a prolific offense as Pittsburgh has. Of course, if Bell and Williams are getting stuffed at the line that just means that Ben and the receivers have to do their parts.
Tomlin was asked about the performance of rookie cornerback Artie Burns and said that it was shoddy. Burns, along with the rest of the secondary, need to be a lot more physical and let's not forget the sure interception dropped by one William Gay.
If that is caught by Gay when the team was up 8-3 it could have definitely changed the outcome.
Let's not dwell, though. Let's look forward to all of the chores we're going to get done during the bye week next week.
As always, you can find Tomlin's entire presser right here.
Obviouslys = 5
Bring on the Patriots! Here we go Steelers! Here we go!
More from Still Curtain
This article originally appeared on