Steelers vs. Cowboys: Tomlin Tuesday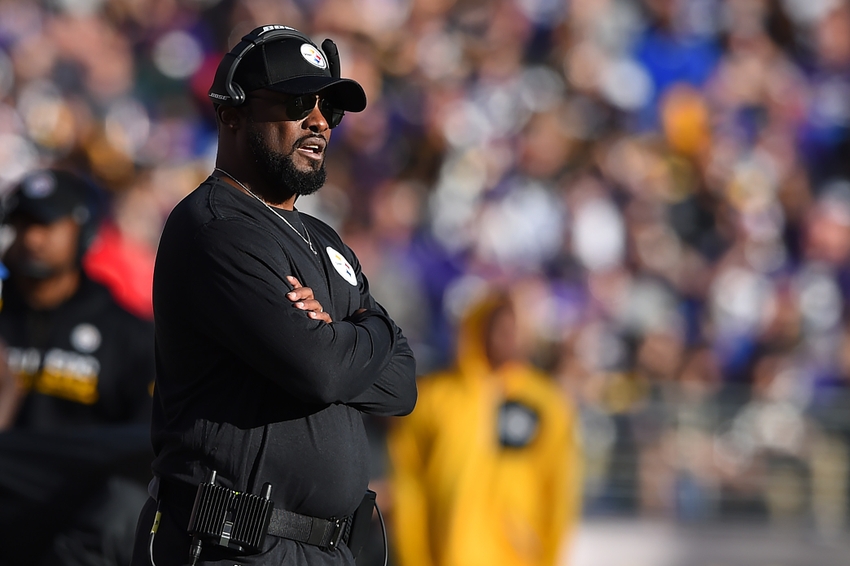 The Steelers are in a tough spot after having dropped three straight games and the lead in the division.
Coach Mike Tomlin is here to set us all straight and ease our worries. He takes the mic in his usual Tuesday spot to review the previous game, update injury statuses, breakdown the upcoming game and answer questions.
One glaring issue from the 21-14 loss to Baltimore was the 99 yards the Steelers were penalized on 13 accepted penalties. That's not good and one thing that it is not is good. Unless you're the Raiders you can't just go committing a penalty on every friggin play and expect to win the game.
Fantasy Football Alert: Mike Wallace 95-Yard Touchdown (Video)
Plus, this is the part where everyone gets to point at Tomlin and say the team is "undisciplined" and Cowher would've never stood for this penalty nonsense. Like the coach is really standing on the sidelines telling the guys to go out there and false start on every play or something.
"We can't be as penalized as we have been penalized. It's tough to win in this league. It's increasingly more difficult when you shoot yourself in the foot. We have to get away from that. We have been good at that in the past, we have to get back to being good at that. We haven't been good at that in the last several weeks, and probably more disturbing than the fact that we're being penalized is some of them are procedural things, pre-play things. In play things sometimes happen, a facemask penalty in an effort to make a play. False starts, offside, delay of game, covering up eligible receivers. Those things are very much in our control and we have to eliminate. The penalties have to stop. We can't be as highly penalized as we have in the last two ball games." – Mike Tomlin
Injuries
On the injury front things are going in the right direction, especially for this time of year. Guys are getting back healthy and not having adverse effects. Guys like Marcus Gilbert and Cam Heyward returned to the field for the Baltimore game and came away without re-aggravating their injuries.
Two guys capable of coming back soon, according to Tomlin are tight end Ladarius Green and linebacker Bud Dupree.
"There were some long-term guys who have been working their way back from injury. Ladarius Green really had a good week last week, and we'll see where his participation takes us this week; he'll have an opportunity for consideration this week if all goes well." – Mike Tomlin
Dupree is on the Injured/Reserved List but can be designated for return and it looks like he'll be practicing this week with the team.
"We'll start the process with Bud Dupree this week in terms of practicing. He has been working a lot on the perimeter, and we'll start the process with him this week. Dupree and Green will get going, in terms of getting up to speed and being foot-ball ready." – Mike Tomlin
That means there is a much higher chance of Green suiting up against the Cowboys this week over Dupree. I wouldn't count on him at all since this will be just his first chance at practicing live this season.
Darrius Heyward-Bey suffered a foot sprain against the Ravens and is being evaluated. Jordan Dangerfield sustained a groin injury and DeAngelo Williams has had that lingering knee injury. They will all be evaluated to see if their participation in practice will be limited.
Count on Ben Roethlisberger being limited to start the practice week, just to give him more recovery time.
Maurkice Pouncey left Sunday's game with a thumb injury and actually had to have a surgical procedure to fix his dislocated thumb. That guy can't catch a break. Tomlin was positive, however, that Pouncey could be available to not only practice by the end of this week, but also play this Sunday.
Cowboys Preview
When it comes to facing off against the 7-1 Cowboys Tomlin explained that they need no endorsement from him. Then he went on to talk them up like they're the friggin greatest. Like he does every week with each team they play.
The Cowboys are a team with an excellent running game and they don't turn the ball over very often. On top of that they're defense is quite good. Here's where we get our Tomlinism of the week.
Tomlinism: Tomlin described the Cowboys defense as "a fundamentalist group"
So there's that.
Questions
The question/answer portion of the presser was especially lengthy this week with everyone having their hot takes about whom or what is to blame for the recent three-game skid. Tomlin echoed the sentiment from Le'Veon Bell that practices can be better.
"When you play like that, that is a natural response and an appropriate one. We work to practice as cleanly as we can practice. We bring officials to our practice. For example, on Friday to place an emphasis on the possession down work that happens on Friday and how clean we need to play in that area. You need nothing more than to look at the quality of our play a week ago to make that determination, so that is no earth-shattering statement." – Mike Tomlin
When asked about the botched onside kick heard round the world Tomlin stated that he'd be confident in sending Chris Boswell out to do it again if the same situation arose. He would just hope that Boswell wouldn't fail under the pressure as he did on Sunday.
Boswell made a successful onside kick in college in the same style as the one he attempted on Sunday. Apparently it has been something they have practiced as well.
"We felt comfortable about allowing him to deliver that kick based on what we've seen him do here in practice-like settings. Would I give him the opportunity again? I would, based on what I've seen in preparation." – Mike Tomlin
Tomlin acknowledged that Ben Roethlisberger was less than 100 percent and that the game plan was meant to protect him. He wasn't necessarily making injury-related mistakes out there but his performance in the fourth quarter was a stark contrast from how he played initially.
Bottom line is that this team should be able to score more than 14 points with Roethlisberger, Antonio Brown and Bell all on the field together. This is a problem. You can point to the defense all you want but the offense was always supposed to be the strength of this team this year.
We need to right this ship yesterday, guys.
Tomlin is using his Obviously's sparingly again and I only counted three this week.
You can listen to the entire presser right here.
Bring on the Cowboys! Here we go Steelers! Here we go!
This article originally appeared on