Steelers unleash Ladarius Green in their push for a spot in the playoffs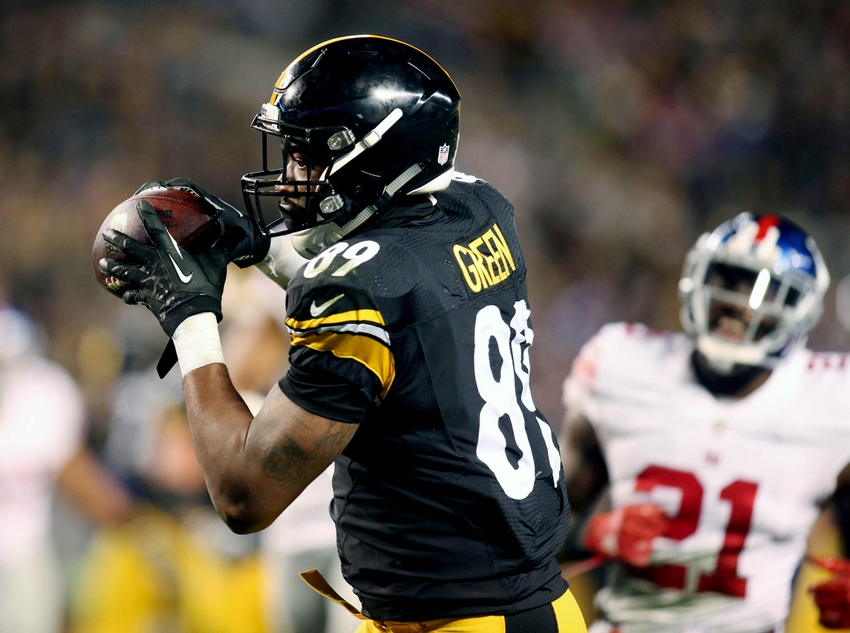 Missing much of the 2016 season due to injury, it was uncertain when, or if, Pittsburgh Steelers tight end, Ladarius Green, would ever see the field. After an eight game absence, he finally appeared on the field against Dallas in week ten.
Slowly being worked into the Steelers' offense, Green recorded three receptions for thirty yards against the Cowboys. He failed to catch a pass against Cleveland, but hauled in two passes for 67 yards on Thanksgiving night against the Colts. His receptions against Indianapolis offered a small sample size of what a tight end with size and mobility could do for the Steelers' offense.
In his fourth game in a Steelers' uniform, Green had the type of game that made him the highly sought after free agent that Pittsburgh needed after the retirement of Heath Miller. Against the New York Giants, Green accumulated six receptions for 110 yards and a touchdown. His stunning performance was one that had been anticipated by Steelers' Nation for many weeks.
Green caught passes for 37, 9, 1, 10, 33, and 20 yards. His final catch of the night was a touchdown strike from Ben Roethlisberger that furthered the Steelers' lead late in the third quarter. It was Green's first touchdown reception since October of 2015 when he was still with the San Diego Chargers.
The twenty yard touchdown was excellently setup by Green. Taking advantage of safety Landon Collins' aggressiveness, Green forced him to bite on the fake, but the tight end was well on his way to the end zone before the safety could readjust. Having the services of an experienced tight end on the field made getting into position to score relatively easy.
The game marked Green's first one-hundred yard performance in his career. His highest career receiving yards in a game came in 2013 when he recorded 81. Also, it was the first time a Steelers' tight end recorded a one-hundred yard game since Miller caught ten passes for 105 yards against Cincinnati in November of 2015.
Green's return is at a perfect time for the Steelers' offense. His performance against the Giants proves that he can be an asset in the passing game. Pittsburgh's offense must be firing on all cylinders as they make their final push to secure a playoff berth. Their final four games are against AFC opponents, and their matchup on Christmas night against Baltimore could decide who takes the division.
Jesse James and Xavier Grimble played admirably during Green's absence, but the veteran tight end brings experience from multiple years behind one of the best players in the league at the position. Antonio Gates served as a mentor to Green during his four-year tenure in San Diego. The knowledge imparted to him by Gates will help develop him into a very dangerous tight end.
Many began to doubt if signing Green was a wise move when he failed to make it on the field in the first half of the season. The Steelers' biggest free agency signing in the 2016 offseason wasn't living up to expectations, which left many to believe they made a poor decision for the future of the tight end position. Green's performance is a sign of good things to come for the next four years.
The Steelers travel to New York next week to take on the Buffalo Bills, and Green is expected to continue his impressive performance against a stout Bills' defense that ranks eighth against tight ends this season. They have allowed only three touchdowns to the position all year. If Green gets going early, expect Roethlisberger to target him multiple times throughout the contest.
Green has the opportunity to become Roethlisberger's second priority target behind Antonio Brown. Eli Rogers and Cobi Hamilton have failed to make any kind of impact in the absence of Markus Wheaton and Darrius Heyward-Bey. If he continues to excel, Green could find himself on the receiving end of many receptions while teams attempt to cover Brown.
Ladarius Green's performance last Sunday is what the Steelers envisioned when they brought him in to fill the void left by Heath Miller. As they approach their final stretch of games in 2016, he will be a definite asset to the offense's success. His late season success will give the Steelers another tool they need to deliver another Lombardi trophy to the city of Pittsburgh.
This article originally appeared on