Steelers restructure Antonio Brown's contract, promise new deal after 2016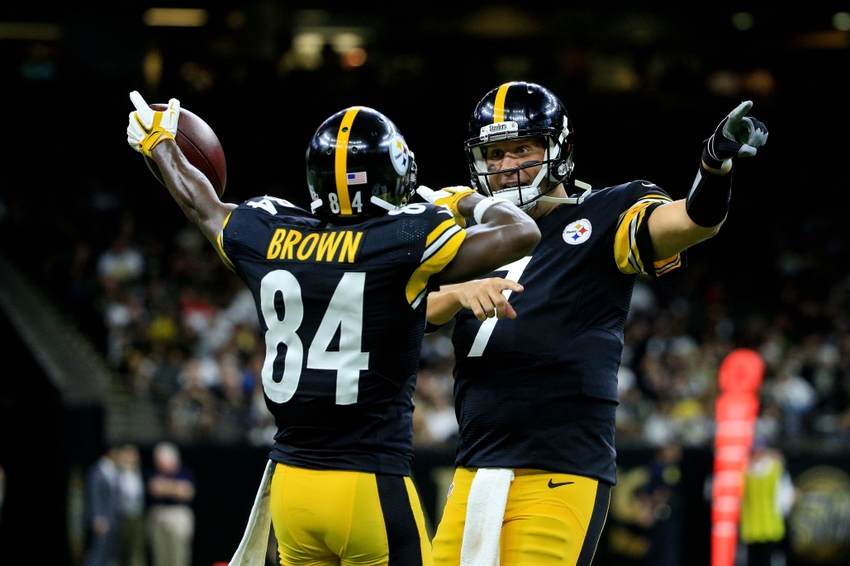 On Wednesday morning, the Pittsburgh Steelers restructured the contract of All-Pro receiver Antonio Brown.
Steelers moved up $4 million from next year to this year, boosting Antonio Brown's base salary to $10.25 this year, per source.

— Adam Schefter (@AdamSchefter) August 31, 2016
According to NFL Network's Adam Schefter, the deal will add $4 million to Brown's original 2016 salary. This brings Brown's new base salary in 2016 to a total of $10.25 million. Rumors of Brown's agent, Drew Rosenhaus, meeting with the Steelers last week hinted of some sort of new deal.
Pound for pound the best receiver in the NFL, the Steelers are smart to send more money Brown's way. It shows that the organization truly values their receiver, and that they are intent on keeping him happy. Brown has proven time and time again that he is well worth the money spent, and that the Steelers' offense is a shell of itself without him.
Antonio Brown got no new years added, and Steelers are promising to give him a true extension after this season, per source.

— Adam Schefter (@AdamSchefter) August 31, 2016
Along with the new money sent his way in 2016, the Steelers have promised to give Brown the deal he truly deserves. While promises tend to be broken in the business world, it is a positive thing to see. The Steelers must do everything they can to make sure Brown has a new contract before the start of 2017.
The Steelers' 2010 sixth-round draft pick has been an amazing success story.
From small school hopeful to the best receiver in the league, Brown has proven you don't have to stand over six feet to play receiver successfully. His training regiment and commitment to being the best have paid dividends, and translated well onto the field.
Next to quarterback Ben Roethlisberger, Brown is the most important part of the Steelers' offense. Their high-flying offense is made possible by his ability to separate himself from defenders and make near impossible catches. His absence in the AFC Divisional playoff game against Denver made it clear that his presence on the field is needed for success.
Pittsburgh is a prime candidate to represent the AFC in Super Bowl LI. The Steelers will rely heavily on their offense this year, especially with the defense still being retooled. Constant success on offense will take away the sting of any miscues that could potentially happen on defense. If the Steelers do win it all and hoist their seventh Lombardi in 2017, a new deal for Brown will be more important than ever.
Antonio Brown's restructured contract is a sign of good faith on behalf of the Steelers' organization. Making him the highest paid receiver in the NFL will come in time, which could prove to be the most important signing in the history of their storied franchise.
More from Still Curtain
This article originally appeared on