Steelers Power Rankings: Week 12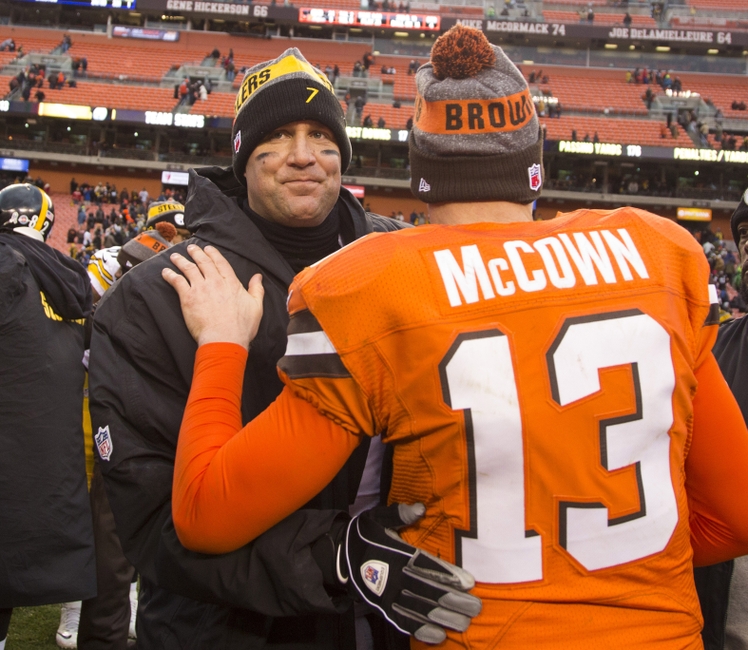 The Pittsburgh Steelers snapped a four-game losing streak this week in a game against a Browns team still winless on the season. While many fans weren't necessarily won over by Pittsburgh's performance, there should be reason to be pleased and returning to winning ways is always welcomed.
NFL.com: No. 17
Last Week: No. 18
"Typical Mike Tomlin, eschewing the field goal with a few seconds left in the first half. Touchdown, Le'Veon Bell. On the subject of Bell … Took some flak on Twitter this week for saying you can arguably call Ezekiel Elliott the best back in the league. Well, there Bell was on Sunday, racking up over 200 total yards and a tug. So, where's the love? Where are the rad highlights? This is a "What have you done for me lately?" sports league, and Bell has done plenty of runnin' lately." – Elliot Harrison
There is not enough praise that can go around for Le'Veon Bell. He is easily the most complete back in the league, finding a way to be one of the most impactful players on the field in both the passing and running game.
Racking up over 200 total yards is not an easy thing to do, and Bell did it on the ground and through the air. A lot of Steelers fans have ridiculed Tomlin's aggressive moves, but his trust in Bell with the half winding down worked out, and I saw no complaints.
The thing people need to realize is that these coaches crunch the numbers and take calculated risks. It's silly watching people get upset when the Steelers don't convert a 2-point conversion but rejoice in Tomlin's genius when it works out. They take calculated risks, and the players support it.
The thought that Le'Veon Bell could leave Pittsburgh following this season is terrifying. He might be the most powerful weapon the Steelers have and is a once in a lifetime player.
ESPN: No. 13
Last Week: No. 9
"There's no remedy for a losing streak like a win against the Browns, at least for QB Ben Roethlisberger, who is now 20-2 lifetime against Cleveland. Up next is another favorite for Roethlisberger: the Colts. Forget "the tackle," the Steelers QB has 10 touchdowns with no picks in his past two games against Indy."
Well, this doesn't make much sense.
I guess after 4-straight losses, ESPN forgot to rank the Steelers down very much, and with all the improvements to teams like the Giants and Dolphins, it'd be unfair to keep them below a .500 team.
On the other hand, everything mentioned is positive. The Steelers had quite a nice game against Cleveland, and while it wasn't as much of a blowout as some people wanted, can you really complain about 8 sacks and a solid defensive performance? Steelers just played more conservatively and didn't rack up points. Not necessarily a bad thing, and it worked.
Roethlisberger loves playing in Cleveland, but he's had quite a few years against Indianapolis. This offense will likely go out guns blazing this week against a defense they've torched in the past. News on the street is that Andrew Luck might not be ready to go, and if that's the case, let's recall a year ago when the Steelers beat these Colts 45-10 with Hasselback leading Indianapolis. Let's strive for that again.
Fox Sports: No. 15
Last Week: No. 18
"The Steelers didn't receive much of a challenge from the Browns, which was to be expected, but the defense was a pleasant surprise. It had eight sacks on the day, which is certainly a step in the right direction after struggling in that department all year. The AFC North is still up for grabs with Pittsburgh now tied for first, so the Steelers are far from done with regard to the playoff hunt." -Cameron DaSilva
Yes, the Browns weren't a challenge, but the defense was definitely a pleasant surprise as DaSilva points out. Rookie cornerback Artie Burns, despite the concerns heading into the season, has actually played quite nicely. In his last two games, he has two interceptions and quite a couple pass breakups. He's shown the speed and flexibility to make quite a few impressive plays.
8 sacks should not be ignored. This was a team that ranked almost dead last in the league in sacks through the first 10 weeks of the year. The Steelers defensive line, even without Heyward, dominated Cleveland and blitzed a lot more often than they had earlier in the year. Things are looking up, but they have to continue.
The Steelers are now tied with the Ravens in the AFC North. While the tiebreaker currently goes to Baltimore, a Week 16 matchup against the Ravens could end up playing a crucial role in this year's playoff race. The schedules favor Pittsburgh, but it'll be a tight race down to the wire.
If it comes down to Week 17, just know that the Steelers are playing Cleveland. Breathe easy.
Yahoo Sports: No. 14
Last Week: No. 15
"The Steelers had a boring game plan on Sunday. They had just one completion gain more than 20 yards. They were content to let Le'Veon Bell grind it out on the ground. It seemed like the kind of game you play when you're confident you can beat the opponent (Cleveland) and know you have another game to play on Thursday." -Frank Schwab
Schwab actually points something out here that should be repeated. Pittsburgh is on a short week with the game this Thursday, and maybe a conservative playstyle was the right call.
The Steelers grinded it out on the ground and relied on short passes to do the job. Against an abysmal Cleveland team, that's all that needs to be done.
Fans often look at things in the wrong light. While blowouts can often be expected in these games, each team just wants to win. The Steelers won, and they are going to be content with that. Their gameplan worked and they got the outcome they needed. Simple as that. There is little to ridicule from this week.
Author's Opinion: No. 10
Last Week: No. 16
Yes, this was Cleveland. Despite the Steelers taking quite the leap on my list, it's not entirely because I'm sold on the team yet. If they torch Indianapolis, maybe, but this was mostly because of the other teams in the league.
The Eagles, Packers, and Cardinals are stumbling quite a bit and with worse records and worse situations than Pittsburgh, they shouldn't be higher.
In the end, Pittsburgh did play well. They blew out the Browns, and while some fans were upset, they shouldn't be. The Steelers put up one of the best defensive line performances seen by any team this season and controlled the game from the get-go. The offense did what they needed to do, and Le'Veon Bell showed that the Steelers run game is always a suitable fallback.
Take joy in the win, and enjoy it. This week against Indianapolis is a good test against a team that has been on the rise, and it will have huge playoff implications.
This article originally appeared on