Steelers Player Spotlight: James Harrison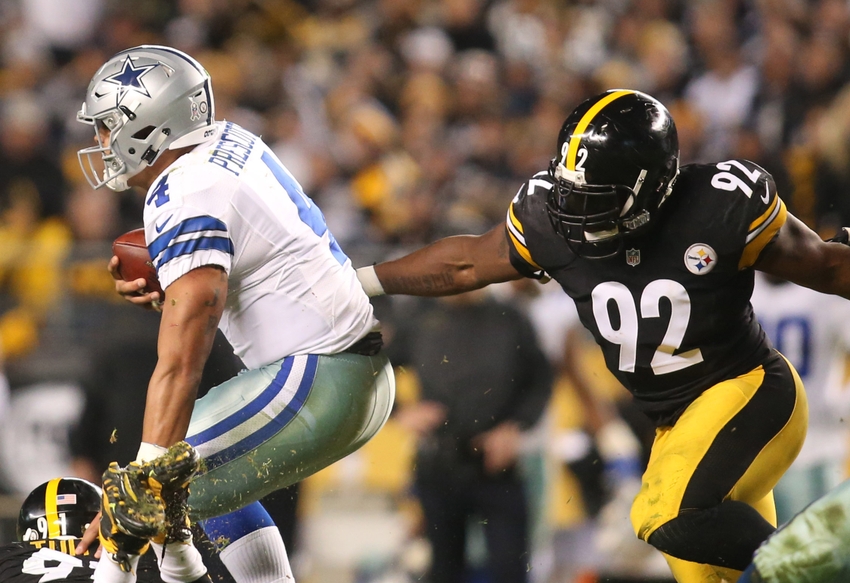 Linebacker James Harrison just became the all-time sack leader for the Pittsburgh Steelers, and continues to defy age.
There are not enough great adjectives to describe James Harrison. He seems like the last player of an entire era left on the Pittsburgh Steelers. An era consisting of players like Polamalu, Taylor, and the defense that led Pittsburgh to a Super Bowl victory in '09.
Every year, it seems it's probably his final year. It wasn't too long ago that fans of the black and gold watched in horror as James Harrison retired in an orange and black striped jersey, but we won't speak of that.
Harrison represents the toughness, work ethic, and grit that every player aspires to. For anyone that follows him on Instagram or Snapchat, Harrison is constantly posting workout videos and showing truly how hard he works. A 38-year-old simply doesn't do what he does unless they work relentlessly, and he does that.
The scariest thing about Harrison is that he's probably still the best player on this defensive line. Yes, that might be different if Cameron Heyward were still playing and Stephon Tuitt sure gives him a run for his money, but Harrison leads the team in sacks and seems to constantly be a name that pops up when the quarterback throws an errant pass due to pressure.
There aren't too many linebackers that can bull rush like James Harrison. This week against the Colts, it became a normal occurrence for the commentators to mention and show a replay of Harrison pushing the Colts offensive line back into their quarterback. His sheer strength is unfathomable.
Another thing that fans tend to love about Harrison is his attitude. He's often been ridiculed for being obnoxious or even a dirty player. Yet, it's his rebellious attitude that makes him so much fun to watch. No Pittsburgh fan will ever forget his letter to the Commissioner which gave a lengthy explanation as to why all players should have to wear pillows inside their uniforms, for safety reasons; a joke, of course.
He has had multiple run-ins with the league and has been tested countless times for PEDs  (7-8 times this year so far) but has never tested positive. Maybe it's time for the league to just realize that James Harrison is just an absolute beast and works hard to be able to do what he does.
Now the sack leader for the Pittsburgh Steelers, Harrison will go down as an all-time great here in Pittsburgh. His work ethic, hungry attitude, and obvious love for the Pittsburgh Steelers will keep him forever in the hearts of every fan.
More from Still Curtain
This article originally appeared on