Steelers Player Spotlight: Eli Rogers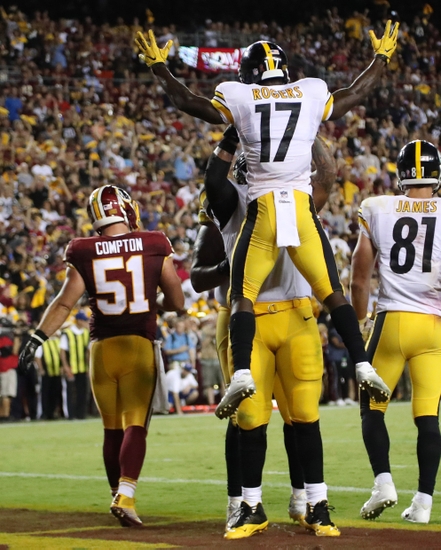 Wide Receiver Eli Rogers has gone from undrafted a year ago to one of the main stories of the Steelers' offseason, and one of the more exciting players to keep an eye on as the season progresses.
At this point, it has become common knowledge that the Steelers boast one of the best offenses in the league, if not the best. Another thing that should be known is that the Steelers breed wide receivers. On numerous occasions, Pittsburgh has transformed late picks into great players.
Just looking at the past decade, Antonio Brown, the best receiver in the NFL, was drafted in the 6th round. Emmanuel Sanders was drafted in the 3rd round and is now a star with Denver. Mike Wallace, while not a star anymore, was also drafted in the 3rd round. And finally, Martavis Bryant was a 4th round pick and when not suspended, he is the best 2nd option any team could ask for.
While many thought Sammie Coates was the next superstar in the making (and who knows, maybe he will be!) but out of absolutely nowhere has emerged Eli Rogers. Rogers was an undrafted free agent out of Louisville in 2015 who suffered a broken foot in training camp.
This year, there was a debate about if he would even make the team. With Antonio Brown, Martavis Bryant, Markus Wheaton, Darrius Heyward-Bey, Sammie Coates and the addition of 7th round pick DeMarcus Ayers, Rogers seemed like the odd man out.
However, Rogers has somehow managed to pass Ayers (who was cut), Heyward-Bey, and even Sammie Coates on the depth chart. With Bryant suspended, Rogers has catapulted himself into the slot role for the team, and could be a surprise difference maker throughout the year.
With Markus Wheaton injured in Week 1, Rogers took the time to show off his big play capability displaying his solid route running skills and extreme quickness as he reeled in 6 catches for 59 yards including a nice 20 yard scamper on a big 4th & 1.
He has received high praise from the coaching staff, General Manager Kevin Colbert, and plenty of quarterback Ben Roethlisberger who has claimed that Rogers may be the "best slot receiver he's ever played with."
In college, Rogers was never seen as exceptional. In four years at Louisville, Rogers caught 176 passes for just over 2000yds and 12 touchdowns. To compare, Amari Cooper, who was the first receiver selected in that same draft caught 228 passes for almost 3500yds and 31 touchdowns in just three years.
Nevertheless, Rogers has proven to be a valuable asset for Pittsburgh. He is the true definition of a slot receiver, and while Roethlisberger holds his praise to the best he's ever played with, I wouldn't be surprised if Rogers headlined as one of the best in the league by season's end. That may be a bold prediction, but with his blazing speed and big play capability, it wouldn't be too shocking.
He also proved to be very aware of his surroundings when he brought in the first touchdown catch of his career. What a way to start a career.
Rogers is definitely a player to keep an eye on, and while he might not become a star like Antonio Brown, he has proven that he easily become an extremely valuable piece of an already potent offense.
More from Still Curtain
This article originally appeared on