Steelers News: Mike Mitchell, Ladarius Green, Antonio Brown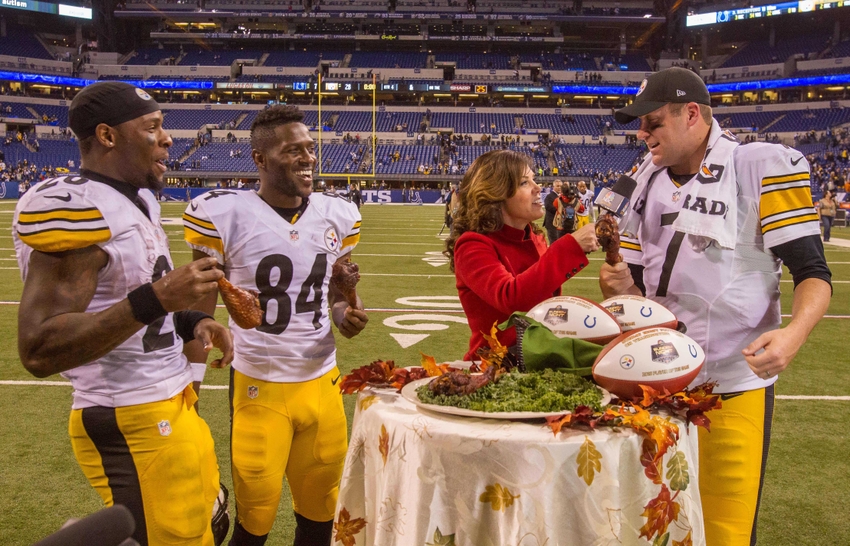 The Steelers feasted on the Colts for Thanksgiving and now have time to rest before facing the Giants at home. While the team rediscovers their offensive and defensive magic we'll be busy looking for mentions of your Black & Gold so we've got you covered. Here's your Steelers Morning Huddle for Friday, Nov. 25th.
He was due
Mike Mitchell made his presence known to the Colts all night long on Thursday. Whether he was stepping up and standing tall on two separate goal-line stands or grabbing an interception he was all over the field.
His efforts earned him Digest Player of the Week honors from Bob Labriola. Mitchell didn't score but he kept the Colts from scoring twice from the Steelers' one-yard line. He also grabbed the interception that led to the nail in the coffin touchdown to seal the 28-7 win.
Mitchell reminded me of Troy Polamalu when he was running back that interception. The way Troy would run so crazy but end up with a big interception return was a thing of beauty.
This might just work out
The $20 million investment Pittsburgh made in tight end Ladarius Green is showing signs of returns finally. ESPN's Jeremy Fowler has Green's comments after the 28-7 win over the Colts where he made two grabs for 67 yards.
His ankle rehab kept him on the PUP list way longer than anyone had expected. And there was no one more frustrated than he was about how long it took.
"I had to stop comparing the past because it made me more frustrated to try to run like that, move like that. I wanted to but it was hard. I had to start focusing on moving forward and seeing what I could do." – Ladarius Green
Back to booming
The Ben Roethlisberger–Antonio Brown connection had been missing lately but it was in full bloom on Thursday night. Brown caught five receptions for 91 yards and three touchdowns. Roethlisberger went 14 of 20 for 221 yards and three touchdowns for a rating of 146.0.
Brown's night included his gem over Vontae Davis. RIP Davis' ankles.
The offensive success over the Colts extends beyond Heinz Field apparently. So that's a good thing.
More from Still Curtain
This article originally appeared on