Steelers News: Le'Veon Bell, Terrell Suggs, Todd Haley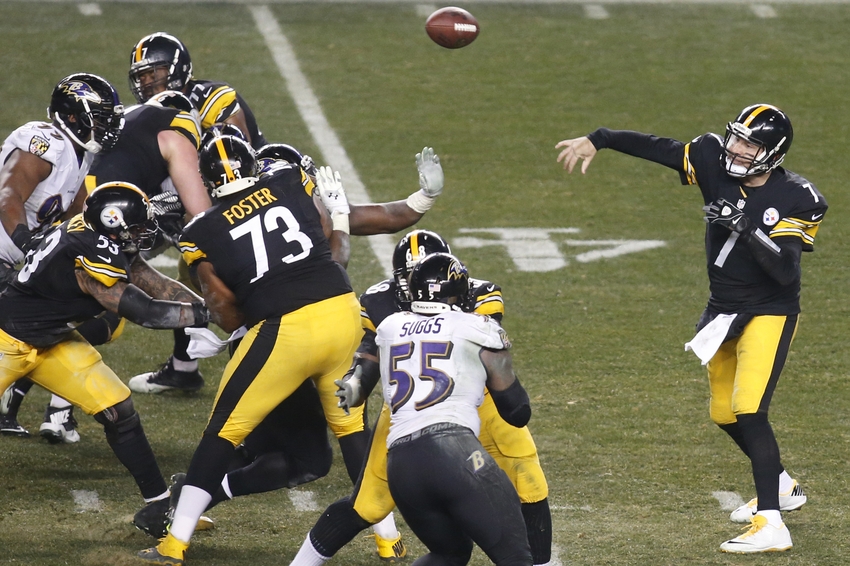 The Steelers return from their bye week to face the Ravens for some good old fashioned AFC North road action. Before the team heads down to Baltimore to remind everyone who runs the AFC North we'll be busy looking for mentions of your Black & Gold so we've got you covered. Here's your Steelers Morning Huddle for Thursday, Nov. 3rd.
Up for the challenge
Everyone is wondering what's up with Ben Roethlisberger's knee this week but Le'Veon Bell is over here just excited and ready for the challenge of running all over this Baltimore Ravens defense. He's been in enough of these games to know it's going to be a physical matchup between the two teams.
Remember when he almost died trying to score a touchdown on these guys? That totally happened.
Seems like forever ago, doesn't it?
Hahaha, you still ugly
When he isn't stiffing the mother of his children for child support Terrell Suggs is good for a few sound bites during Ravens week. This year he didn't disappoint and gave the most quotable line of the season so far.
Josh Alper of PFT has his comments on whether or not he believes Roethlisberger is going to come back from his meniscus injury to play on Sunday.
"Don't fall for that. You gotta understand, I saw this movie before. He's gonna act like 'Aw, I'm not playing, I don't know, I did individual work a little bit.' But then he'll walk his big ass on out there and it'll be 'How you doin' Benjamin.' And then it's on." – Terrell Suggs
That's Mr. Roethlisberger to you. Better see someone about those gums, you look like you're having an allergic reaction to your own teeth or something.
Fewer sacks
If Roethlisberger is able to come back from his knee injury early to face the Ravens, and let's not all pretend like we're not really expecting that to happen, it will be thanks to the protection provided to him by the work of Todd Haley and Mike Munchak.
Since taking over Pittsburgh's offense and offensive line, respectively, the two coaches have brought Ben's sack numbers down to career lows. Unfortunately, however, the fewer sacks haven't led to fewer injuries as reminded by ESPN's Jeremy Fowler.
Roethlisberger has had a left knee injury, a sprained AC joint and a midfoot sprain all since the 2014 season. But he's a big guy, he takes a lickin and keeps on tickin.
More from Still Curtain
This article originally appeared on