Steelers Fake Spike for Antonio Brown Touchdown to Re-Take Lead (Video)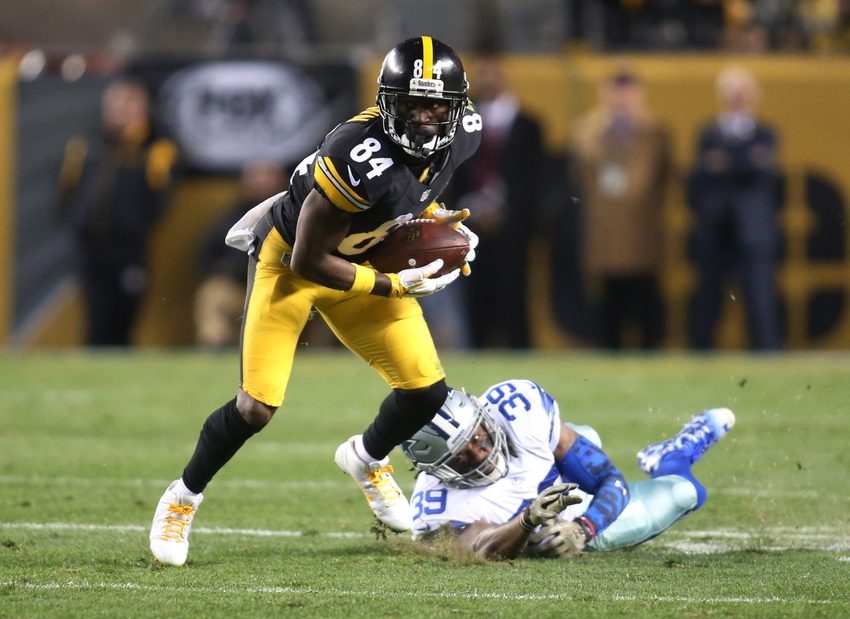 Ben Roethlisberger and Antonio Brown caught everyone sleeping with a perfectly executed fake spike that went for a clutch touchdown.
The Pittsburgh Steelers had to think that a fourth-quarter Le'Veon Bell touchdown against the Dallas Cowboys to take a two-point lead may have been enough. However, Ezekiel Elliott and the Cowboys drove down the field and answered to take the lead back with under two minutes remaining on the clock. Ben Roethlisberger and Antonio Brown still had tricks up their sleeve, though.
Big Ben engineered a speedy and masterful drive down the field to get in close in a matter of only a minute. When down inside the red zone, Roethlisberger ran up to the line and was signaling to spike the football. Rather, he wanted everyone to think that's what he was calling for the offense to do.
Instead, the big quarterback faked the spike while Antonio Brown went on a short fade into the end zone. Roethlisberger's ball found him right in the hands for the go-ahead touchdown to re-take the lead with under a minute remaining:
🚨 FAKE SPIKE ALERT! 🚨

And Big Ben finds @AntonioBrown in the end zone.
WOW. #DALvsPIT https://t.co/4GgDIDgvvS

— NFL (@NFL) November 14, 2016
That would have been the play of the week, but the special rookies of the Cowboys had something left in the tank. After some great throws by Dak Prescott to move down the field, they elected to give the ball to Ezekiel Elliott up the middle. He broke through a massive hole and was off to the races to the end zone for the game-winning touchdown.
This article originally appeared on