Steelers at Ravens Week 9: Game preview, odds, prediction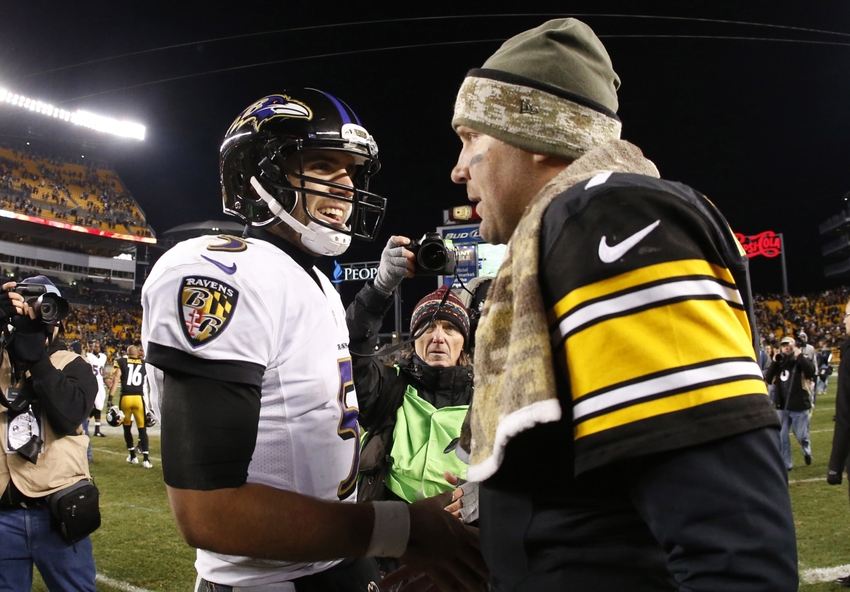 The Baltimore Ravens are the early betting favorites for their matchup with AFC North rival the Pittsburgh Steelers at M&T Bank Stadium this Sunday.
Baltimore has lost four-straight after a 3-0 start, but OddsShark still lists the Ravens as three-point favorites in Week 9. Those early lines no doubt reflect the uncertainty surrounding Steelers quarterback Ben Roethlisberger.
Even if Landry Jones is under center, Pittsburgh has the weapons on offense to exploit a tough Ravens D'. By contrast, the Steelers own defense is playing below expectations.
It's one reason why the over/under has been set at a healthy 43. That's a high number for a rivalry featuring its share of defensive struggles through the years.
However, these aren't the ferocious, blitz-happy Steelers of yesteryear. Instead, Pittsburgh is trying to get by with safe, basic zone concepts designed to limit big plays.
The current scheme is dependant on getting consistent pressure without the blitz. So coordinator Keith Butler will be delighted Cameron Heyward practiced this week.
The versatile defensive end is Butler's best pass-rusher up front. He practiced this week and is a good bet to play, per Ray Fittipaldo of the Pittsburgh Post-Gazette.
Heyward will be a big part of the Steelers' plan to stymie the Ravens offense. Head coach Mike Tomlin has already stated his defense's priority, according to Ed Bouchette of the Post-Gazette:
Tomlin: "It's about Joe Flacco, pressuring and containing him."

— Ed Bouchette (@EdBouchette) November 1, 2016
Harassing Flacco will indeed be key against a Baltimore team hamstrung by a feeble running game. The team made the decision to cut Justin Forsett twice, and it's difficult to see why. Especially when the Ravens are averaging a mere 86.3 yards per game on the ground.
If Flacco is under duress, he'll need his receivers to beat coverage. It's not been a forte for Steve Smith Snr., Mike Wallace and Co. this season.
The big question for the Steelers is will Roethlisberger start? Tomlin is being suitably cagey, giving Big Ben "a chance to play," per the league's official site.
Roethlisberger practiced on Monday, but the Steelers clearly want to keep the Ravens guessing. It's a smart strategy ahead of facing one of the NFL's toughest defenses.
Baltimore's D' is built on strength in the trenches, where tackles Timmy Jernigan and Brandon Williams dominate.
A formidable run front is allowing a miserly 3.5 yards per rushing attempt. However, it may be tough to maintain that number against Pittsburgh's Le'Veon Bell, football's most dynamic back.
Bell's joystick-type moves can turn any carry into a long run. Yet big plays on the ground are something the Ravens aren't giving up. In fact, Baltimore it tied with the Seattle Seahawks for fewest runs of 10-yards or more allowed, according to Sporting Charts.
If Roethlisberger is still on the sidelines this week, Bell will be a marked man in Ravens country.
Odds
Line: BAL (-3)
Over/Under: 43
This rivalry isn't quite what used to be when it was at its most intense around 2010. There's no Troy Polamalu and Dick LeBeau guiding the Steelers defense. The days of Ray lewis and Ed Reed are long gone for the Ravens.
Instead, these are two wounded teams desperately needing a win to salvage stuttering seasons. Everything will depend on Roethlisberger's availability.
If he plays, the Steelers can keep this one close. If not, Jones will be swarmed on by a vicious defense.
Pick: Ravens 20, Steelers 17
This article originally appeared on