Steelers at Eagles Recap, Highlights, Final Score, More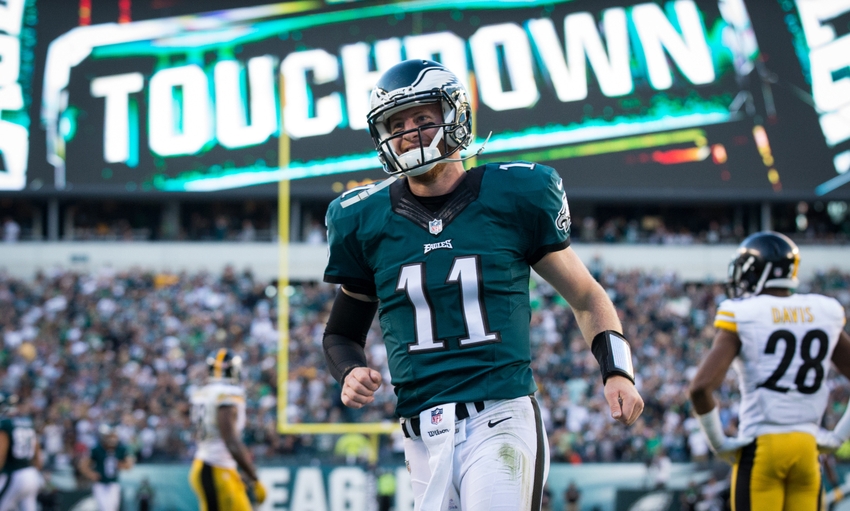 The Philadelphia Eagles were flying high after an impressive Week 3 victory over the Pittsburgh Steelers.

3

34
The Pittsburgh Steelers took the short trip across the state to the City of Brotherly Love ready to take on the Philadelphia Eagles. Many fans were excited to see if the Eagles rookie quarterback Carson Wentz could keep his hot streak alive in Week 3 against a solid Steelers defense. Along with Wentz, the connection between Ben Roethlisberger and wide receiver Antonio Brown was something to watch. The Eagles cornerbacks are shaky, so it was interesting to see who would win that matchup.
The big argument regarding Wentz was the fact that he played the Cleveland Browns and Chicago Bears in his first two weeks. Well, Wentz showed everyone he was the real deal in Week 3.
The second overall pick in the 2016 NFL Draft balled out against the Steelers, throwing for 301 yards and a two touchdowns. His first touchdown was an impressive strike to Jordan Matthews after a hot start. Then, in the second half, Wentz made a great play. He avoided a defender in the pocket, stepped up while keeping his eyes down the field. He then found running back Darren Sproles running down the sideline.
Sproles did the rest, making the Steelers defense look silly on his way to a 73-yard touchdown. The Eagles defense sacked Roethlisberger four times, picked him off once in the end zone, and did not allow a touchdown. The only positive for the Steelers and their fans was the fact that Brown was a problem for the Eagles secondary. He caught 12 passes for 140 yards.
Three Stars
Carson Wentz, Philadelphia Eagles — Is this kid really a rookie quarterback? 23-31, 301 yards and two touchdowns. Oh yeah, he has his team sitting at 3-0 heading into their bye week.
Darren Sproles, Philadelphia Eagles — The running back caught six passes for 128 yards and a touchdown.
Antonio Brown, Pittsburgh Steelers — The star wide receiver did everything he could for his team. He ended the game with 12 receptions for 140 yards.
Highlights
Next Game
The Steelers will look to get back on track in Week 4 against the Kansas City Chiefs while the Eagles head into their bye week at 3-0.
This article originally appeared on