Steelers at Eagles: Preview, Predictions, and More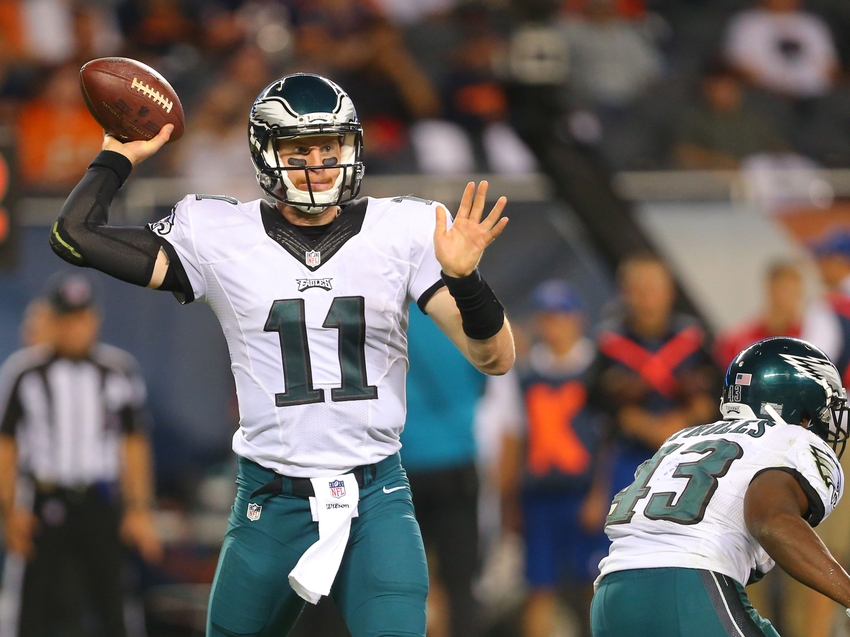 Pittsburgh Steelers vs Philadelphia Eagles
After both teams won their respective games in Week 2 to remain undefeated, the Pittsburgh Steelers and the Philadelphia Eagles will battle to stay unbeaten. They will also battle to show which team is the best in Pennsylvania.
The Steelers make the quick trip to Philadelphia behind the arm of their quarterback "Big" Ben Roethlisberger. Through two weeks, Roethlisberger leads all NFL quarterbacks with six touchdown passes. Surprisingly, his star wide receiver Antonio Brown has only caught two of them. These two will look to torch the Eagles' porous secondary, while also relying heavily on their running back DeAngelo Williams.
Philly comes into the game riding a wave of excitement behind their rookie phenom, quarterback Carson Wentz. The former North Dakota State University product has played well over his expectations this season and has yet to turn the ball over. His dominant play, matched with the Eagles defense creating turnovers, has led to a solid start in Philadelphia.
Steelers Keys to Victory
Target Antonio Brown early and ofter: The Eagles cornerbacks aren't very good. Brown is very good. So trying to get him the ball as much as possible would seem to be a recipe for success.
Keep Big Ben clean: Less time on the ground will result in more time getting the ball to Brown and his receivers.
Game-plan for Wentz: The rookie hasn't been rattled, so instead of just trying to blitz him, the Steelers should game plan against his strengths and weaknesses.
Eagles Keys to Victory
Time of possession: Control the ball and control the amount of time the Steelers potent offense is on the field.
Double Antonio Brown as much as possible: It may not be enough, but it is better than one of the Eagles cornerbacks trying to lock him up.
Take shots: Wentz has shown unbelievable touch and accuracy on his deep balls. This could be a shootout, so they need to let him sling it and try to get some big plays.
Odds
Point Spread: Pittsburgh Steelers (-3.5)
Moneyline: Steelers (-192) Eagles (+162)
Over/Under: 46
Prediction
The Eagles have been flying high with their rookie quarterback, but the Steelers will level them out on Sunday. Brown is going to have a huge game against the Eagles secondary, leading them to a victory. Wentz will play well, but Roethlisberger will play even better as the Steelers remain undefeated and the Eagles fall to 2-1.
Pick: Pittsburgh Steelers: 31, Philadephia Eagles: 24
More from NFL Spin Zone
This article originally appeared on