Steelers at Eagles: Breakdown, Matchups, and Predictions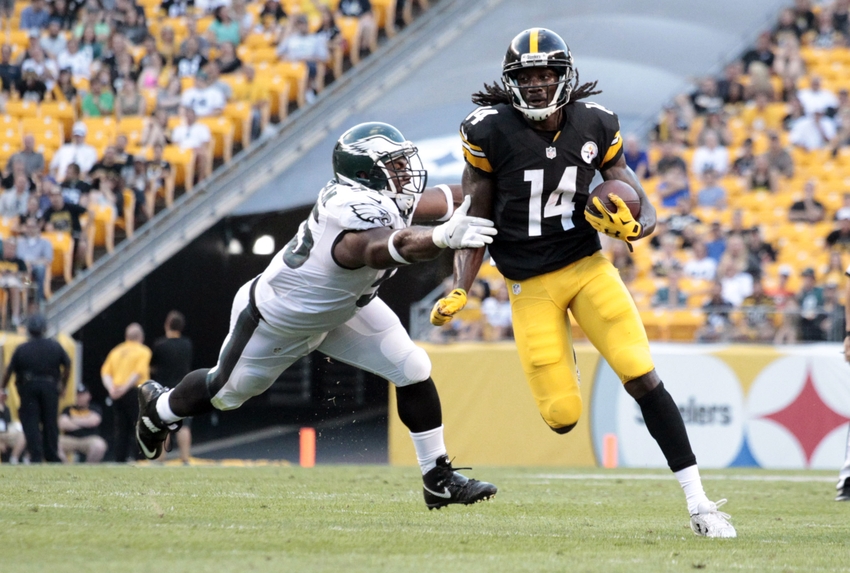 The Pittsburgh Steelers travel to Philadelphia on Sunday to face their interstate rival, the Philadelphia Eagles. They aim to keep their winning streak alive, while handing rookie quarterback, Carson Wentz, his first loss of his professional  career.
Breakdown:
The Steelers have a 28-46-3 all-time record versus the Eagles which dates back to 1933. Their first game against Philadelphia, when they were known as the Pittsburgh Pirates, resulted in a 25-6 loss. In their latest game in October of 2012, the Steelers came away with a 16-14 victory.
Hot off their divisional victory over the Cincinnati Bengals, the Steelers appear to be in mid-season form very early in the year. Although Antonio Brown was limited to four receptions for 39 yards, the offense didn't miss a beat. Sammie Coates has established himself as a deep threat, and DeAngelo Williams continues to make an impact in the ground game.
The defense asserted themselves against AJ Green and the Bengals' offense by containing their star receiver. Green tallied two receptions for 38 yards, largely due to Ross Cockrell. Andy Dalton still generated over 350 passing yards in the air, proving the secondary is far from polished. The Steelers stuck to their zone defense look against Cincy, and still may against Philly.
While Jared Goff rides the bench in Los Angeles, Wentz has led his team to two straight victories. The Steelers will be the rookie quarterback's first true test of his young career. The Browns nor Bears never posed much of a threat due to stellar play by Philly's defense. The Steelers' offensive line will have their hands full with the likes of Brandon Graham and Fletcher Cox attempting to bring down Ben Roethlisberger.
Matchups:
Sammie Coates vs. Jalen Mills/Ron Brooks
The Eagles' top cornerback, Leodis McKelvin, will be sidelined for a second straight week due to a hamstring injury. As their most experienced cornerback, Nolan Carroll will most likely be tasked to cover Antonio Brown. Coming off a strong game where he hauled in two deep passes against Cincy, Sammie Coates will be called upon again as a vertical threat.
Meanwhile, the Eagles will turn to two former LSU defensive backs, Jalen Mills and Ron Brooks, to cover the remainder of the Steelers' receiving corps. Markus Wheaton makes his return to the field, but in different offensive packages. Coates has asserted himself as a fast, big-bodied receiver, and should have no problem dealing with his defenders.
Mills was absolutely abused in the Eagles win over the Bears on Monday night. Against Alshon Jeffery, Mills gave up a 50 yard deep pass to Jeffery early in the second quarter to put Chicago in scoring range. The seventh-round pick is experiencing growing pains against top receivers in the league, and may need serious safety help.
A simple cut in Jeffery's route was enough to cause Mills to slip up, giving the wide receiver the space he needed to make a clean reception. Coates has a similar physique to Jeffery, about a foot or so shorter, and has the ability to see the same, or better, results as the Bears' receiver. Exposing the Eagles' weakened secondary is one of the key points to victory for the Steelers.
Steelers' defense vs. Darren Sproles
The Steelers' defense may have limited AJ Green, but had a tough time dealing with Giovani Bernard in the passing game. The running back caught eleven passes for 105 yards and a touchdown against the defense last weekend. In their attempt to limit Carson Wentz's receivers, the Steelers must be aware of Darren Sproles.
Throughout his career, Sproles has been known as an elusive running back. His speed and size make him difficult to bring down at times, allowing him to slip through defenses for big gains. It is quite possible that the Eagles utilize Sproles in the same manner that the Bengals used Bernard. Given how Bernard was able to pick up as much yardage as he did, the Eagles would be wise to do so.
Closing up any lanes and not allowing Sproles to get into space should be the Steelers' main task when he has the ball. If the running back is allowed to get out in the open, his speed will allow him to gain large amounts of yardage at a time. Jamming him up at the line of scrimmage and limiting any yardage that could be gained from catches will limited what happen to the defense last week.
Steelers' offensive line vs. Brandon Graham/Fletcher Cox
Quarterback Ben Roethlisberger has a troubled history when it comes to facing the Eagles' defense. In 2008, Roethlisberger's last visit to Lincoln Financial Field, he was sacked a total of eight times. The Steelers' offensive line is much better now than it was eight years ago, but the Eagles possess a threatening defensive line.
Brandon Graham and Fletcher Cox serve as dominating members along the Eagles' defensive line. Graham has tallied seven tackles, two sacks, and a forced fumble in two games. Cox has one less tackle than Graham, and a lone sack. This pass rushing duo has the capability of making life miserable for Roethlisberger if they are able to penetrate his offensive line.
Ramon Foster, the Steelers most tenured athlete on the offensive line, is listed as questionable for Sunday's game. An elbow injury limited him in practice this week, but he is expected to play. If he is unable to play, B.J. Finney or Ryan Harris will take over his position at left guard.
Roethlisberger has been sacked only twice this year, which is a testament to the durability of his offensive line, and his ability to keep plays alive in the pocket. If the Steelers' offensive line can keep their franchise off the turf, it will to a long way in prove they have made sound investments in the likes of Maurkice Pouncey, Marcus Gilbert, and David DeCastro.
Predictions:
Ben Roethlisberger passes for over 400 yards and three touchdowns.
First-round pick, Artie Burns, sees an extended number of snaps against Philadelphia (nine in week one and 32 in week two), and defends at least two Carson Wentz passes.
Jarvis Jones records two sacks against Wentz, leading the team in sacks heading into week four.
The Steelers hand Carson Wentz his first loss in a bruising 27-17 victory. 
More from Still Curtain
This article originally appeared on