Steelers at Bills: Highlights, score and recap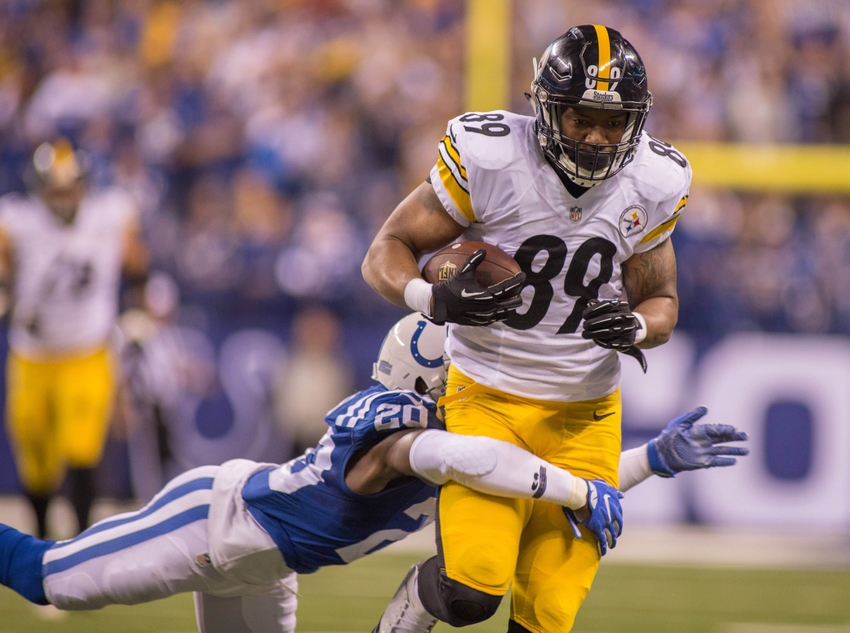 The Pittsburgh Steelers need to beat the Buffalo Bills at New Era Field in Week 14 to keep their playoff hopes alive. Here are the highlights and key players for Sunday's game.
Few teams look as well-equipped for a late-season surge than the Pittsburgh Steelers. The AFC North franchise can put up points with a high-powered offense, while the defense is showing signs of life.
By contrast, the Buffalo Bills have already seen their playoff hopes flounder thanks to issues on both sides of the ball. The defense has been inconsistent, while an inconsistent pass attack has wasted the most productive running game in the NFL.
Few teams commit to running the ball quite like the Bills. Offensive coordinator Anthony Lynn has built a scheme around run-heavy sets featuring backfields loaded with multiple backs.
Lynn will also use read-option designs and wildcat fronts to help create big plays for dynamic workhorse LeSean McCoy. His speed and sleight of hand moves mean a big play is only ever one carry away.
The Bills need that quick-strike capability because dual-threat quarterback Tyrod Taylor has been struggling as a passer. In fact, Taylor's arm is directing the last-ranked pass offense in football.
The Steelers need to shut down McCoy otherwise the Bills will keep Pittsburgh's host of playmakers on the sideline.
Quarterback Ben Roethlisberger, wide receiver Antonio Brown, tight end Ladarius Green and running back Le'Veon Bell can light up scoreboards anywhere.
Highlights
Highlights will be added and updated as and when they happen.
Three Stars
Here's a prediction for which players will star this week.
1. Antonio Brown
Even though they like to pretend otherwise, the Bills don't possess a true shutdown cornerback. Stephon Gilmore isn't it. Neither is Ronald Darby. The lack of an elite cover man is bad news for a team facing Brown, football's best receiver.
Roethlisberger's favorite target is a catch machine who can strike on any route, out of any break and from any alignment. Steelers offensive coordinator Todd Haley wisely lines Brown up in multiple spots, making it difficult for defenses to slide coverage No. 84's way.
2. LeSean McCoy
The Steelers have toughened up against the run recently, according to Ed Bouchette of the Pittsburgh Post-Gazette:
The Steelers defense ranked 15th against the run before they held their past three opponents to an average of 60 yards rushing a game. They moved all the way up to No. 6. They did so without the help of defensive end Cam Heyward, who is on injured reserve.
But as Bouchette also noted, the Steelers haven't faced a runner as explosive as McCoy, nor a ground scheme this well-crafted. The Steelers are still missing end Cameron Heyward, arguably their best D-lineman. Rookie nose tackle Javon Hargrave is also out this week.
There are too many holes along this front for a back as talented as McCoy not to exploit.
The Bills' chances of winning hinge on their ability to control the clock and keep the chains moving on the ground. They are sure to establish McCoy early.
3. Ladarius Green
If the Bills try to bottle up Brown the way most teams who face the Steelers do, they'll be vulnerable against Green. Buffalo head coach Rex Ryan loves to trust his players in man coverage, but there isn't a player on the Bills' D' who can stay with Green one-on-one.
The former San Diego Chargers tight end is a matchup nightmare thanks to track speed and a 6'6″, 240-pound frame. Roethlisberger recently told Teresa Varley of Steelers.com how much faith he has in Green to be an effective weapon.
That faith was well-founded when Green caught six passes for 110 yards during last week's win over the New York Giants. He can torment the Bills whenever he faces single coverage.
Next Week
The Steelers will be on the road against the Cincinnati Bengals in Week 15, while the Bills host the Cleveland Browns.
This article originally appeared on