Start/Sit: Dolphins Fantasy Football Preview Week 10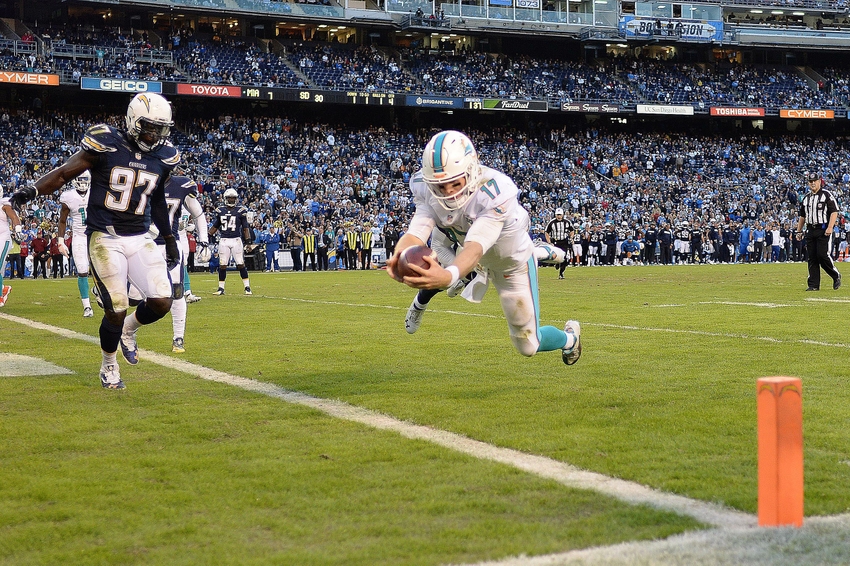 The Dolphins look for their 4th straight victory this week as they travel out west to the hosting Chargers. With the potential for a shootout, this could be a good week to insert players into your fantasy football lineup.
It has been quite the turnaround for the Miami Dolphins in the past month. What once looked to be a lost season for Miami has now emerged into a possible playoff spot for the first time since 2008. It remains to be seen, however, how well the Dolphins can continue this momentum on the road.
This current three game winning streak, and four wins overall, have all been at home. For fantasy owners, their curiosity also runs to how well Dolphins players can carry that momentum on the other side of the country. Here's a look at our suggestions as to which Miami players to start or sit on Sunday against San Diego.
The passing game for the Dolphins during their winning streak has been nonexistent. The success of the run game has kept Tannehill's pass attempts to an average around 28 a game over the past three games. Tannehill has played well, however, over that span with some much needed help from the offensive line.
Receivers getting open has become a concern, but Tannehill is making better decisions with the football. He doesn't appear to be eyeing down his receivers like he has in the past. He also hasn't thrown an interception in the past three games although one pass in particular should have been picked off by the Jets for a pick six last week. Regardless, Miami has to be happy with the improved play from their quarterback. Unfortunately, it just hasn't transitioned into better fantasy numbers, and it's not likely to get better on Sunday.
Sit
I made mention in this week's fantasy recap how no one's production has taken a bigger hit than Jarvis Landry's with the success of the run game. After recording at least seven receptions in five of the first six games, Landry has a combined eight receptions for 111 yards and no touchdowns in the past two. Landry has never had much upside for touchdowns which makes for his involvement in the offense even more necessary for fantasy production.
The Chargers are an average team against receivers, but a bottom 5 team against the run, hinting that we should see a similar game plan from the previous two games. Landry has to feel some kind of frustration, but we won't hear anything from him especially while the Dolphins are winning. It's a tough call, but I'm keeping Landry on the bench until further notice.
Sit
Ajayi gets a great matchup on paper against the Chargers. San Diego continues to struggle against opposing running backs, and Ajayi has emerged as an elite RB1 in just three games. The Dolphins will continue to lean heavily on Ajayi, and we can expect to see anywhere from 25-30 touches on Sunday.
Even though he never amassed more than 42 yards in any game prior to Week 6, we're way past that now with Ajayi in great position for his fourth straight 100-yard game. The health of the offensive line and Ajayi's performances have been at the center of the Dolphins turnaround, and they are not about to turn away from that now. Ajayi is an obvious must start for Week 10.
Start
*Damien Williams is worth putting on your watch list, and even a roster spot if you own Ajayi as his handcuff and you have the room. The remaining running backs along with the rest of the Dolphins players can easily be avoided until further notice.
More from Phin Phanatic
This article originally appeared on