Start Buffalo Bills Defense, Bench 49ers In Fantasy Football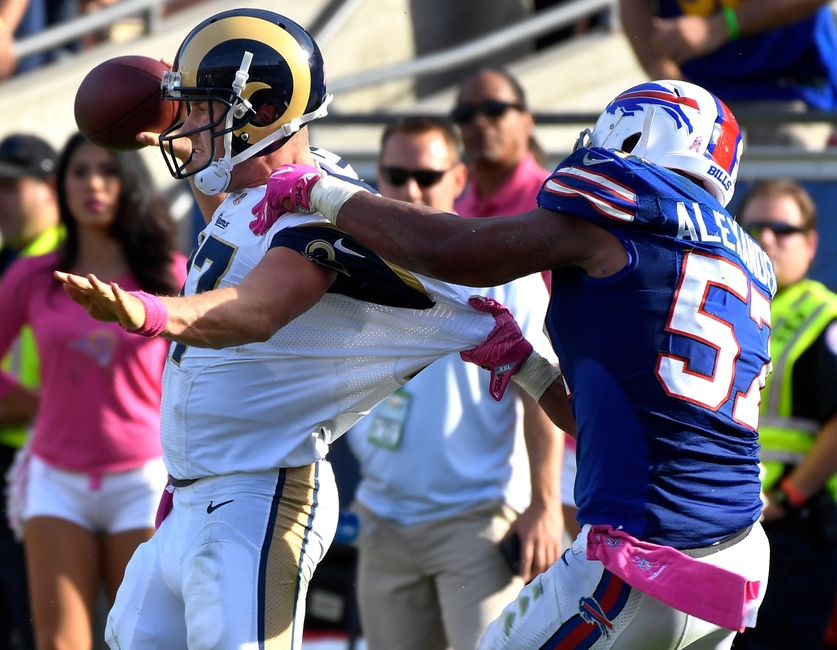 You should start Buffalo Bills defense and bench the San Francisco 49ers if you have them.
This week when the Buffalo Bills face off against the San Francisco 49ers it will be the tale of two defenses. Buffalo features the second best fantasy football defense in the league this year averaging 13.8 points per week in standard yahoo leagues. On the other hand, the 49ers are ranked 20th in average points per game.
The 49ers defense has let up an astonishingly bad average of 35 points over the past four weeks after a shutout Week 1 against the Rams. It's shocking that they aren't ranked worse than 20th in average points per week. The reason they aren't worse is that they have the ninth most takeaways in the NFL. If you're looking to play them this week thinking that they are a good matchup against Buffalo's offense I would think again.
The Bills have averaged 23.4 points per game this season and have scored over thirty points in three of their five games. Those 23.4 points include three defensive touchdowns for Buffalo. The Bills defense is meant to confuse opponents leading to big plays and so it wouldn't be fair to remove those points as an anomaly but they probably won't continue to average three defensive touchdowns every five weeks. Even with a decent matchup against a Buffalo offense that struggles to pass, there are better options to start on defense this week such as the Bills defense.
Buffalo will most likely be without their big man in the middle Marcell Dareus for the sixth consecutive week but he hasn't played all season and other players have stepped up in his absence.
For example, Zach Brown leads the NFL in tackles with 60. Right now it's him and Luke Kuechly, who has 57 tackles, and then a fair amount of room separating them with Kiko Alonso who is third with 50 tackles. In fact, Brown's total of 60 tackles is 20 percent higher than Alonso's total for the year.
Through the first five weeks, Lorenzo Alexander leads the NFL in sacks with seven. Since then, he's been leapfrogged by Super Bowl MVP Von Miller who has already played his Week 6 game on Thursday night and had a sack against the San Diego Chargers. That put Von Miller half a sack above Alexander, but "Zo" will get his shot on Sunday to reclaim his NFL lead.
Much like San Francisco, the Bills defense also put up a shutout this year when they beat the Patriots 16 – 0 in Foxboro Week 4. The difference between the two is Buffalo has had only one bad week on defense against the Jets while the 49ers have had four.
The 49ers have an inept passing attack and so Buffalo can focus their efforts on stopping Carlos Hyde who is the focal point of the 49ers offense. The Bills will also have to keep a close eye on Colin Kaepernick who was named the starter this week, but Kaep hasn't played in nearly a year and when he was playing last year, it wasn't exactly an inspiring performance.
In summary, you can expect another solid performance for the Bills defense this week and they should be in your starting lineup unless you have Minnesota's defense while the 49ers should be on the waiver wire in your league.
This article originally appeared on