Staff prediction for Miami Dolphins versus LA Rams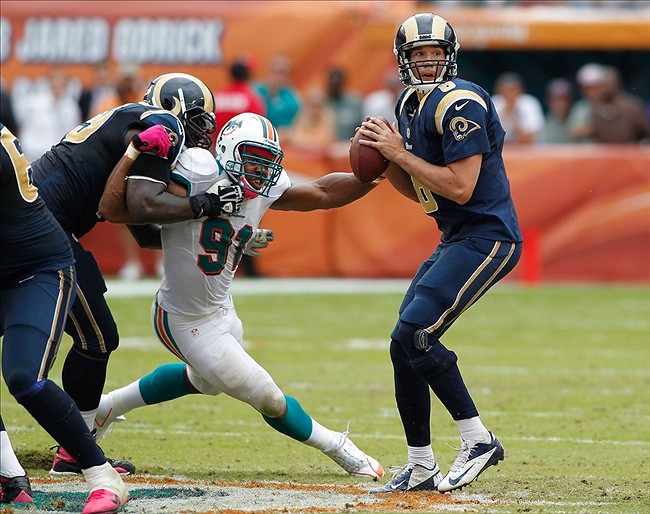 Each week the Phinphanatic staff will bring you their prediction for the upcoming game.  This week the Miami Dolphins face off with the Los Angeles Rams.
Sean Denison
With rookie quarterback Jared Goff making his NFL start against the Dolphins ferocious pass rush, look for the California kid to struggle. On offense, look for the Dolphins to implement a balanced game plan of Jay Ajayi and Ryan Tannehill against one of the top defenses in the NFL.  Prediction:  Dolphins 26 Rams 13
Eric Frosbutter
The Dolphins one game at a time approach is working out so far as they have now won four in a row going into Sunday. The Rams, on the other hand, had been losers of four straight before taking down the Jets last week in an unimpressive 9-6 final. Los Angeles has announced that #1 overall pick Jared Goff will get his first career start this week. While the rookie could be viewed as a Wild Card play, this is a game that the Dolphins should win. The Dolphins understand that they can ill afford to overlook the struggling Rams, and Adam Gase will do whatever it takes to keep the team in focus.  Prediction:  Dolphins 30 Rams 13
Scott Lascari
While the offensive line will try to adjust to another injury, this time with Branden Albert missing, the Dolphins should continue to show balance on offense.  The defense should be successful in stopping Todd Gurley and placing the offense squarely in Jared Goff's hands.  Let's hope the Dolphins play they way they have recently and not let this game be a trap.  Prediction:  Dolphins 20 Rams 10
Brian Miller
The Dolphins have 4 game winning streak and are facing a rookie quarterback making his first NFL start. The odds are in Miami's favor but could this be a trap game?  It's a game Miami should win.  Prediction:  Dolphins 21 Rams 10
Tyler Olson
Ryan Tannehill proved this last weekend that he's taken a step forward in his development.  It's not huge but it's a step, and head coach Adam Gase has the Miami Dolphins winning different ways each week.
With rookie Jared Goff making his first career NFL start for LA it's going to be up to the defense to halt Todd Gurley from running wild.   If Sunday is anything like this whole season that shouldn't be too difficult.
Let's hope this isn't a trap game and Miami's week+ spent on the West coast doesn't catch up to them by Sunday afternoon.
  If they want any shot at the playoffs they have to beat the Rams.  
Prediction:  Dolphins 26 Rams 20
Carlton Ray
With news that Mike Pouncey and Branden Albert are injured again, it will be tough for the Dolphins to get anything going against the Rams powerful defensive line. However, the Rams will be starting quarterback Jared Goff for the first time, so it is unlikely that the Rams will be able to score. This game may be ugly, but Adam Gase and Vance Joseph have been pushing all the right buttons lately, so look for Miami to extend its win streak to 5 for the first time under Ryan Tannehill.  Prediction:  Dolphins 20 Rams 14
Matthew Stevens
The Dolphins are undefeated this year when their five starting lineman are on the field.  Unfortunately, it appears Miami will be without not only LT Branden Albert but also C Mike Pouncey.  Add in injuries to WRs Jarvis Landry and Kenny Stills and expect the Dolphins offense to struggle.
On defense, if Miami contains Todd Gurley, I see no way that rookie QB Jared Goff can put up more than 10 points.  I expect a low scoring affair that I hope Miami can come out victorious in.  Prediction:  Dolphins 17  Rams 10
This article originally appeared on