Speaking With the Enemy: Jaguars vs. Chargers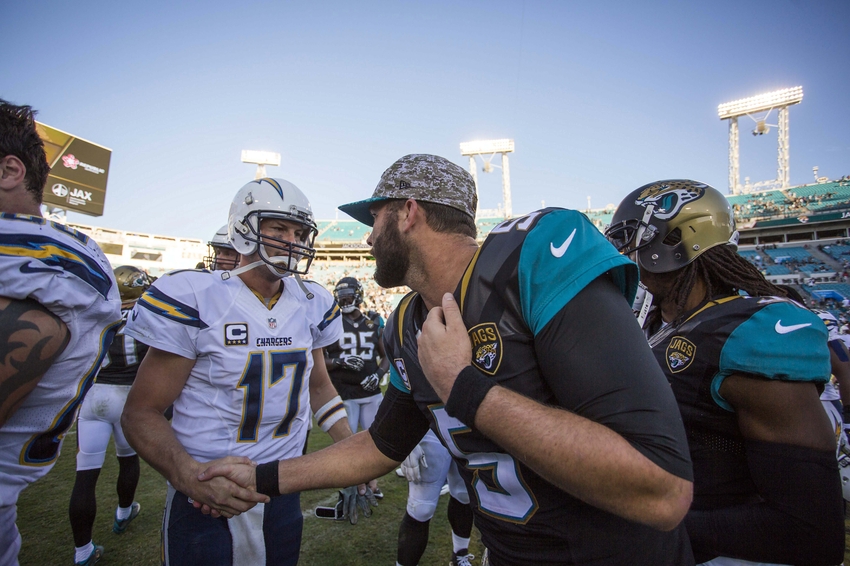 Let's put that ugly loss to the Kansas City Chiefs last week in the past. No more talking about it…. until they meet again, of course. Now, the San Diego Chargers return home to battle one of the league's upstart teams in the Jacksonville Jaguars. Though the Chargers lead the all-time series 6-2, this is a dangerous game. A loss could send the team into a tailspin that it may not recover from, looking at its upcoming schedule.
For a little more insight into this game and the Jaguars, we spoke with Daniel Lago of Black and Teal. I had five questions for him.
Q: The Jags lost to Green Bay last week, but had a chance to pull it out in the end and look like an improved team. What can the team take from that loss and is there any kind of sense of a "moral victory" in how they played?
A: The "moral victory" question has been asked a lot since the game ended Sunday and I think the team is past the point of feeling good about any loss. In the 4th year of the rebuild, there's an expectation that the Jaguars need to win these types of games.
That being said, there are definitely positive things to take away from the game, particularly the improvements on defense. The Jaguars still don't have a consistent pass rush, but the secondary played outstanding and helped limit Aaron Rodgers to under 200 passing yards.
My Opinion: I think Daniel hit on some key points here. This team isn't "happy" to compete, it expects to win. San Diego needs to be wary of that. Also, holding Rodgers to under 200 yards passing is quite a feat in today's NFL. Yes, they were on the wrong side of the scoreboard, but defense builds champions. Always has and always will.
Q: What is the status of Chris Ivory? Can we expect to see him in the lineup this week?
A: That's up in the air and we probably won't know until Friday at the earliest, but my gut says the Jaguars will keep him out. Historically, this coaching staff and front office has been cautious about rushing any player back into the lineup and the Jaguars are gearing up for hopefully a long season. Even if he is active on Sunday, I expect a lot of T.J. Yeldon.
My Opinion: The Chargers should plan on seeing a lot of Yeldon, as Daniel suggests. Truthfully, the Chargers are going to be tested through the air in a big way in this game as the Jaguars have several weapons for Blake Bortles to get the ball to. Last year, tight end Julius Thomas had two touchdown catches.
Guys like Jahleel Addae, Dwight Lowery and the rest of the secondary is going to have to have a big game.
Q: If you were the Chargers' offensive coordinator, how would you go about attacking this Jacksonville defense?
A: Honestly? I wouldn't change a thing from what the Chargers have done in their last 2 games over the last 2 years. Philip Rivers has absolutely eviscerated the Jaguars' defense in the last 2 meetings, with guys like Dontrelle Inman and Eddie Royal putting up big numbers. Even without Keenan Allen, I don't see how Rivers has a bad day, particularly given the lack of pass rush the Jaguars showed in week 1. If I'm the Chargers, I make it a pass heavy game plan and let Rivers do his thing.
My Opinion: That sounds great, but I'd still like to see the team establish a running game and stick to it. I want to see Melvin Gordon get at least 20 carries in this game, at minimum. Though Rivers can get into a "shootout" with the best of them, I still think San Diego is at its best when it controls time of possession and runs the ball right at its opponent. Can they do that against Jacksonville?
Q: Did the Chargers make a mistake by passing on Jalen Ramsey in order to draft Joey Bosa?
A: It's hard to say since it's just week 2, but I personally think so. Even though I liked Bosa coming out of the draft, I liked Jalen Ramsey more. Ramsey didn't get in the mix too much last week, but he showed an aggressiveness and swagger that's been much needed in Jacksonville. Ramsey was the perfect fit for Jacksonville, but I understand why the Chargers opted to bolster the pass rush given how well the corners have been playing for them. Too early to tell for sure, but I give the edge to Ramsey.
My Opinion: Though it would be easy to choose Ramsey at this point due to the circus that Joey Bosa's contract negotiations became, it is too early to say, as Daniel mentions. I felt that Bosa was the right choice when it was made, but I would have a tough time arguing that right now.
Q: Jacksonville has never won in San Diego. Is this the week they get it done?
A: Yes. The Jaguars showed me something last week I haven't seen in years – resilience. Over the first three years with Gus Bradley, the Jaguars could never dig themselves out of a hole and bad situations always devolved into downright catastrophes. After a turnover on the first drive that led to a short field and an easy Green Bay touchdown, the Jaguars fought back and kept it close until the very end. If not for 2 or 3 otherworldly plays by Aaron Rodgers and some horrific missed pass interference calls, the Jaguars would have won.
Even though it would be somewhat shocking given the recent history of the two teams and the long west coast trip, I think the Jaguars put together a good performance here.
Jaguars 33 – Chargers 24
My Opinion: I'm not going to call Daniel crazy for this prediction, because after last Sunday, it's tough to put any confidence in the Chargers. They are at home and though they lose their No.1 receiver and almost seem hindered by their head coach, you have to think they'll bounce back and show some pride in this game.
Jacksonville is not an automatic win. Far from it, actually. The Chargers will need to play a complete game, from start to finish, to pull out the victory.
If you'd like to read my interview with Daniel, including my prediction on this game, you can check it out here.
More from Bolt Beat
This article originally appeared on