Someday is Today For George Fant, Seattle Seahawks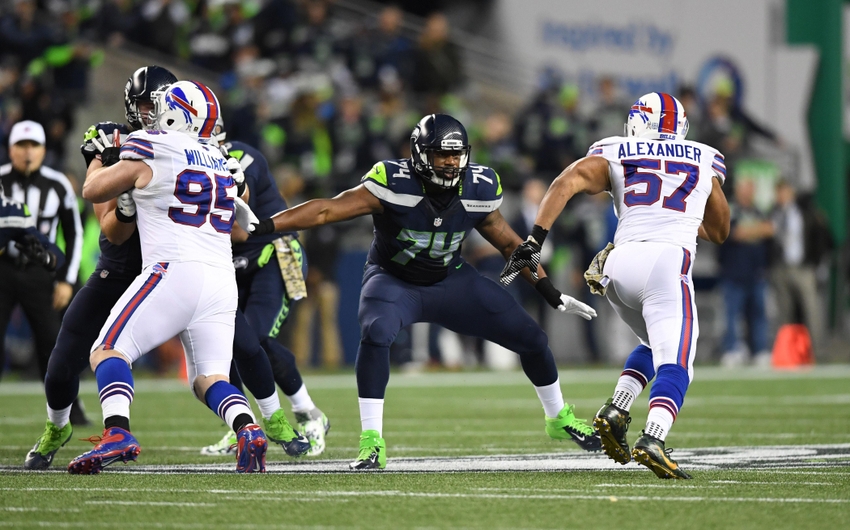 The Seattle Seahawks and George Fant thought it would take him one or two years to start at left tackle. But due to injury and better-than-expected play, he is the starter midway through his rookie year.
When the Seattle Seahawks saw George Fant at his pro day, jaws had to be picked up off the floor. At 6'6″, 300 pounds, Fant turned in a 37-inch vertical jump and a 4.83 40-yard dash time. Those are both amazing numbers for a man that size.
Fant is a freak athlete, having played basketball player for four years at Western Kentucky. They convinced him to give football a try as a fifth-year senior. He was a backup tight end, that started his last game in junior high school.
O-line coach Tom Cable loves athletic offensive lineman for his zone-blocking scheme. He must have thought, "I'm going to make him my starting left tackle one day." So that's why the Seahawks didn't look to add a veteran with Russell Okung now gone.
The plan was to sit him and let him learn while Bradley Sowell starts. But Sowell injured his right knee in their tie with the Arizona Cardinals a few weeks ago. So he filled in for three weeks starting and injury replacement and plays surprisingly well.
More from With the First Pick
Now, he has officially earned the full-time starting left tackle job for the Seahawks. Cable told the media per PFT after practice on Wednesday that Fant would remain at left tackle. Sowell will now compete with Garry Gilliam for the starting job at right tackle.
Cable said, "George continued to grow. We're trying to do—it's obvious, I think—but get the best five guys on the field. That means mentality, doing it right, the right mentality and going for it every down."
This is a little early for Fant but you can't argue with the result and the offense has improved. Head coach Pete Carroll gushed over the fact that Fant didn't have a single assignment error in Sunday night's win over the New England Patriots.
He said "We're really excited that he's doing as well as we can expect right now for his understanding and his experience. We know that he's really applying himself and achieving at a high level and he can get measures better as we move down the road here."
This article originally appeared on