Snowy Success: Why Green Bay Packers beat Houston Texans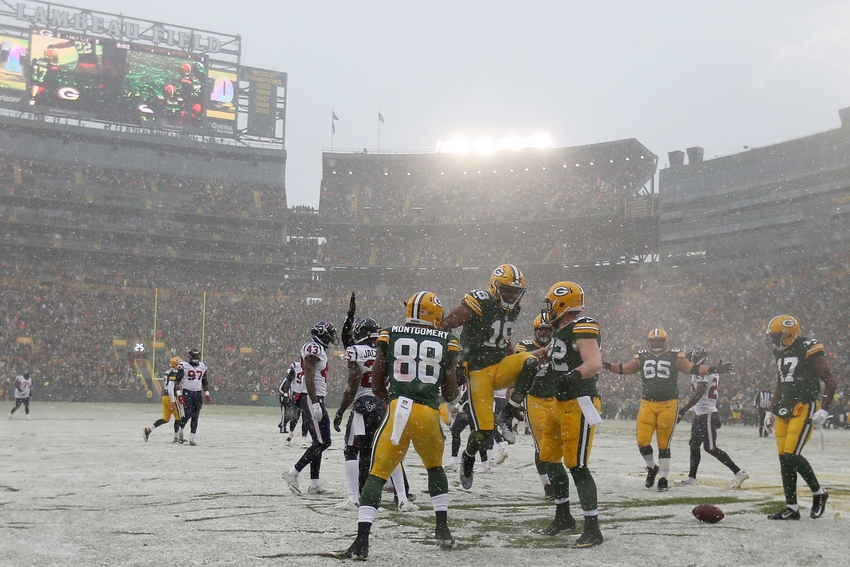 It wasn't pretty, but on a snowy afternoon in the frozen tundra the Green Bay Packers came away with a victory, getting themselves back to .500 at 6-6.
This was a much-needed outcome for a team needing a win every week just to keep alive meager playoff hopes, and even though it came against a team many have railed against as succeeding almost entirely off of a weak division and favorable schedule it doesn't count any less.
So how did Green Bay manage to successfully continue in its hopes to "run the table"?
There are many factors, but here are some which I think made the most difference.
Strong defensive start
During the doldrums of the middle of this season, the area of this team which led to most of their problems usually ended up being their defensive unit.
A key to Green Bay's 3-1 start to the season was how the defense was able to prevent teams from starting out well, then continuing those efforts as the game progressed to hold off the opposition. In those contests, the Packers allowed 17, 10, 10 and 6 points to Jacksonville, Minnesota, Detroit, and the New York Giants, respectively; three of those starts left them with a lead heading into halftime (all wins).
From that point, things changed for the worst — and their record followed suit. In their following 1-5 skid, the defense gave up 17+ points in the first half of four games (Dallas, Atlanta, Indianapolis, Tennessee); those all became losses, with only one of those instances (Atlanta) seeing Green Bay holding the lead after two quarters.
Things starting to turn for the better in that aspect in both the Washington and Philadelphia games (the Packers held respective 13-10 and 14-10 leads at the half in those games), but the way they came out in this one trumped every other performance by that side of the ball.
Houston had 6 different drives in the first half of this contest. Not a single one put up points. The Texans slogged their way to 3 punts, a lost fumble, a turnover on downs, and running out the clock at the half. This ended up not only being good on its own, but vastly important for Green Bay's hopes to win, as their own offense struggled with the conditions and were able to put up just a single touchdown themselves.
Of course, the competition matters here (Houston came in with the #31 Offensive DVOA) and they did have some slip-ups in the second half which allowed the Texans to keep this from being a full-game domination. Still, the way the defense began this game set the stage for Green Bay to survive their own offense's problems and hold control over the scoreboard (Houston never led) long enough to win.
With what we had been accustomed to seeing from them for long stretches of this season, it was heartening to find out they could churn out the sort of positive opening performance necessary to survive their own slow offensive start.
A more balanced attack
Something which has come up as an issue throughout Mike McCarthy's tenure as Green Bay's head coach is how this team will suffer through huge swathes of games and seasons with a wholly imbalanced attack.
There are plenty of answers as to why that happens (injuries, an overall lack of running talent, poor production, unhelpful game situations, having an MVP-level quarterback), but this year has been especially unbalanced.
As of this week, Green Bay has called passes on over 65% of their plays in 2016– 2nd-highest in the NFL behind the winless (and always-trailing) Cleveland Browns. That number has been even higher since Green Bay's 3-1 start fell apart, leaping over 70% at times. That can at least in part be contributed to the litany of injuries destroying the depth and dependability of their running options — as well as how they fell into massive early deficits in their 1-5 slump — but it shouldn't excuse it.
With little success in that aspect of the game — and a variety of pass-catching options for their former MVP quarterback — an argument can be made (one I myself had prescribed to) that it really did end up being their best hope for offensive success, but it was obviously an unsustainable option and could have major ramifications should they hit stretches where it did not work.
Here, they got back to that search for balance, and it worked well for them.
For the first time since that 3-1 start (where they did this every time), Green Bay managed to accumulate more rushing attempts (26) than they did completions (20). The balance they found was able to open up the game for both aspects of the offense, with the rushing attack combining for 109 yards and the passing game going for 209.
Another part of what that balance helped allow for was big plays from each area. Green Bay had five runs which went for 10+ yards, and also four passing plays which picked up 15+ yards. Only one of these were scoring plays on their own, but the vast majority came as part of scoring drives (four of the runs and four of the passes were on the final two touchdown drives).
If Green Bay is going to bring Aaron Rodgers' words into actuality and really run the table to end the year, keeping this sort of balance — and benefitting from the positive side-effects of it — will be paramount.
The Rodgers-Nelson connection
When Jordy Nelson missed all of 2015 the Packers obviously suffered greatly on offense, but from a pure entertainment standpoint fans across the league in general lost out on a full season of one of the best QB-WR connections we've had in the past decade. The two had such a chemistry for most of their time playing together which allowed them to combine on plays that dazzled highlight reels and blew apart defenses.
Though Nelson has had a mostly-positive return to the field, this trademark connection has been inconsistent at best for most of 2016, with the biggest factor missing being the big plays down the field.
Through the first 11 games of the season, Rodgers targets Nelson on 34 passes that were at least 15 yards down the field; in those, Nelson came away with a meager 8 receptions and 2 TDs. That stretch includes five different games without a single 15+ yard catch, and 3 where he wasn't even targeted for one altogether.
Though it's understandable he wouldn't be back at full capacity after a full year away, it has still been concerning that someone who became synonymous with explosive gains for Green Bay could spend most of a season with so few.
Against Houston, we got to see some of that pre-2015 magic between these two once again.
Rodgers targets Nelson on 10 different passes in this contest; Nelson turned those into 8 catches, 118 yards, and 1 TD. These two were connecting on passes all across the field, short and long, essentially acting as the only fuel for Green Bay's passing offense on the afternoon (outside of Nelson, Rodgers went 12/20 for 91 yards and a TD; no non-Nelson receiver did better than 3 catches and 19 yards).
This was also a return to hitting on deep passes between these two: on three attempts of 15+ yards to Nelson, Rodgers connected with him on all of them for a total of 81 yards (21, 28, and a 32 yard TD).
In all, this performance resulted in a perfect passer rating (158.3) for Rodgers on his throws to Nelson.
We can only hope this game isn't a blip, instead being the grand return of the connection we once knew, one which can stand up a passing game on its own and break the back of the opposing coverage at a moment's notice.
Field position advantage
Field position is something which always tends to get lost in the large-scale shuffle of discussions as to why a team wins or loses.
People end up talking about how their team's offense struggled or their defense was beaten, but they forget to factor in the degree of difficulty which is added to the equation when that offense has to constantly make extended drives to get into scoring range or that defense is backed up on a short field. In games where the weather is also adversely affecting things — as was the case here with the snow — it becomes even more paramount.
Luckily for Green Bay, more often than not they had the fortune of positive field position working in their favor during this game, both for their offense and defense.
On offense, Green Bay saw six of their ten drives begin at least at their own 40 yard line:
Houston 24 yard line
Green Bay 47 yard line
Midfield
Green Bay 40 yard line
Green Bay 44 yard line
Green Bay 48 yard line
For the most part, they didn't end up taking advantage of these — respectively, those drives became a fumble, punt, TD, punt, turnover on downs, and punt — but even when those drives don't convert into points, that strong starting field position has the indirect effect of allowing the Packers to potentially pin back their opponent for their own ensuing drive.
Looking at the way field position worked out for their defense, it should be pretty apparent how much that helped them out.
Houston ended up with eleven total drives in the game. Of those, Houston began five of them at their own 15 or worse:
Houston 5 yard line
Houston 11 yard line
Houston 11 yard line
Houston 15 yard line
Houston 12 yard line
Those drives all had something in common: they led to nothing for Houston on offense. The respective end of those drives became a punt (which was returned to the Packers' 47 yard line by Randall Cobb), another punt, the end of the first half, a third punt, and the failed lateral-palooza which ended the game.
Field position may not get discussed much — outside of right when a particular drive starts/ends — but it definitely played a huge role in allowing Green Bay's struggling offense and much-maligned defense to have favorable situations in a close & sloppy contest. With the margins seemingly as small as ever between wins and losses in the NFL, that can mean all the difference.
98 to lead, 89 to seal
Despite all the praise I've doled out so far, this undoubtedly was an uncomfortably close contest for most of the afternoon.
Despite getting their defense's best first half showing of the year, finding more balance than we've seen since September on offense, Rodgers-to-Jordy having a good portion of their eventual best showing as a duo this year, and field position weighed drastically in their favor, Green Bay and Houston were tied 7-7 towards the end of the 3rd quarter. The game could still easily have gone either way with a big play or mistake from one of these squads, and there had to be more than a few frustrated grumbles building up amongst fans.
Then, in by far the worst circumstances facing them on Sunday, things flipped.
Green Bay began their third drive of the second half from their own two yard line; a quick incompletion to Davante Adams brought up second down, and expectations of a punt had to be all but accepted even after a 9 yard toss from Rodgers to Richard Rodgers to bring up 3rd & 1. All of a sudden, Ty Montgomery bursts out to the right for a 13 yard gain, keeping things alive. A 3rd-&-8 would soon follow, punting seemingly inevitable yet again; wrong, as Rodgers found Jared Cook for 10 yards.
As the quarter turned, so did the gears of Green Bay's offense. A 17 yard pass to Adams on the next play; first down. A 4 yard run by Montgomery, followed by an 11 yard scramble by Rodgers; first down again. Rodgers missed Adams deep on a throw after that, but then a defender slipped in the snowy muck the next play; because of that, Rodgers found his main pal Jordy wide open in the end zone for the go-ahead touchdown.
At the end, it was a 12 play, 98 yard drive to put Green Bay ahead for good.
That wasn't the end of things, though; with 12:32 left in the game, Houston did have plenty of time to try mounting a score to tie things back up.
While the 98 yard drive gave the Packers the lead, it was their next drive which sealed it.
In terms of pure numbers it wasn't as strong of a drive (8 plays, 89 yards), but this final scoring effort from Green Bay effectively removed whatever hopes Houston had for coming away from their trip with a victory.
The Packers didn't start as pinned back this time, but drives starting this far back still rarely succeed at adding points to the scoreboard. In 2016, there have been 446 drives which began inside an opponent's 12 yard line; just 23.5% have become scores for that team, while 55.8% have become punts and 11.4% have become turnovers. Green Bay had seen 13 of these drives themselves through twelve weeks; they became scores only twice (1 TD, 1 FG).
With the odds stacked against them adding to their lead, Green Bay went on to do so anyway.
Unlike on their prior scoring drive, Green Bay was effective from the outset. The team faced just one third down as they blazed down the field. They picked up a first down or score immediately on three of their five first downs on the drive. They hit a handful of big plays, both on the ground (Montgomery 11 yard run, Jeff Janis 19 yard sweep) and through the air (21 and 28 yard completions to Jordy).
The drive ended with a powerful smash through the defense by Aaron Ripkowski (his 2nd TD plunge in as many weeks), giving Green Bay a 21-7 advantage with 4:11 left on the clock.
The game may not have ended there, but the odds were heavily against Houston completing a comeback at that point. They did go on to score a touchdown, but with that drive eating the clock down to under two minutes, there wasn't much left for them to do to make it happen.
A failed onside kick gave Green Bay the ball near midfield, where they subsequently ran down the clock before a Schum punt pinned Houston at their own 12 with 0:04 remaining; the aforementioned lateral play went nowhere, officially locking in the win for the Packers.
There were plenty of factors which put Green Bay into position to win, but these final two drives are the encapsulation of where they took it and effectively sealed it.
With this one in hand, at 6-6 the team has everything right in front of them in their hopes to continue their playoff streak alive. They play a Seattle team this weekend which is now without Earl Thomas (one of their two best defenders, and one of the league's best safeties) before taking on each of their division rivals.
Without a major slip-up from Detroit, they probably need them all; 9-7 almost certainly isn't cutting it for the wild-card spots this year, and the Lions would need to drop two before also losing to Green Bay in the season finale in Detroit.
The win was by no means visually appealing, but these two drives gave the team the final push they needed to stay in position to still capitalize on what little chance they have left to keep playing a month from now.
This article originally appeared on