Should the 49ers Move on from Running Back Carlos Hyde?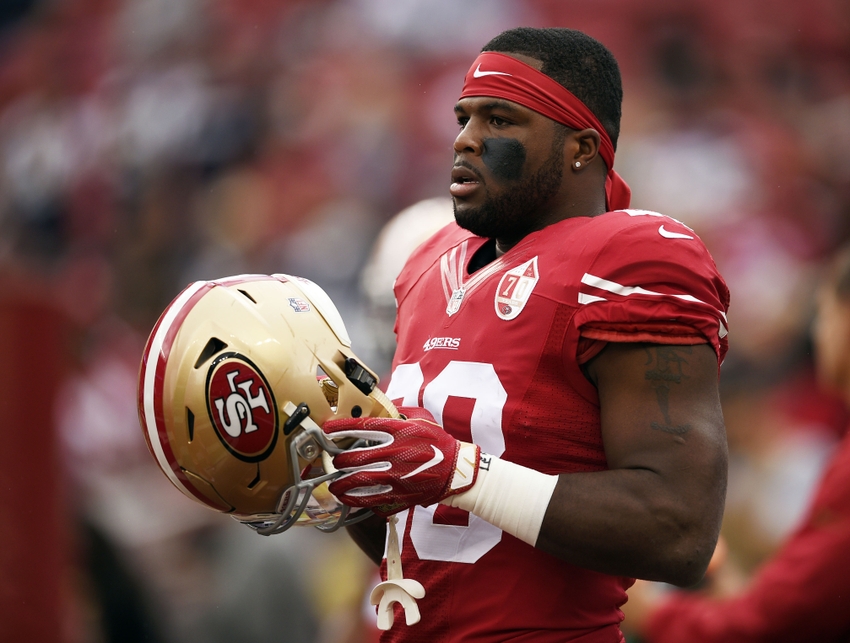 San Francisco 49ers running back Carlos Hyde is still one of a handful of offensive weapons head coach Chip Kelly has in 2016. But a slew of injuries to the tailback, and inconsistent production, prompt questions about Hyde's long-term future with the franchise.
The San Francisco 49ers should be asking themselves a very tough question — is running back Carlos Hyde going to be a long-term fixture to the franchise?
Wait, what? How can we be asking that sort of question so quickly?
Well, when a team is currently 1-5 and ranking at, or near the bottom of, nearly every statistical category, no one's job should be safe.
But enough of the rhetorical suggestions. We're here to ask, and hopefully answer, whether or not San Francisco should keep Hyde as a long-term fixture of the franchise.
No doubt, the former second-round pick of the 49ers from the 2014 NFL Draft was supposed to be a household name. Hyde was supposed to be the tailback who took over for the franchise's all-time leading rusher, Frank Gore.
And while glimpses of greatness have happened, the fact is Hyde has come nowhere close to replicating Gore's efforts.
Of course, few running backs ever could. But the problem is Hyde's reliability and inconsistency put the Niners in a bind.
So should San Francisco start considering the future? It's worth a look.
Carlos Hyde and the Injury Factor
If there's one knock against Hyde over two-plus seasons, it's his health.
He managed to get into 14 games his rookie year but was still seeing secondary duties to Gore. Nothing much to see there.
Since then, Hyde has missed nine out of a total of 22 games the 49ers have played dating back to Week 1 of the 2015 season. That's just over 40 percent, nearly half the time he's been San Francisco's starter.
And the number of missed games should increase in 2016.
According to head coach Chip Kelly (h/t Matt Maiocco of CSN Bay Area), Hyde is likely not going to play in the Niners' Week 7 contest against the Tampa Bay Buccaneers. The running back suffered a shoulder injury the previous week and was seen wearing a sling around his right arm.
Last year, it was a foot injury. In the 2016 preseason, a concussion caused worry. Now it's the shoulder.
What next?
The Inconsistency Factor
All one needs to do is recall how great Hyde looked in Week 1 of the 2015 season, where he amassed 168 rushing yards and two touchdowns against the Minnesota Vikings.
Since then, Hyde has had just one 100-plus yard rushing game. And most of it came in garbage time against the Seattle Seahawks in Week 3 this year.
Over his entire career, Hyde has averaged just 45.6 yards per game and merely 4.0 yards per carry.
Not exactly eye-popping numbers.
For reference, Gore is still averaging 4.3 yards per carry over Hyde's current 3.9 YPC mark. And Gore is 33 years old.
And where does Hyde stand, according to Pro Football Focus, this season? He's No. 27 out of 55 qualifying tailbacks.
Decent. But nowhere close to great.
Other Factors & Reasons Not to Move on from Carlos Hyde
One could only wish for Hyde to thrive in a balanced and potent 49ers offense. But that's not the case.
San Francisco currently ranks dead last in all-purpose yards this season (1,757) and has nothing resembling a passing game. So that means opponents merely have to take Hyde out of the equation to stop the Niners.
And it isn't as if the running back is getting much help up front either. A year ago, PFF ranked the 49ers offensive line No. 30 in run blocking. This same unit improved to a mere 28th over the first four weeks of the 2016 season.
Meanwhile, rookie running back Ezekiel Elliott is enjoying historically worthy numbers behind the top-tier Dallas Cowboys O-line.
Maybe Hyde would thrive if San Francisco's line looked as such. Maybe not. We'll never know.
But there are reasons why the 49ers shouldn't move on from Hyde either. The 49ers are laden with more than their fair share of roster questions moving forward. Hyde is one of the few players on the team's roster against whom opponents have to scheme.
Moving on from Hyde shouldn't be atop San Francisco's priority list. But the thought can't be overlooked either.
Remember, Hyde turned 25 years old this season. At best, he likely has four or five more good years ahead of him. And that's if injuries don't take their toll. They already have.
So the 49ers, at least, have to consider Hyde as a likely bridge between how ugly the franchise is right now and how long it may take to become relevant again. And who knows how effective he'll be when San Francisco returns to prominence.
Because it's going to take a while.
This article originally appeared on