Should Ryan Pace Be Fired after Two Seasons?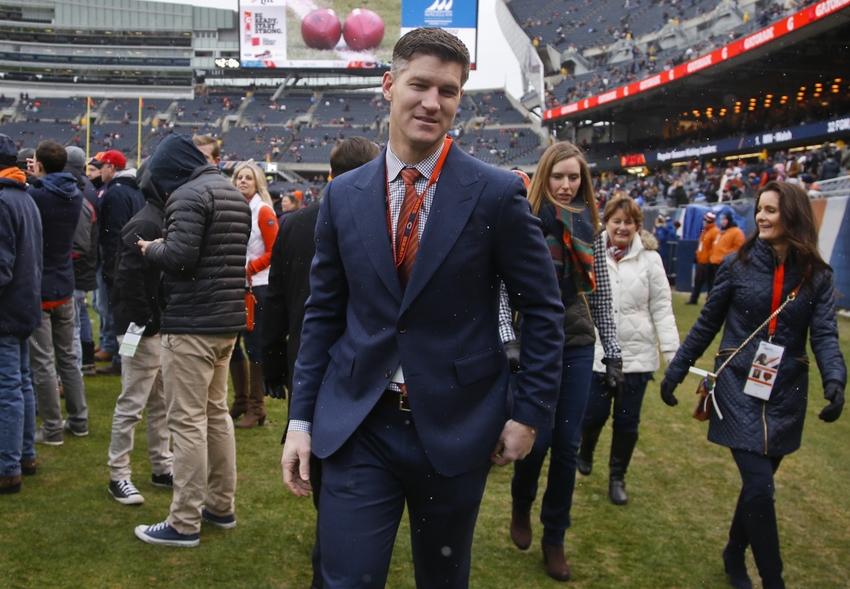 At 2-7, a number of Chicago Bears fans are calling for a house cleaning. Is it wise for the Bears to get rid of GM Ryan Pace after just two seasons?
The Bears cleaned house after going 5-11 in 2014. Chicago filled the void by bringing in Ryan Pace as the new general manager. His task would be to rebuild one of the oldest and most talent deprived rosters in the NFL. After a year and a half on the job, the Bears haven't improved at all in the win column. With John Fox's future as the Bears' head coach in doubt, some fans are advocating for the Bears to get rid of Pace as well. However, is Pace to blame for the Bears' struggles?
The decision of firing or keeping Pace is critical to the Bears' development. Not only will next year's GM be responsible for selecting Chicago's next quarterback, but will also make changes to the coaching staff. Should the Bears fire Fox and others, the GM will be in charge of choosing both the head coach and the quarterback. Chicago isn't the blank page that Pace took over in 2015, they have talent and should be competitive. The decisions that next year's GM will make in the draft and the front office will dictate AT LEAST the next five seasons.
Building a roster in the NFL revolves around two major NFL events: free agency and the draft. To determine whether Ryan Pace should remain as the Bears' GM, we will break down his successes and failures in both spheres. After breaking down his history, we will be able to make a definitive verdict as to whether Pace should return next year or not.
Ryan Pace's successes:
The Draft: Eddie Goldman DT, Adrian Amos S, Leonard Floyd OLB, Cody Whitehair OL, and Jordan Howard RB
In two drafts, Pace has added Pro Bowl talent to the team. Goldman anchored of the defensive line all of last season and has continued his strong play this season. Adrian Amos is one of the only consistent performers in Chicago's secondary, and he has proven to be a big hitter. Leonard Floyd struggled early, but has come on strong the last three weeks. The Bears have sorely missed a pass rushing threat since Julius Peppers left town. On the offensive side of the ball, Whitehair and Howard look to be stalwarts for years to come.
Free Agency: Pernell McPhee OLB, Jerrell Freeman LB, Danny Trevathan LB, Tracy Porter CB, Josh Sitton G
The Bears were relatively quiet in free agency leading up to the 2015 season. However, Ryan Pace made sure to sign a big name to headline the new 3-4 defense. Pernell McPhee was out for the first 6 games of the year, but he has been an unstoppable force ever since. Tracy Porter was another veteran added in 2015 who brought great value to a weak Chicago secondary.
Where Ryan Pace worked his magic most was in 2016 free agency. He addressed the Bears' weakest positions. He fixed Chicago's abysmal linebacking corps with two potential Pro Bowl candidates in Jerrell Freeman and Danny Trevathan. Pace then added a major piece to the offensive line with a Pro Bowl guard in Josh Sitton. Not only were the above signings huge boosts for the team, Pace was also able to sign them at bargain level contracts with the exception of Sitton.
Trades: Brandon Marshall to Jets and Martellus Bennett to the Patriots
The Marshall trade garnered a considerable amount of negative press, but it should be considered a huge win for Pace. Marshall had raised a considerable stir in the Bears' locker room throughout the 2014 season. Despite Pace's negative position at the bargaining table, he managed to get a 5th round pick out of the Jets. While a 5th round pick seemed unfair for a Pro Bowl receiver, Pace used the pick on Adrian Amos who hasn't missed a start since becoming a Bear.
Pace managed a similar feat with Martellus Bennett. The Bears would have been forced to drop Bennett if a trade couldn't be reached. Instead of cutting Bennett, the Bears got a 4th round pick in exchange for Bennet and the Bears' 6th round pick. The 4th round pick was used to draft Deiondre' Hall who showed flashes early in the season. Pace's ability to make something out of nothing with these trades is another positive on his resume.
Ryan Pace's failures:
The Draft: Kevin White WR, no QB
It's hard to label any player a bust after a year or less. Players like Hroniss Grasu, and Deon Bush could easily prove to be busts in a couple years. However, one player is quickly cementing his legacy as a bust, Kevin White. Injuries are a part of football, but missing all but 4 games in two years is a bad way to start a career. White showed flashes of greatness, but if his career were over today, he would be a bust. Pace only missing on one pick wouldn't be so bad if White wasn't a first rounder. Good teams depend on their first round picks being long time contributors to the team.
Also, Pace has never selected a QB in the draft. Not even a developmental quarterback in the 7th round, NO quarterbacks whatsoever. Cutler is over 30 years old, the next QB needs to come from somewhere.
Free Agency: Matt Forte RB, Matt Slauson OL, Antrel Rolle S
Allowing free agents to walk has been Pace's problem more than signing bad players. Matt Forte lead the Bears on offense and was willing to take a hometown discount to stay in Chicago. However, Pace didn't even bring him to the bargaining table. In this instance, Jordan Howard saved Pace. If Howard wasn't running the show for Chicago, the absence of Matt Forte would be clear.
The absence of Matt Slauson has been far more prevalent. Slauson wouldn't have been the cheapest free agent, but he played every single offensive snap for the Bears last season. Durability is extremely rare in offensive lineman, and Slauson's ability to play both center and guard would have been huge when injuries started to occur for Chicago. Cody Whitehair has stepped in admirably, but with Kyle Long out for the rest of the year, Slauson's presence will be missed.
Pace has only made one major misstep in signing players since 2015, Antrel Rolle. The veteran safety was supposed to mentor a young Adrain Amos and anchor the young secondary. Instead, Rolle was either hurt or ineffective the whole season. Pace cut his losses after one year and cut Rolle.
Trades: Trading up for Leonard Floyd
Every spot in the first round has considerable value. It cost the Bears a 4th round pick to move from 9th to 11th and draft Leonard Floyd. This isn't a criticism of picking Floyd, but the move was largely unnecessary. The Giants and Buccaneers were in the market for cover corners, not pass rushers. It's good that Pace knew who he wanted, but moving up was unnecessary and costly.
The verdict:
The few mistakes Pace have made are glaringly present for the Bears today. A thin offensive line, no developmental quarterback, and a weak defensive secondary. Is Pace responsible to these missteps? Absolutely. However, the YOUNG talent on the Bears' current roster is exciting.
Chicago currently has three rookies eligible for a Pro Bowl spot (Howard, Whitehair, and Floyd). Keep in mind that Pace is working off of a 5 year contract. Honestly, the Bears' roster at the end of 2014 mandated at least a three year rebuild. Ryan Pace's job should be safe without question. However, his legacy will ultimately ride on his selection at quarterback this coming draft.
This article originally appeared on