Short Term Ramifications of Collins Trade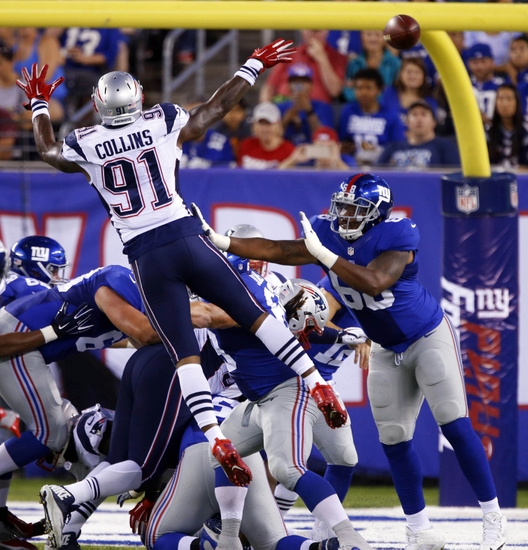 It's fair to say that Monday's trade of linebacker Jamie Collins to the Cleveland Browns took many by surprise. Expected to be part of the defensive core for the foreseeable future, Collins was traded for a relative pittance considering what was being said about him by both fans and experts alike over the past twelve months. Like any transaction, the long term winner of this deal will be determined down the line but the short term impact of this trade will certainly be felt in Foxborough.
Collins drew rave reviews during his three and a half year Patriots career for being a rare athletic talent that was able to do things people of his size should not. Unfortunately for every big play on his resume, there were to be multiple errors, sometimes critical that got in the way. His two interceptions of Andrew Luck in the playoffs of his rookie season were an impressive way to announce himself but there was also the two touchdown catches he gave up to what was left of Owen Daniels last season. Against Miami, he produced a lackluster effort that almost looked like he had plans for Sunday drinks as opposed to playing in an NFL game.
Film review experts spoke of him as an ill-disciplined freelancer that shirked his responsibilities to chase the big play. While that may be forgivable when it works (see: Ed Reed), Collins seemed to be at fault for a fair few big plays. While some of this criticism may come across as Patriots fans trying to talk down a former player (and some of it may be) but the truth is for all of his physical potential, the motivation to be truly great was just not quite there.
At the end of the day, the Patriots have traded a young, athletic linebacker for below market value to control his final destination and keep him from hurting them in the playoffs. As Mike Lombardi from Fox Sports said, Collins will be as good as he wants to be and perhaps this trade is just what he needs to take his game to the next level. With a big payday still on the horizon, the player will have to really step up if he wants that Von Miller style payday. Of course going to the Browns means that he will not have the chance to replicate Miller's postseason from last year.
In the case of his former team, they have traded a starter that played the majority of snaps most weeks. According to the depth chart on the team's website, Collins's spot will be filled by rookie Elandon Roberts who split snaps with Collins at the weekend. Behind them, however, is a number of former high draft picks that never quite worked out with their original team.
The closest comparison is Barkevious Mingo, acquired from Cleveland late in the preseason. Mingo has been a special teams mainstay so far but could see his defensive time increase with some work during the upcoming bye to help create a role. Mingo was seen as a phenomenal athlete coming out of college but like Collins, never became what he was built up to be. Shea McClellan signed as a free agent from Chicago in the offseason but has never been able to settle on a position as a defender. Based on his play so far the team will put him on the field if they have to, but the returns have not been encouraging. It would be a big surprise if recent pickup Kyle Van Noy from Detroit comes in and is an instant contributor, however if he is a smart player that can learn his assignments, he may leap ahead of McClellan. For the time being though, the new starting linebacker job is Roberts's to lose.
This article originally appeared on