Shaun Hill is probably the only one who can save the Vikings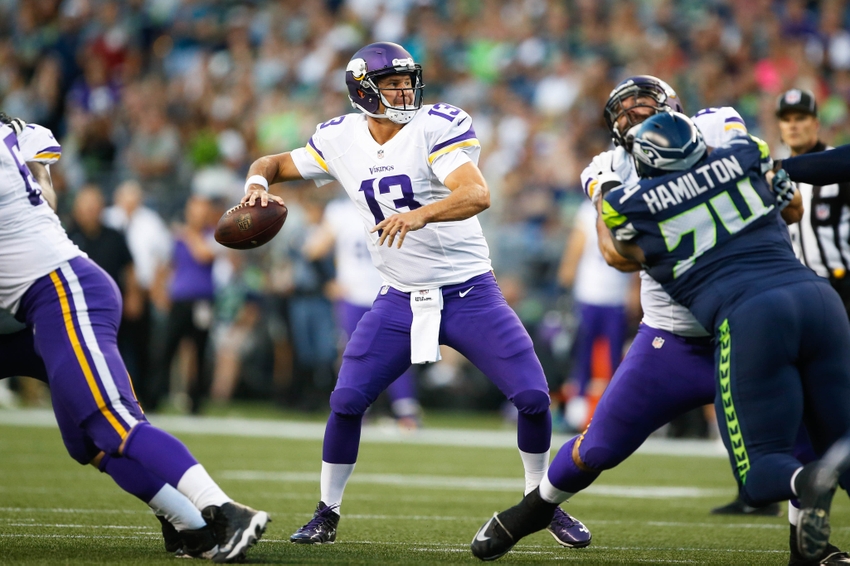 Shaun Hill became the most important player on the Minnesota Vikings after Teddy Bridgewater's catastrophic knee injury.
Teddy Bridgewater is out for the season with a torn ACL and dislocated knee. Who will save the Vikings now?
Rick Spielman will likely work the phones hoping to bring in another veteran, but let's face facts: 2009 Brett Favre isn't available.
Even 2010 Brett Favre would be better than most of what is out there to be had via trade or signing.
No Vikings fans, I hate to say it, but there's only one QB who can save the season. It's Shaun Hill.
Yes, 36-year-old chunky Shaun Hill. He of the 34 career starts spread out over 10 seasons.
The guy whose best NFL season was 2010 when he threw for 2,686 yards, 16 touchdowns and 12 interceptions for the Detroit Lions.
I'd take Hill's 2010 numbers this year, by the way. But Hill was six years younger then and a few cheeseburgers lighter.
What does Shaun Hill really give you at this late date?
Veteran presence, sure. Savvy. Guile. And he won't be scared out there.
He also can't move out there, and the Vikings' offensive line doesn't exactly excel at pass protection.
Teddy Bridgewater showed off great pocket presence and mobility last year and still got sacked 44 times.
Shaun Hill will have to have a very quick release to avoid getting sacked more than 44 times.
As inadequate as Hill may be, I still say he's the only hope to save the Vikings' season.
Day-dream all you want about Michael Vick or Mark Sanchez or Sam Bradford or Tim Tebow.
The Vikings probably will bring in another veteran, but it will be someone who is not good.
Shaun Hill has worked in the Vikings' offense for two years and knows how to run it. If you bring a guy in off the street, he's going to need at least several weeks to get up to speed. Remember what happened when the Vikings got Josh Freeman as a quick fix?
Quick fixes seldom work.
There's no one out there who can come in and do a Jeff George Superman act. Fans' motto might as well be "In Shaun Hill we trust, because what other choice do we have?"
At least the Vikings have a good defense.
This article originally appeared on