Shane Buechele Resurrects Texas Longhorns Football in 2OT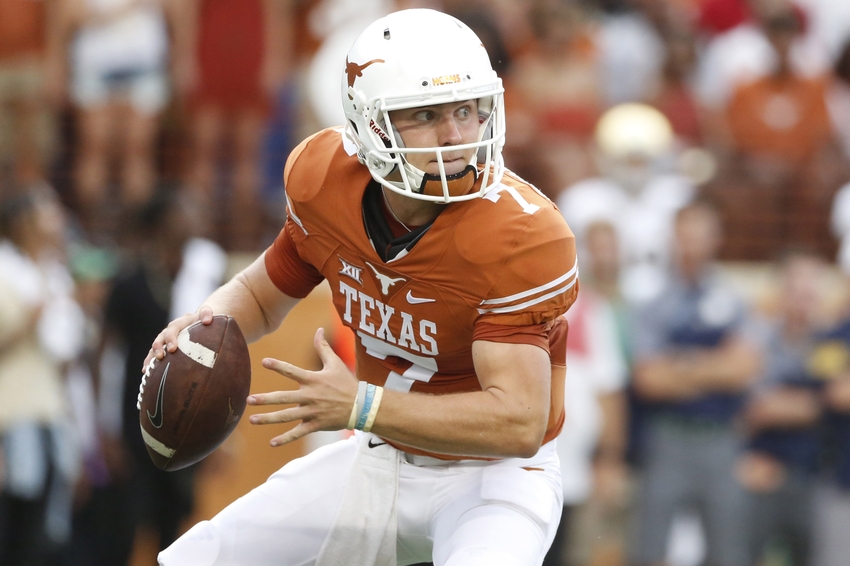 A shootout in Texas results in Charlie Strong's biggest victory of his career, all on the shoulders of true freshman Shane Buechele and senior Tyrone Swoopes
VS.
| | | | | | | | |
| --- | --- | --- | --- | --- | --- | --- | --- |
| | 1 | 2 | 3 | 4 | OT1 | OT2 | T |
| Longhorns | 7 | 14 | 10 | 6 | 7 | 6 | 50 |
| Fighting Irish | 7 | 7 | 14 | 9 | 7 | 3 | 47 |
If I'd told you Shane Buechele was an All-American senior with three years worth of starting experience, you would probably believe me.
What if I told you he is a true freshman making his first college start against the tenth ranked Notre Dame Fightin' Irish in prime time in-front of 100,000 people?
What if I'd told you he'd lead Texas to a 50-47 2OT victory over the tenth ranked team in the country?
No one would have believed this story heading into the Sunday night match-up in DKR. Competing against the senior Tyrone Swoopes, Shane Buechele was a name few outside of Texas had heard of.
The true freshman looked perfectly poised, while making pinpoint passes in the pocket against the Irish. He finished his collegiate debut 16/26 with 280 passing yards, two touchdowns, and a pick.
Help came from the man whose job he took, Tyrone Swoopes. The "18-wheeler" barreled his way through the Notre Dame offensive line when called upon to score three touchdowns, including the game winner.
The entire game was a back and forth shootout battle between Buechele and Notre Dame quarterback DeShone Kizer, who threw five touchdown passes. Both teams scored on their opening drive, while the defenses were menacing upfront.
Texas stuns No. 10 Notre Dame in wild 2-OT season opener
In the third quarter, Texas was up by a healthy 31-14 margin. DeShone Kizer changed all of that up with a 29-yard touchdown run and a short completion to Torii Hunter Jr, who left the game after a blow to the head.
By the end of the third quarter, Texas was up 31-28 and the Irish were on the verge of a major comeback. Kizer found Josh Adams on a 17-yard pass to give Notre Dame their first lead since the opening drive.
Down by four points with less than four minutes remaining, Longhorns running back D'Onta Foreman broke off a 19-yard rushing touchdown to make it a 37-35 Texas lead.
However, on the ensuing extra-point attempt, Notre Dame blocks the kick, and returns it for a two-point conversion. This tied the game up at 37 apiece, and led to overtime.
Oddest play of the weekend. Texas PAT blocked. Could have gone up by 3. #NDvsTex pic.twitter.com/I28YSMoYZt

— Steve Finamore (@CoachFinamore) September 5, 2016
Fittingly, both Texas and Notre Dame would score touchdowns in their first attempts, sending the showdown into double overtime.
Notre Dame had to settle for a field goal in double overtime. Texas on the other hand, well, take a look.
Swoopes there it is! https://t.co/Ib3GZqCVsH

— Bleacher Report (@BleacherReport) September 5, 2016
That recap only scratched the surface of what became an instant classic in Texas. The Longhorns haven't won a bowl game since 2012, and head coach Charlie Strong was feeling the heat.
Buechele looked like a seasoned-veteran for Texas, showing accuracy, poise, and a very strong arm. You saw him navigate the pocket, even climbing it on some of his throws. The Lone Star state may have finally found it's star in Buechele.
As for Notre Dame and head coach Brian Kelly, a lot of questions were either answered or brought up during the game. DeShone Kizer looked to be the correct choice to start at quarterback with his five touchdowns.
Kelly however struggled in his play-calling, especially in crucial situations. He was criticized for playing too conservative, including taking a knee at the end of the fourth quarter with time left on the clock.
Charlie Strong on the other hand coached with an edge. He went for it on fourth down on the Longhorns opening drive, helping set up Armanti Foreman's 19-yard touchdown catch.
Entering the game as the tenth ranked team in the country, Notre Dame will undoubtedly take a major hit in the college football playoff rankings. As for Texas, they could see themselves back in the polls for the first time since week four of the 2013 season.
Texas hosts UTEP this week, while Notre Dame will look to rebound in their home opener against Nevada.
This article originally appeared on