Seattle Seahawks vs New England Patriots: Three Keys To Redemption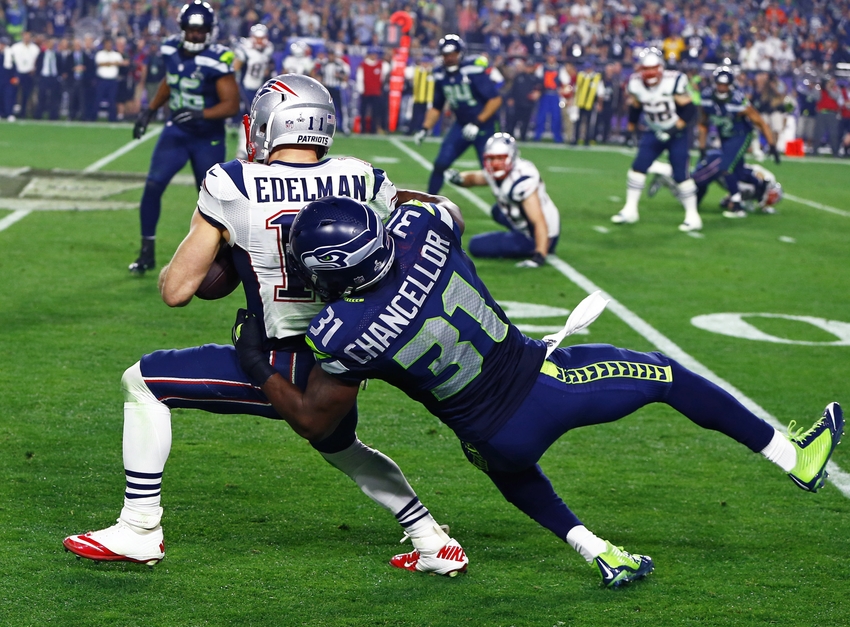 The Seattle Seahawks take on the Patriots tonight. Considering the recent history between the teams, expect a great game. Here are three keys to the game if Seattle wants redemption.
The Seahawks and Patriots enter this game as two of the NFL's premier franchises. The last time these two teams met, a Super Bowl title was up for grabs. I won't go into details about that game, but it was certainly a Super Bowl for the ages.
Tonight, Russell Wilson and the Seahawks are searching for redemption, while New England attempts to strengthen their lead on the rest of the NFL. If Seattle wants to leave Foxborough with a victory, they need to execute in all three facets of the game. Here are three aspects that are essential to a Seahawks victory.
Feeding Jimmy Graham In The Red Zone
Aside from Richard Sherman, the big story of last week was the national reemergence of Seahawks Tight End Jimmy Graham. Graham had been having a fantastic season thus far, but his two one-handed touchdowns with cornerbacks draped all over him captured the attention of casual fans everywhere.
If Seattle hopes to be successful on offense, Graham needs to be involved, especially in the red zone. Wilson has been gradually building a rapport with Graham throughout the season, and as a result giving Graham more 50/50 balls. On Monday, Wilson finally trusted him in the red zone, and I'd say the results were pretty good.
New England has been very good against tight ends this year, allowing two touchdowns and 401 receiving yards. But, they also haven't faced a tight end of Jimmy Graham's caliber. The best tight end they've faced this year has been Gary Barnidge, and he had 76 receiving yards with Charlie Whitehurst throwing him the football. Other tight ends New England has faced includes Darren Fells, Dion Sims, CJ Fiedorowicz, Charles Clay, CJ Uzomah and Jesse James. Not exactly a stellar crew if you ask me.
In addition, the 6'7, 265 Graham has the size advantage against 99% of NFL defenders, but he dwarfs all of New England's starters by a good seven or eight inches and 50-60 pounds. Cornerbacks Malcolm Butler, Logan Ryan and Cyrus Jones are 5'11, 190 pounds, 5'11, 194 pounds and 5'10, 200 pounds respectively. Their safeties aren't much bigger. Pro Bowler Devin McCourty is 5'11, 195 and Patrick Chung is 5'11, 215.
Now, Butler, Ryan, Jones, Chung, and McCourty are all great defensive backs, capable of shutting down Graham on any given snap. They also receive lots of practice guarding 6'6 Rob Gronkowski in practice. However, I'd bet on a 6'7 former basketball player to corral a contested ball every single time.
Get The Defense Off The Field on Third Down
Despite an offense that seemed physically unable to advance the ball past midfield, Seattle's famed defense overcame exhaustion to shut down numerous high-powered offenses and keep the Seahawks within striking distance late in the game. However, the defense has been their own worst enemy lately, as they have struggled to get off the field, especially on third down.
More from 12th Man Rising
Tyrod Taylor and the Buffalo offense were able to move the ball at will, converting 12/17 third down opportunities. The week before, Drew Brees and the Saints were 9/15.
That is a big reason why Seattle's defense has played 257 snaps over the past three games. By contrast, Tom Brady and New England's offense has played 121 snaps during the same amount of time. Per ESPN, Bobby Wagner had some words to say about the defense's inability to leave the field,
"I don't know what the percentage was, but they definitely were successful [on third down]. We have to do a better job getting off the field.
Speaking of Brady, it's unlikely that Seattle will be able to limit New England's high-octane offense. However, if they can keep their defense relatively fresh going into the 4th quarter, then Seattle has a chance. But if they can't get off the field, then Seattle will struggle to pull off a victory on the road. Knowing the Seahawks defense, I'm expecting them to come out pissed off, especially on third down.
Set The Tone Early
Seahawks Head Coach Pete Carroll emphasizes finishing strong, and while that's important, setting the tone early is equally important. Of course, that's always a given, but it's especially relevant against a Bill Belichick/Tom Brady team. If Seattle fails to start strong, then Bill Belichick and the Patriots will stomp on their throats and not let up.
Instead, Seattle can send a message to New England early by scoring some points, running the ball well, delivering some big hits on defense and perhaps even a turnover or two. Seattle gets defensive stalwart and tone setter Kam Chancellor back from injury, which will help. Considering these two teams and their past history, I'm expecting Seattle to come out pumped up and ready to make something happen.
The Seahawks want revenge and beating the team that prevented them from back to back Super Bowls will certainly keep them upbeat on their chances this year, especially with the NFC as weak as it is. It falls on Seattle to gain some momentum early, instead of using the first quarter as a trial period. Aside from the blocked punt, Seattle started fast against Buffalo and reaped the rewards. It gave them a solid cushion when their defense collapsed late in the game.
This article originally appeared on