Russell Wilson feels 'really fast,' but his OC isn't sure he's 100 percent
Russell Wilson didn't have his best season in 2016. He threw 21 touchdown passes and 11 interceptions, but his numbers are a bit skewed by the circumstances surrounding him. From the lack of a running game to the NFL's worst offensive line to a knee injury, Wilson has overcome a significant amount of adversity this season.
While Seattle's ground game probably won't improve, nor will the offensive line, Wilson's knee is getting better by the week.
"I've had some bumps and bruises along the way," Wilson said, via the News Tribune. "But I feel really good. I feel like any play I need to make I can make, for sure. So that's the exciting part. So I still feel really fast and all that.
"If you asked me several weeks ago, you know, I wasn't moving my fastest. But I feel really good right now."
Wilson said he's thought about ditching his bulky knee brace for the playoffs but will likely continue to wear it "for safety." Of course, running with a brace isn't nearly as comfortable as running without one, but Wilson doesn't seem to think it affects him all that much.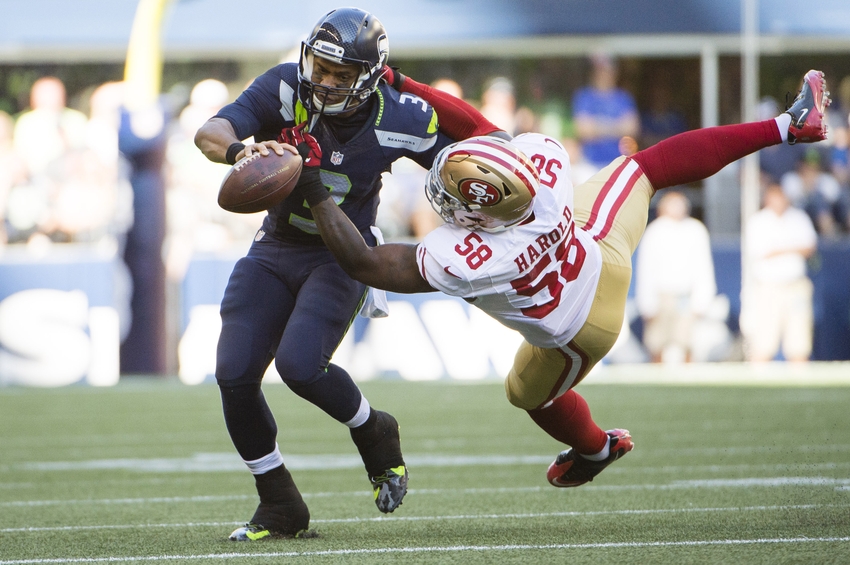 He'll need as much mobility as he can get on Saturday against the Detroit Lions, just as he has all season. The offensive line has struggled to protect him, forcing him to escape the pocket more often than he'd like.
While being healthier than in past weeks helps in that regard, his offensive coordinator isn't certain Wilson is 100 percent.
"I don't know. I'm not sure," Darrell Bevell said. "You know, it's funny, we look back at some earlier cut-ups (of game plays) and we're like, 'Man! Look at that guy!' He looks really fast and really quick and moving. But sometimes you see it each and every day.
"I don't know if he's a hundred percent. He's probably not running 4.4, like he was coming out of the combine. But, obviously, he still runs well enough to be able to do the things that we need him to do."